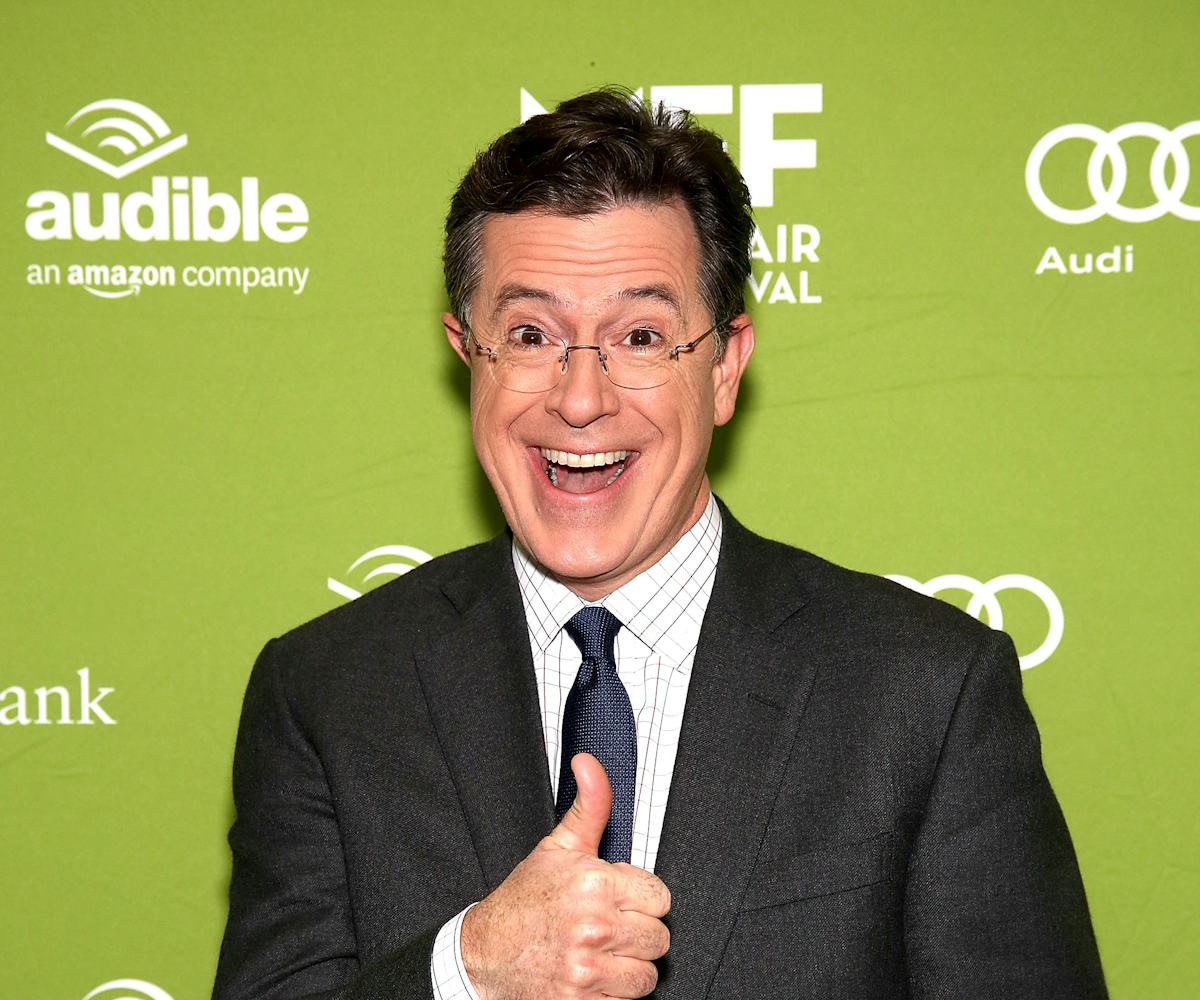 Photo by Paul Zimmerman / Stringer
Stephen Colbert Refuses To Apologize For His Trump Jokes
After Donald Trump insulted Face the Nation anchor John Dickerson, by calling Dickerson's show "Deface the Nation" and walking away from Dickerson mid-interview when the CBS anchor pressed the president on questions about Trump's egregious wiretapping claims, the war between POTUS 45 and Stephen Colbert was officially on. On Monday, the Late Show host defended his colleague, by opening his segment with the following statement: "John Dickerson has way too much dignity to trade insults with the president of the United States to his face. I, sir, am no John Dickerson."
From there, Colbert went off on Trump in a way that most people in media only wish they could do. (The rant has appropriately been titled "Stephen Colbert Says What Every Journalist Wishes They Could.") To kick it off, Colbert declared, "When you insult one member of the CBS family, you insult us all!" Then, he referred to Trump as "BLOATUS" because he's "the glutton with the button" and the presidency as "Disgrace The Nation," called Trump a "presi-dunce" and a "prick-tator," and made clear the only thing Trump's mouth is good for is being "Vladimir Putin's cock holster." See it here:
Since then, many conservatives have been calling for Colbert to be punished and even started a hashtag: #FireColbert. Criticism has also centered around the "cock holster" comment for being homophobic. On last night's episode, Colbert's opener was "Welcome to The Late Show. I'm your host, Stephen Colbert. Still? I am still the host? I'm still the host!" From there, Colbert further addressed the backlash:
Now, if you saw my monologue Monday, you know that I was a little upset at Donald Trump for insulting a friend of mine. So at the end of that monologue I had a few choice insults for the president in return. I don't regret that. He, I believe, can take care of himself. I have jokes; he has the launch codes. So, it's a fair fight. So while I would do it again, I would change a few words that were cruder than they needed to be. I'm not going to repeat the phrase, but I just want to say for the record, life is short, and anyone who expresses their love for another person, in their own way, is to me, an American hero. I think we can all agree on that. I hope even the president and I can agree on that. Nothing else. But, that.
In other words, sorry, he's not sorry! 
We'll be interested in seeing if this topic is brought up again on May 9, when Colbert is set to stage a Daily Show reunion for the 20th anniversary of his first appearance on late-night television. Expected to join him are former co-hosts Samantha Bee and John Oliver, who both have their own talk shows now; Ed Helms and Robb Corddry, who have primarily focused on acting; and Jon Stewart, who has only made rare appearances on TV since he left his hosting position at The Daily Show in 2015.
Until then, watch Colbert's explosive monologue from last night in the video below.