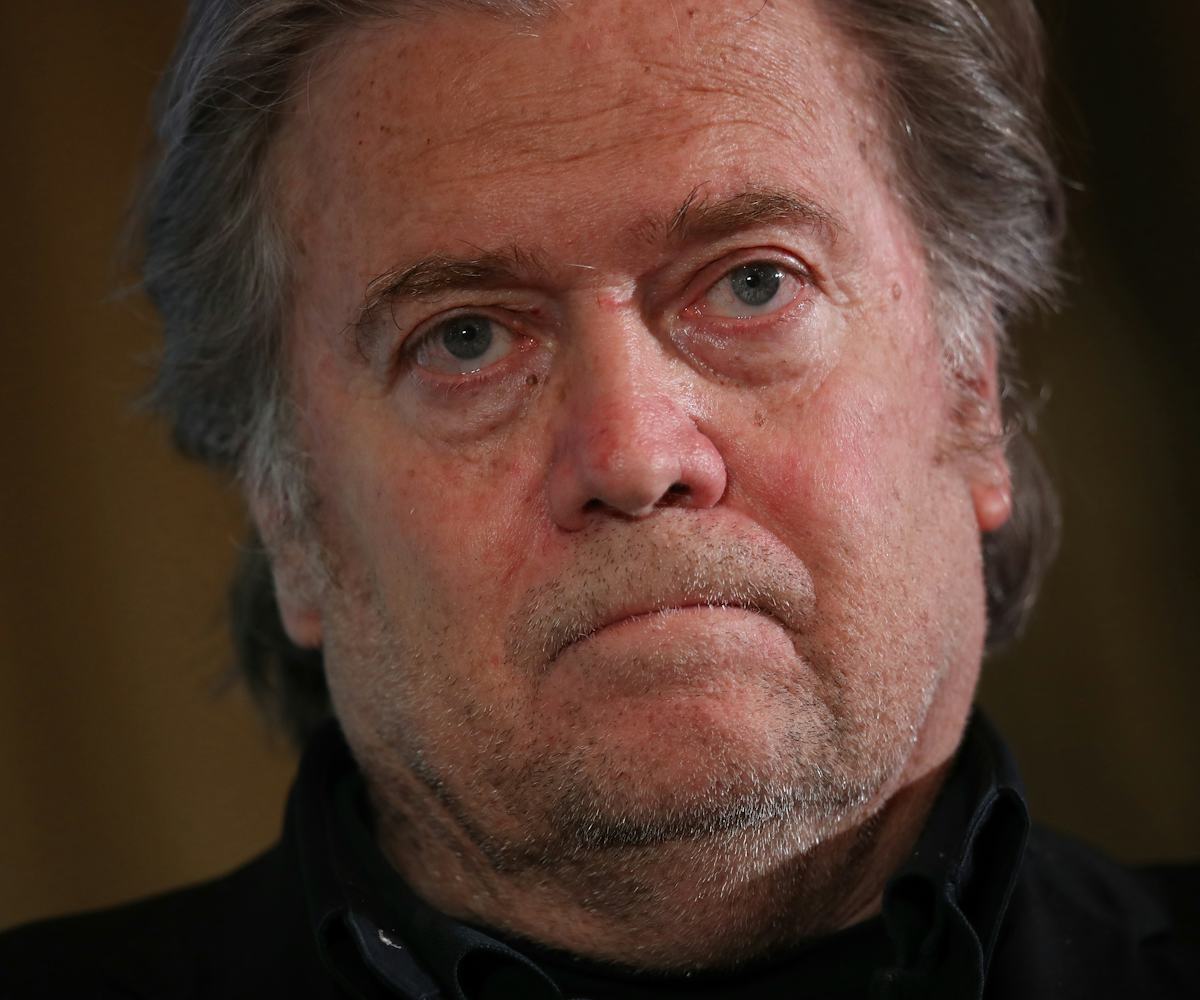 Photo by Sean Gallup/Getty Images
Steve Bannon Dropped From New Yorker Festival Following Backlash
On Monday, former Trump White House Chief Strategist Steve Bannon was announced as a headliner for The New Yorker's 19th annual New Yorker Festival, which is to be held this October. But, after widespread criticism from employees, the other headliners, and the magazine's readers, he was cut from the lineup within hours of the announcement.
What caused the quick about-face? Celebrity backlash. After hearing the news that they would share a program with a politician who condones white nationalism, anti-Semitism, and racism, celebrities like Jim Carrey, John Mulaney, Judd Apatow, and Jack Antonoff publicly withdrew from the festival. Many found issue with the fact that The New Yorker would be giving Bannon a platform to spew his hateful ideology. Apatow condemned the plan for the public discussion, saying that it "normalizes hate," while comedian Patton Oswalt sarcastically suggested that the publication try to replace him with Bannon's fellow white supremacist Milo Yiannopoulos. 
Bannon was set to appear in conversation with The New Yorker's editor, David Remnick, a long-standing critic of Trump and his administration. In a statement released on Twitter, Remnick acknowledged the public backlash against his decision to appear in conversation with a white nationalist, but said that "to interview Bannon is not to endorse him." Remnick went on to discuss how he never intended on giving a platform to Bannon's harmful ideologies, but instead wanted to utilize that forum to question Bannon's "set of arguments and prejudices that have influences our politics and a President still in office." Remnick then officially dropped Bannon from the festival, stating that, "If the opportunity presents itself I'll interview him in a more traditionally journalistic setting."
In a statement to the New York Times, Bannon lashed out against Remnick's decision, saying, "In what I would call a defining moment, David Remnick showed he was gutless when confronted by the howling online mob." We feel zero sympathy.