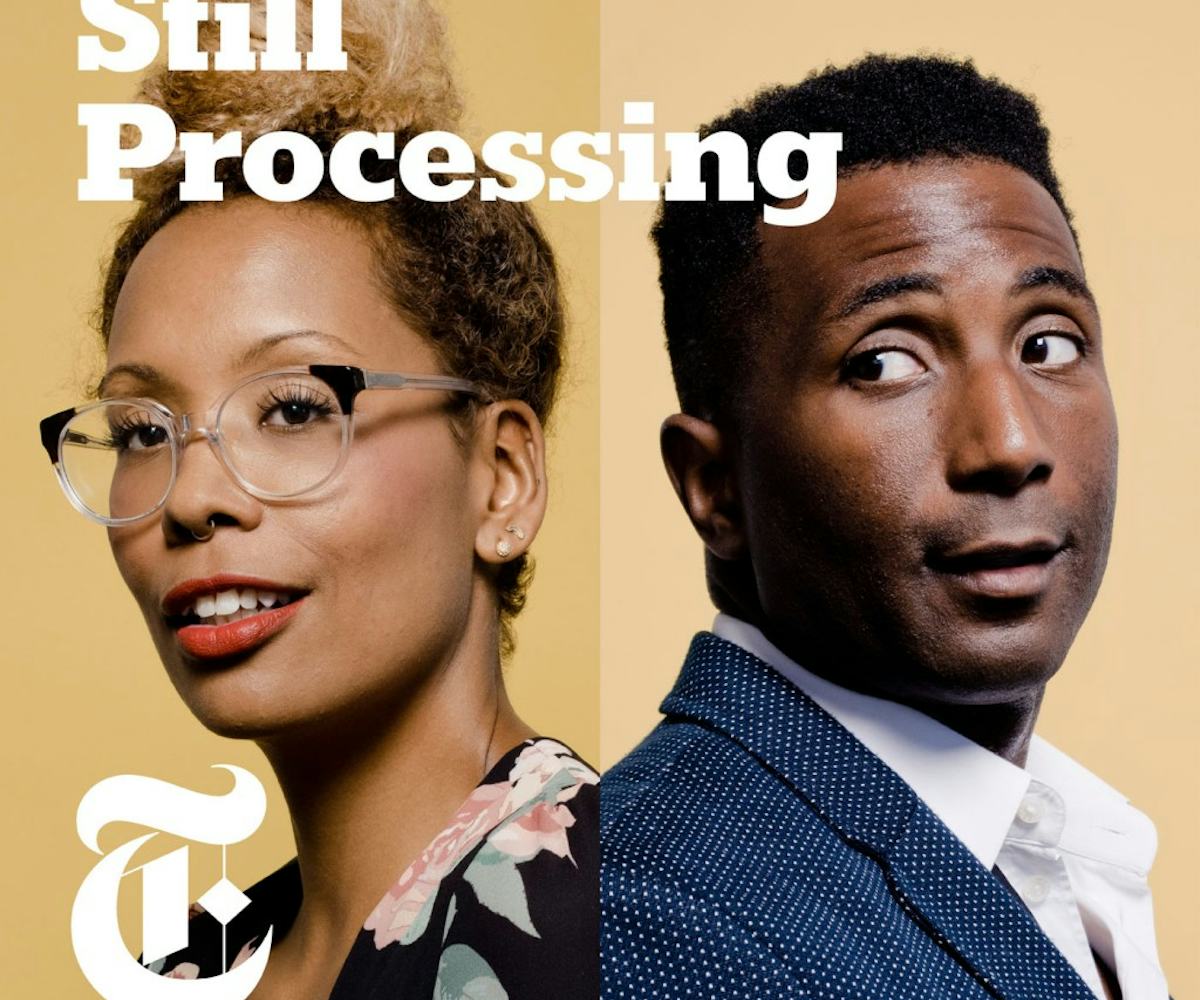 Photo Courtesy Of The New York Times.
Jenna Wortham Is "Still Processing" Her New Podcast
Podcasts are having a moment. The medium is now being wholeheartedly embraced by everyone from elite publications and celebrities to politicians and that boy from high school you thought you unfriended on Facebook. It's a platform where almost anyone can claim expertise on sports, music, culture, politics (always, always politics) and throw their opinions, jokes, and tales onto the internet and then directly into your headphones. 
Some might say the market's become oversaturated to the point of exhaustion (by "some," we mean even us) but, every once in awhile, a new podcast comes along that we deem worthy of the subscribe button. For us, that feeling arose when we heard the New York Times' Jenna Wortham and Wesley Morris were teaming up for a joint venture; called Still Processing, this is a podcast we're going to be eagerly tuning in for.
Morris is a critic-at-large for the Times, where his thought-provoking work is a real highlight (he's also the one who came up with the idea for the podcast). Wortham started as a technology and business reporter for the paper, and is now a staff writer at the New York Times Magazine, where she explores topics like the importance of black health, Beyoncé's Lemonade, and the struggle to live in the moment (along with tackling many, many, many side projects).
We have so much faith in the duo that we were immediately on board following a two-minute intro upon the release of the podcast's name. And, after listening to the inaugural episode (released today), we can proudly say our instincts were right. In the 30-minute chat, Wortham and Morris talk about their feelings regarding Colin Kaepernick and Leslie Jones and discuss first dates with Southside With You actress Tika Sumpter. Their natural banter and strong viewpoints will leave you wanting so, so much more.
In honor of the launch, we chatted with Wortham to see what's in store for Still Processing—a guest appearance from Oprah, perhaps? 
In your intro episode, you mentioned that Wesley approached you about the idea to start the podcast with him, what was your initial reaction?
I love Wesley, I think he's so great and a brilliant thinker and writer. All of our early interactions had been so entertaining, so I was like, absolutely, yes. I think when he came to the
Times
about a year ago, and that was part of his contract, to get a podcast. So, I was super excited.
You started out at the New York Times covering technology and business and you currently wear a lot of different hats. What drew you to the podcast medium?
I think there's a lot that gets left out in print, in terms of emotions or feelings or nuance. In print, you're trying to tell a story in a very specific way, so, outside of Twitter, there aren't many opportunities to react. It has to be sort of an argument, or a news story, or an angle, and it was really appealing to think about just talking, which is what I do offline all the time. I'm in constant groups and Slack channels and just chatting about the world, so to do it in a way that was a little more packaged was really appealing. 
Do you think the business of podcasts has evolved? And what do you and Wesley hope to add to this space?
I feel like podcasting is having a moment. I think people like it because you can multitask. I think people like the idea of trying to have alternative ways to listen to people that they read, and I think that there's so many voices out there, there's so many new forms, and it feels really exciting to just hear people riff. I think that's sort of what we do, we're very accustomed to that anyway on Facebook and Twitter and other forms of social media, but actually listening to someone talk is way more interesting.
It feels like we're going reverse in a way; It feels like we're going back to talk radio. Our parents listened to live talk radio driving around, which I never understood. It's really interesting that this is what we've come back around to. I think people are interested in ways to rehumanize online interactions—and I think this is a big part of that—and, also, it's just fascinating to hear what other people think. I think we're so oversaturated with information and media and ideas and news that it's really compelling to turn to people and be like, "Well what do you think about X, Y, and Z?" That's what I'm hoping Wes and I can offer.
I also think it's a chance to uncover or reveal a little more about the way the
Times
is evolving. There are a lot of younger voices. There's a ton of incredible talent inside of that building that doesn't always get showcased or doesn't always get a platform, and I feel like that's a big priority for us. Which is, bringing on reporters that we work with, people we talk to all the time, and getting them to tell us about their jobs, but also about what they think because they're all experts, too, and I feel like that's one of the more interesting things we want to do. It's a really exciting opportunity. I feel like the
Times
is trying a lot of new things, and they've given us full reign to just make this thing and they're giving us a ton of support which is really exciting. It feels really fun to feel like the
Times
can move fast and not mind breaking things, which is unlike the history of the institution, so that's cool.
You once said that you wanted to
write about people who look like you
, do you hope people who look like you also tune into the show?
I want the show to appeal to everybody, but I also do feel like, sometimes, people read the paper and don't necessarily feel like they see themselves reflected in it. There are a lot of young brown people, there are a lot of queer people working at the
Times,
and it feels really exciting to be like, "We're here too and we want to appeal to you, too." But, hopefully, everybody will listen. 
We're definitely following our own interests and we're definitely following our own obsession and going down our own rabbit holes, but I think it will be really interesting to see who we appeal to. As much as we like
and
and
, we hope that it appeals to the same listeners, but also people who are listening to
and also the
and NPR shows. The hope is that it can be really broad, but also we shouldn't have to shy away from our own interests in order to do that, and I don't think we'll have to.
You mentioned in the intro podcast that you're hoping to touch on topics like culture and politics, social media, relationships, etc. Are there specific subjects within those that you hope to explore?
I think, for us, it will be very relevant and timely but we're not going to try to cover all the news or all the cultural moments. I think it will be us touching on whatever's happening in that particular moment but also trying to look beyond the surface in an unusual way. We're both texting a lot right now about Kanye West. So, I imagine we'll try to figure out an interesting way to do that, but we'll bring on someone unexpected. It won't just be like, "Tell us what you think about Kanye West." We'll hopefully try to put it into some larger cultural or historical context, the same thing we do in our stories. I feel like Wes and I both write in a way that's like, "Huh, I never made those connections before." And I think that's what we want the show to do, too. 
Who would be your dream guest and what's one question you would want to ask them?
I definitely want to to talk to Oprah, I'm obsessed with Oprah. I just want to know what her life is like. I want to know if it was worth it for her. I think she's doing exactly what she wants to do. It's been a year or two since she started OWN and I really want to know how she feels about it.