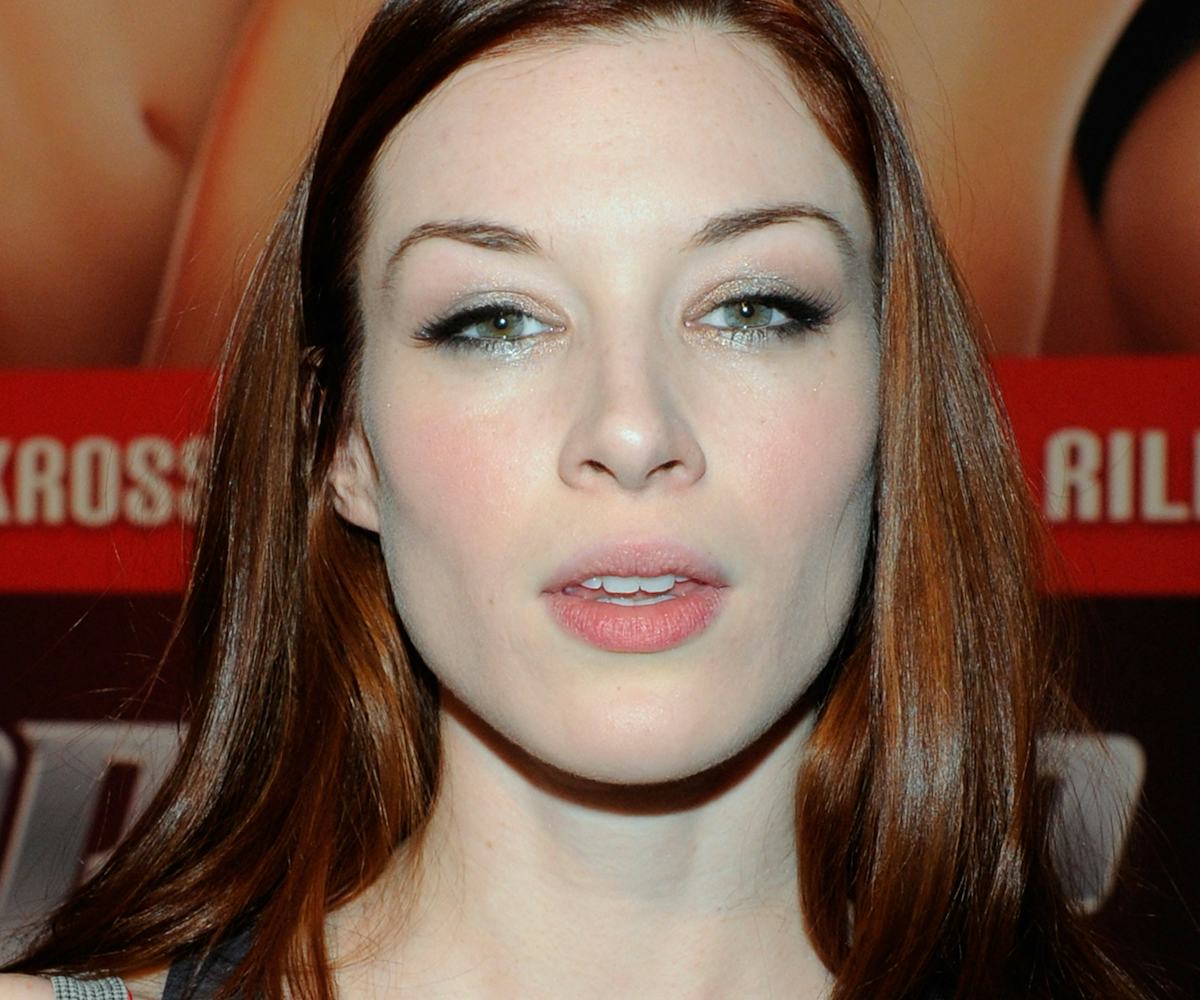 Photo via Ethan Miller/Getty Images
Stoya Wrote A Deeply Personal Letter About Her Sexual Assault
"I felt as if I had no recourse. I didn't know what to do."
In the few weeks since Stoya publicly took to Twitter to allege that ex James Deen raped her, ten other women have come forward with similar accusations against the porn star, thousands of people have pledged their support and belief in Stoya and her claims, and a widespread discussion about sexual assault and how it relates to the sex industry erupted. Ten days ago, Deen declared his innocence in an interview with The Daily Beast, saying, "I want to assure my friends, fans, and colleagues that these allegations are both false and defamatory. I respect women and I know and respect limits both professionally and privately." Now, for the first time since her initial tweets, Stoya is writing about her experience.
Yesterday, to acknowledge International Day to End Violence Against Sex Workers, the porn star, activist, and writer penned a blog post discussing the "outright hostile" culture surrounding the sex work industry. Touching on its legal uncertainties (which vary from state to state), and the bias that is directed towards workers, she specifically cites how MMA fighter War Machine's lawyer questioned whether it was possible that his client could have raped Christy Mack due to her relationship with the porn industry. Stoya then shared the story of her alleged experience with sexual assault.
"I lived with the knowledge that James had violated my consent for a long time before coming forward," she writes. "I felt as if I had no recourse. I didn't know what to do. So I kept working with him, and we kept dating. I swallowed a lot of Xanax and washed it down with unsettlingly large amounts of alcohol." 
She notes how she publicly "praised his positive qualities" on social media and in posts for various publications, and how her realization that the relationship was a "public performance" made her feel "uneasy," perhaps pointing to why she didn't initially speak about her rape. Although going to therapy helped, she says she "wrestled with guilt. I felt complicit in any future harm he might inflict because I'd spoken so highly of him but I'd neglected to complete the public record. It ate away at me."
Echoing the sentiments of her business partner Kayden Kross—who also wrote a blog post about the unjust way that porn stars' sexual assault claims are treated—Stoya writes that she didn't feel comfortable filing a report with the Adult Performer Advocacy Committee (Deen is a board member). "Similarly, I didn't feel as if I could press charges because the U.S. court system rarely metes out anything that looks like justice when sex workers are involved," she admits. "Social media seemed to be the most appropriate and only real option. But I doubted I would be believed, and I worried the company I co-own with Kayden Kross would suffer. Most of all, I was afraid that speaking would only serve to fuel the arguments of outside groups who aim to dictate how we adult performers do our jobs and whether we're legally allowed to do them at all."
Hopefully more women will feel comfortable coming forward and speaking about their sexual assault. Solidarity among all, sex workers or not, is important in changing rape culture and preventing sexual assault from happening.