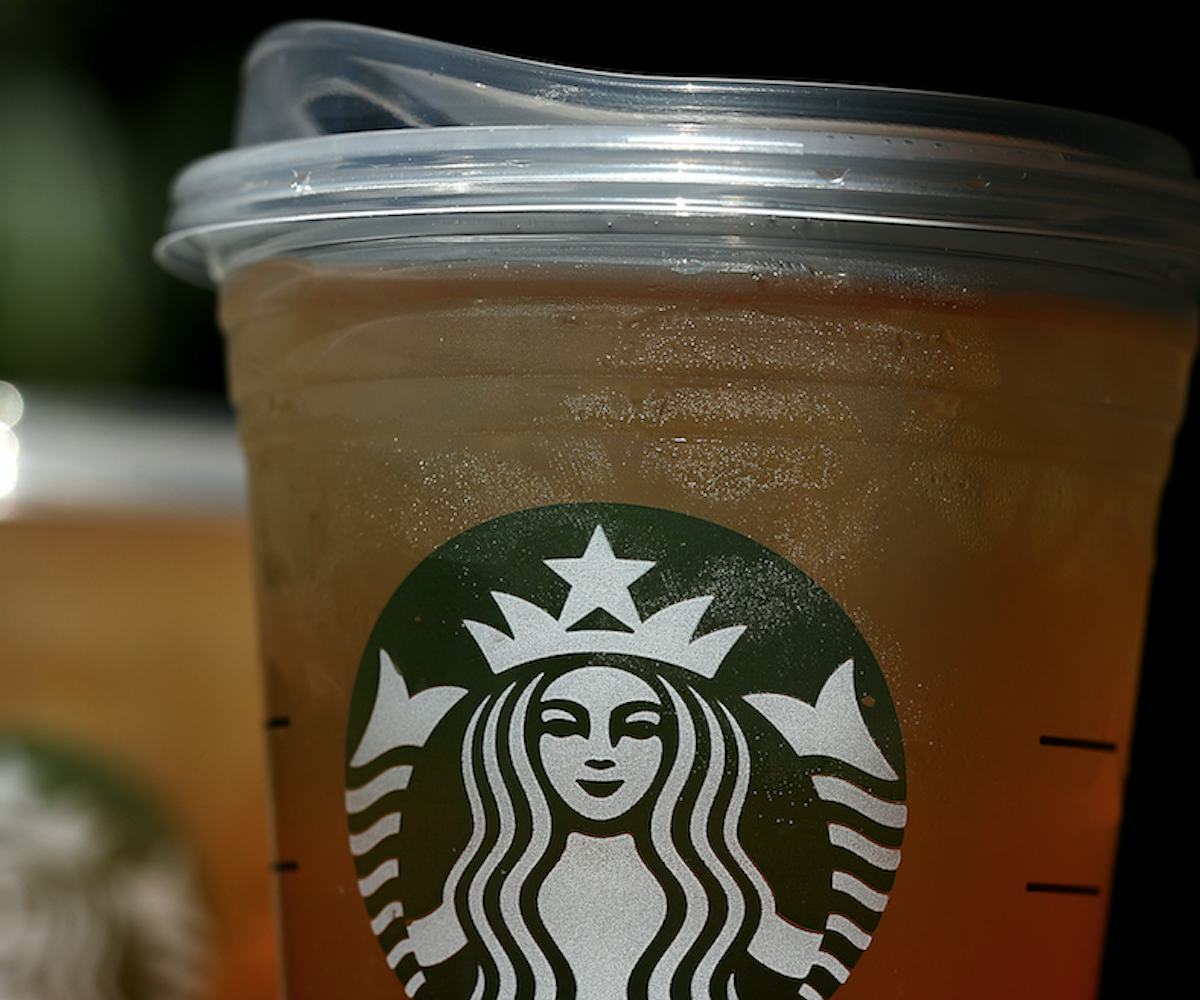 Photo by Justin Sullivan/ Getty Images.
Plastic Straws Are Becoming The New Cigarettes
Starbucks, American Airlines, and other major companies are phasing them out
Starbucks is one of the latest companies to announce that it would be phasing out plastic straws. The coffee chain announced yesterday that it will be debuting recyclable lids for its iced drinks in replacement of straws starting in 2020, (except for its locations Seattle and Vancouver, B.C., which will receive the new update sooner) in order to eliminate plastic waste and become more sustainable. 
But the move shouldn't come as a surprise. Other major companies have been working to get rid of straws for a while. Bon Appétit Management Company announced in May that it would be banning straws in 1,000 of its restaurants and aims to have them completely phased out by 2019. This month, American Airlines will begin to eliminate plastic straws from its lounges and replace them with biodegradable, eco-friendly straws and wood stir sticks; Alaska Airlines is heading in that direction, as well, stating that it would be partnering with the nonprofit Lonely Whale by replacing plastic straws with recyclable alternatives. Hilton, too, plans to remove plastic straws from its 650 properties by the end of 2018.
In addition to these companies making the big move, various states have also taken the oath to eliminate plastic waste. In Florida, cities including Miami Beach, Fort Myers, and St. Petersburg have all banned plastic straws. In May, New York City introduced a bill to get rid of plastic straws in eateries across all five boroughs. California is looking into banning plastic straws via the Assembly Bill 1884, which would prohibit food facilities from "providing single-use plastic straws… to consumers unless requested by the consumer."
The fight against plastic straws has led many to humorously compare it to the fight against cigarette pollution and smoking, which is (somewhat) fair considering that, like cigarettes, straws are not biodegradable and pollute our world's oceans and harm our surroundings. See some of the reactions, below.
All jokes aside, it's great to see major companies acknowledge how the excessive waste is harming our planet. To find out more about how straws are affecting our environment (and what you can do to help reduce waste), click here.