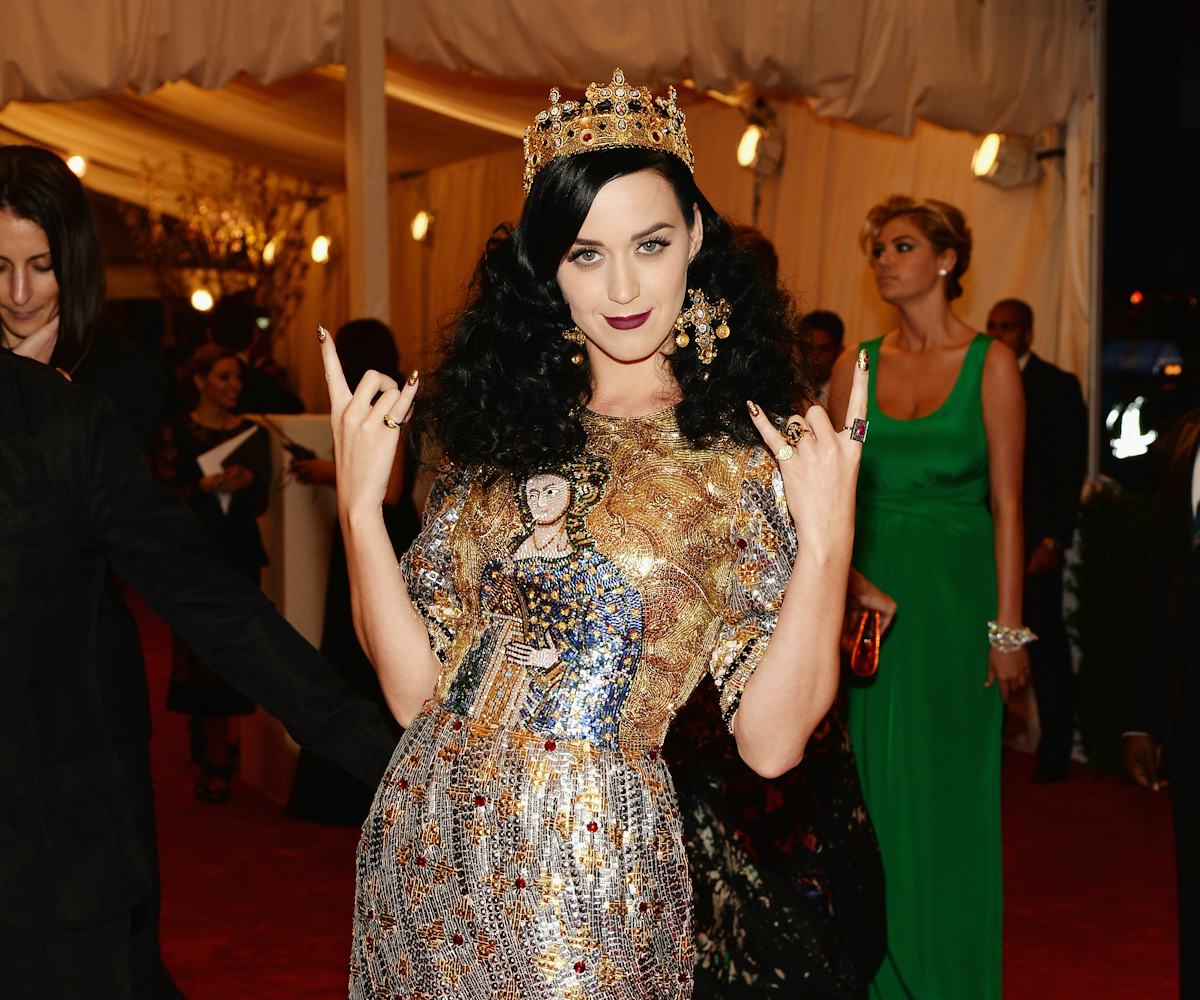 all photos via getty images
the style evolution of katy perry
happy birthday to our one of our favorite pop stars.
Try to think back to the first time you ever heard about Katy Perry. Her "I Kissed a Girl" days are long gone—six years gone to be exact. In that time, Perry has gone from the wild party girl next door to an eclectic style icon. Today, we're celebrating the popstar's style evolution in honor of her 30th birthday. On her big three oh, we're expecting Perry to arrive to her own party in a totally outrageous look fit for a California Girl. So, miss Perry, pop your confetti, pop your Pérignon, and have the best b-day ever.
Click "View Gallery" above to find our favorite Katy Perry looks from 2007-2014 and find out why we're still loving each outfit!
2007
Little baby Katy in her sweet pink dress. The "Teenage Dream" side of the popstar is already starting to come out with that strawberry necklace.
2008
Looking stunning in the royal blue satin dress, Perry's always turning up the fun--this time, with eyeballs for her bustier cups. Even though this look is from 2008, we can definitely see Katy wearing this today.
2008
We all have our crazy eras. Here, Katy is looking like, well, most people did on the red carpet in 2008. We do have to commend her for her watermelon-esque outfit, though, since back then, she always knew how to incorporate fruit into her life.
2009
A pink frosted glamour queen. Here, Katy Perry looks totally glam, without losing her cute side.
2009
Since her "I Kissed a Girl" days, Katy has been known for adding some scandal to her look. On the carpet for the MTV Video Music Awards, she doesn't disappoint. A cross between Barbarella and a Fembot, we're loving this risque outfit.
2010
Leave it to Katy Perry to show up to the red carpet in a fabulous nude dress, prettied up with flower applique. While a bit toned down from her other outfits, this Kitty Purry look still totally pops.
2010
Even though Prism wasn't released until 2012, looking back at this lit-up dress from 2010 Katy Perry makes us feel like we should have seen this foreshadowing way sooner.
2012
Basically, a neon Barbie doll, we are still obsessing over this green goblin stunner paired with My Little Pony locks.
2012
Only Katy Perry.
2013
Queen. I mean, how amazing is this?
2013
We're thinking Katy Perry looks very indie darling in this outfit. The polka dot and flower dress is completely adorable, but the book-cover clutch just takes it to next-level underrated cool.
2014
2014, the year of the minimalist, androgynous look, which Perry channeled in her own way--with pops of yellow and red.
2014
Roar. We love, you Katy!
2011
It's really pretty hard to pull off the wearable art look, but if anyone can do it it's Katy. We think this is the outfit that they should have used for Katy's wax figure at Madame Tussauds.
2011
When the highlighter hair trend came onto the scene, Perry was one of the first onboard. We're thinking it was one of her best beauty/fashion choices ever because what suits her better than electric hair and shoes just as bright?