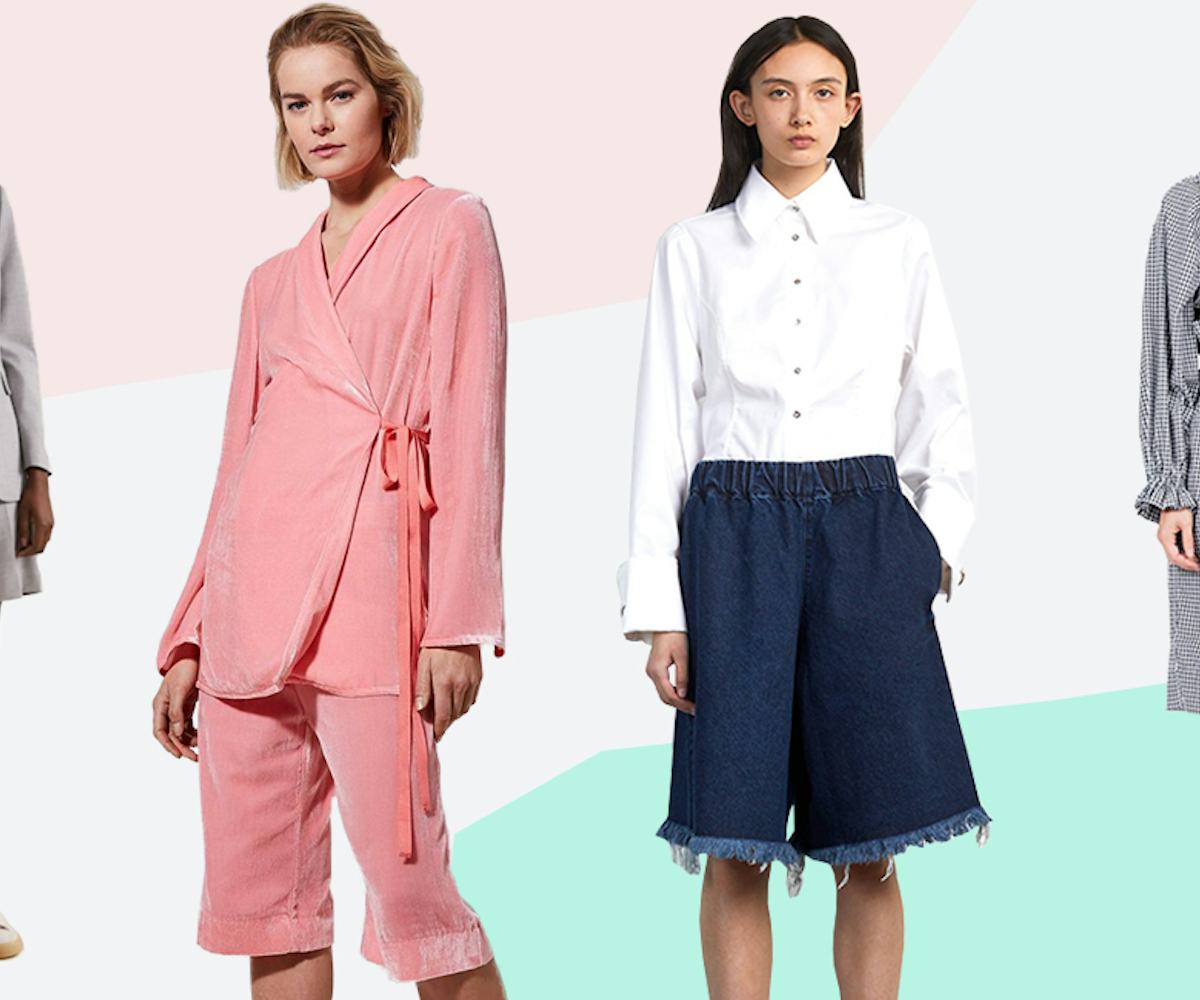 14 Summer Shorts That Aren't Tiny Denim Cutoffs
Let's give a warm welcome back to the Bermuda short
It may seem like spring just got here, but summer is already around the corner. With Memorial Day just weeks away, it's time to get our hot- (and sometimes sweltering-) weather wardrobes in check.
With that said, it looks like this year, we'll be bringing back the Bermuda short. Did you just cringe a little? It's okay—we promise it's going to be fine.
We saw the slightly above-the-knee silhouette on the spring runways of labels like Off-White, Tibi, and No. 21, so rest assured these are nothing like the frumpy silhouettes of the past. Sometimes fitted, sometimes flowy, we're seeing everything from denim to printed silk on the Bermuda shorts front this season. And yes, they're actually really cute.
Plus, we're ready to give our bum-bearing denim cutoffs a rest. Check out the 14 pairs of Bermuda shorts we'll be wearing all summer long, below.
Kowtow, Dusk Shorts, $105, available at Kowtow.
ASOS White, City Shorts in ECO Denim, $72, available at ASOS.
Marques'Almeida, Track Suit Denim Shorts, $350, available at La Garconne.
Opening Ceremony x Aloha Blossom, Porcelain Shorts, $185, available at Opening Ceremony.
Frankie Shop, Brown Plaid Bermuda Shorts, $84, available at Frankie Shop.
Mango, Flecked Shorts, $59.99, available at Mango.
Toit Volant, Lasseube Shorts, $198, available at Voyager.
Double Rainbouu, Printed Poplin Shorts, $175, available at Net-A-Porter.
Topshop Boutique, Velvet Bermuda Shorts, $95, available at Topshop.
Joseph, Louis Polka-Dot Print Silk-Chiffon Shorts, $375, available at Matches Fashion.
Tibi, Cooper Silk Wool Shorts with Removable Belt, $425, available at Tibi.
R13, Leopard Twisted Utility Shorts, $325, available at Shopbop.
Zara, Polka Dot Shorts, $45.90, available at Zara.
Thierry Colson, Simbad Striped Silk Bermuda Shorts, $520, available at Barneys.