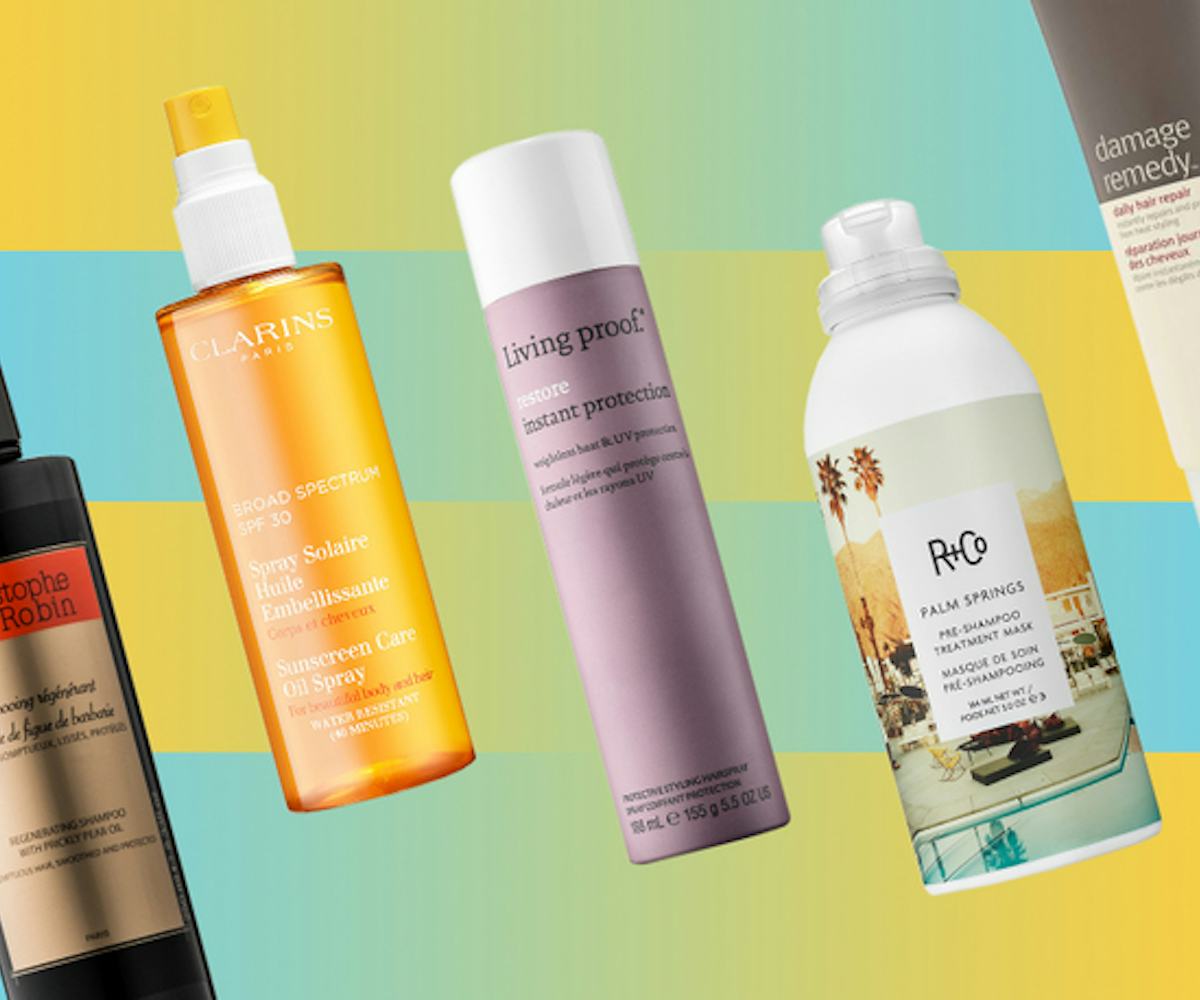 15 Products To Help Revive Your Battered Summer Hair
It's all fun and games until your hair turns to straw
Summer is winding down. The humidity in the air is dissipating and, in its place, is a wistful breeze that reminds us of what's to come—namely, fall. Arguably the best time of the year. We will fight over this!
The arrival of autumn forces us to confront what summer's left behind: tans that will soon fade, newly acquired freckles, and hair that's seen better days and experienced more moisture. If you didn't heed our advice from earlier this season about the importance of protection then… it's okay, we didn't either. Summer has a tendency to lead a lot of people to think they're invincible against things they should be more wary of. But alas, reality is setting in and so are the effects of our recklessness.
So, ahead, we've gathered products that will help reverse the damage. Most involve treatments (think deep and leave-in conditioners and products rich in reparative ingredients), because in order to bring your strands back to life, it's going to require a little extra TLC. And if you're still trying to hold on to summer for those final few days, we have some products that will help keep your hair intact even when dipping into the ocean for one final swim or heading out to a festival for one last hurrah. Use them alone, use them in tandem with others on the list, just use them.
Clarins, Sunscreen Care Oil Spray Broad Spectrum SPF 30, $36, available at Sephora.
Christophe Robin, Regenerating Shampoo With Prickly Pear Oil, $40, available at Sephora.
R+Co, Pre-Shampoo Treatment Mask, $29, available at R+Co.
OGX, Coconut Miracle Oil Conditioner, $8.99, available at Ulta.
AG Hair, Keratin Repair Serum Keratin Anti-Breakage Sealant, $24, available at Ulta.
DevaCurl, Melt Into Moisture, $36, available at DevaCurl.
Alterna, Caviar Repair Rx Instant Recovery Shampoo, $52, available at Ulta. 
Living Proof, Restore Instant Protection Spray, $26, available at Sephora.
Ouidad, Mongongo Oil Multi-Use Curl Treatment, $38, available at Ouidad.
Sun Bum, Beach Formula 3 in 1 Leave In Treatment, $14.99, available at Ulta.
Paul Labrecque, Repair Treatment Restorative Hair & Scalp Therapy, $58, available at Paul Labrecque.
Vernon Francois, Re-Vamp Moisture Spray, $32, available at Sephora.
Kiehl's, Olive Fruit Oil Deeply Repairative Hair Pak, $25, available at Kiehl's.
Aveda, Damage Remedy Daily Hair Repair, $30, available at Aveda.
Joico, Moisture Recovery Treatment Balm, $18.99, available at Ulta.