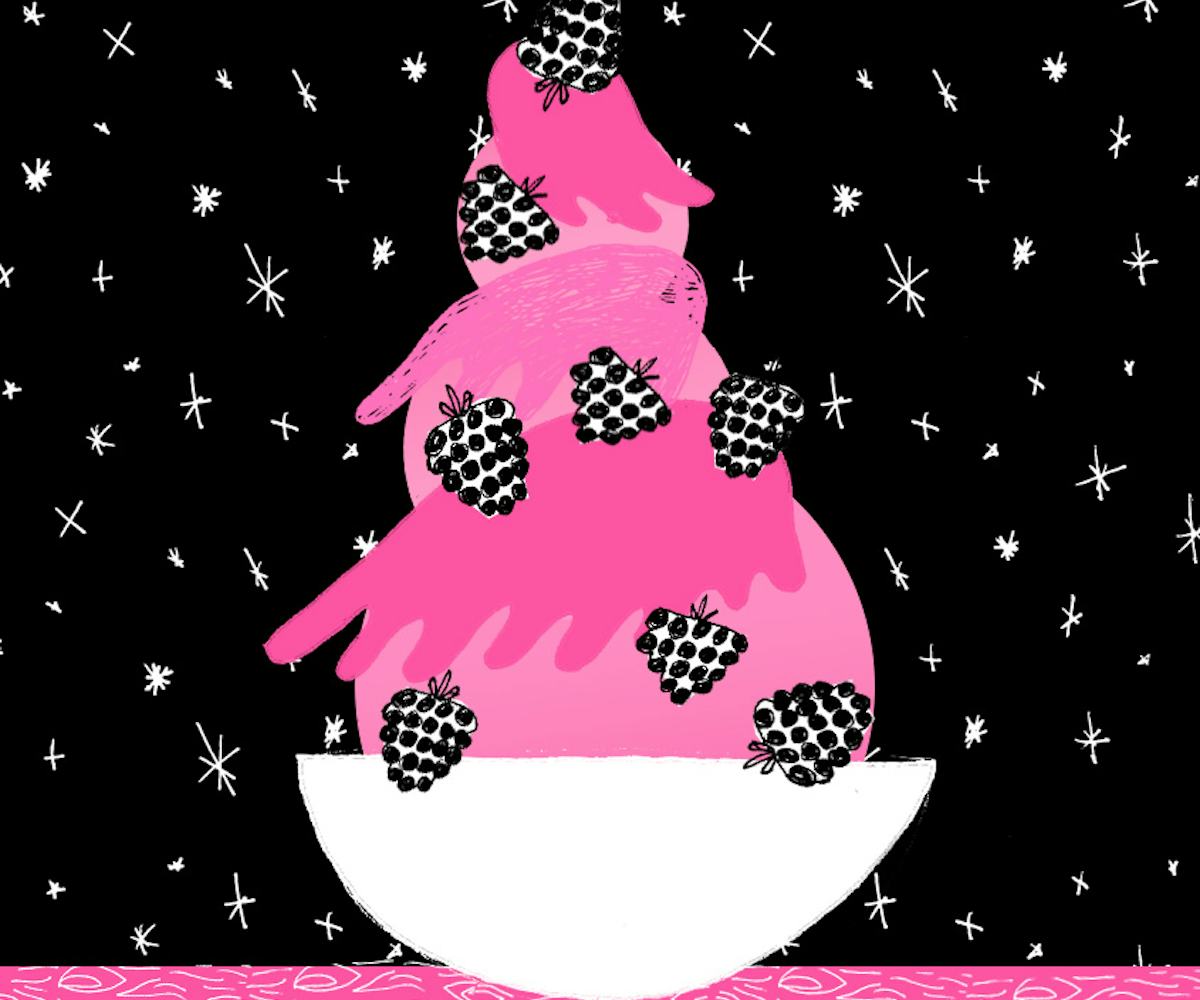 4 mind-blowing ways to make ice cream
Whether you're vegan, or your diet is dairy-free, or you just love the rich mouthfeel of full-dairy ice cream :icecream: the way it is, everyone wants a way to enjoy an icy dessert on a 90-degree day. But, here's the thing with ice creams and sorbets: They can be full of ingredients like stabilizers and sugars that you probably don't want to ingest on the regular. A surefire way to curb eating those ingredients is to follow food guru Michael Pollan's cardinal rule à la Food Rules: "Eat all the junk food you want as long as you cook it yourself...chances are it won't be every day."
Ice cream is like pizza: Once you learn the basics, you can freak it however you want. Included here are not only wonderful, traditional ice creams, but also vegan recipes (yes, sans dairy!), a fruity sorbet, sugar-free selections, and something for those of us who'll find any use for a little alcohol.
Click through the gallery for the recipes.
Raspberry Beret SorbetFor the love of Prince and dairy-free desserts
1 cup organic sugar½ filtered water1 quart fresh raspberries½ lime juice1 cup Champagne
Combine sugar and water in a small, heavy bottom saucepan over low heat. Stir until the sugar dissolves into a clear liquid (congratulations, you've just made simple syrup). Remove from heat and allow to cool.
Place raspberries in a blender and add simple syrup and lime juice. Blend until smooth.  For the smoothest sorbet, pour through a strainer to remove the tiny raspberry seeds. Pour into ice-cream machine and turn on Prince. Add Champagne when you notice the sorbet beginning to firm up. When ready to eat, the sorbet will be soft. Dance. Drink. Eat.
Note: you can replace raspberries with strawberries, blueberries, even mangoes! Just be sure to strain—this is the key to making this sorbet feel good in your mouth. Also, it can be done sans Champagne...but why?
Very Vanilla Ice Cream (Base Ice Cream)Sometimes simple is best
Seems crazy, but the most popular ice cream is (and always will be) vanilla. Very Vanilla can be used as a "base ice cream"—you can add strawberries, blueberries, caramel sauce, or anything your heart desires with little tweaks here and there. Once you master this ice cream, all your Ice Cream Dreams will come true.
2 cups heavy cream1 cup milk (whole preferred for a richer mouthfeel)⅔ organic sugar⅛ tsp sea salt6 egg yolks1 vanilla bean sliced in half*in place of vanilla bean, use 1 tsp of pure vanilla extract
In a small- to medium-sized heavy-bottom saucepan, combine cream, milk, and sugar. Stir with the heat on low for about five minutes, or until sugar completely dissolves and you notice tiny bubbles around the edge of the pot. Remove from heat. Whisk egg yolks and slowly add about ⅓ of the cream mixture (this is called "tempering the eggs," so they don't scramble). Add the egg mixture back into the pot with the cream and heat on low. Stir until the mixture thickens enough to coat the back of a wooden spoon. Remove from heat. Toss in your vanilla bean and let steep in the warm mixture for about 20 to 30 minutes. You've just made a custard!
Strain your custard into a glass bowl and cover with plastic wrap. Place wrap directly on the custard (instead of wrapping bowl) to prevent the milk from forming a skin. Let cool for at least four hours and place in your ice-cream machine for the Very-est Vanilla you'll ever have!
The Realest Rum Raisin Ice CreamWhen you can't get to the Caribbean, but you can get to the liquor store
2/3 cup dark rum (don't use liquor you wouldn't drink)1 cup raisins
Combine raisins and dark rum at room temperature overnight. You can even let raisins sit in rum for a week. They'll begin to rehydrate, and that's when they become the drunkest raisins you'll ever meet.
Make your base ice cream according to your ice-cream maker's instructions. When the ice cream begins to firm up, add the raisins and any remaining liquid to the machine. Run machine until Rum Raisin firms up.
I'm In Love With The CoCo Ice Cream (Coconut-Cocoa Vegan Ice Cream)Because vegans need love, too
2 15-oz cans coconut milk (set ½ cup aside)¾ cup organic sugar2 ½ tablespoons cornstarch2 tablespoons unsweetened cocoa powder⅛ tsp sea saltshredded, unsweetened coconut for garnish
Combine all ingredients except the ½  cup of coconut milk in a medium-sized, heavy-bottom saucepan. Simmer over low heat. In a small bowl, whisk remaining coconut milk, cocoa powder, and cornstarch together (make sure to stir out all lumps). Add cornstarch mixture to saucepan and simmer until the mixture can coat the back of a wooden spoon.
Remove from heat and cool to room temp. Place in a glass bowl, cover with plastic wrap, and chill for at least four hours. Meanwhile, place about a cup of shredded coconut on a baking sheet and toast on 300 degrees for about five minutes (or until light brown). Let cool and set aside. Place your cooled custard in your ice-cream maker to make your first batch of I'm In Love With The CoCo. Sprinkle with toasted coconut and cinnamon for garnish.
Note: This ice cream can be made in a full-dairy version by using the Very Vanilla Ice Cream Base and simply adding cocoa powder during the custard making.