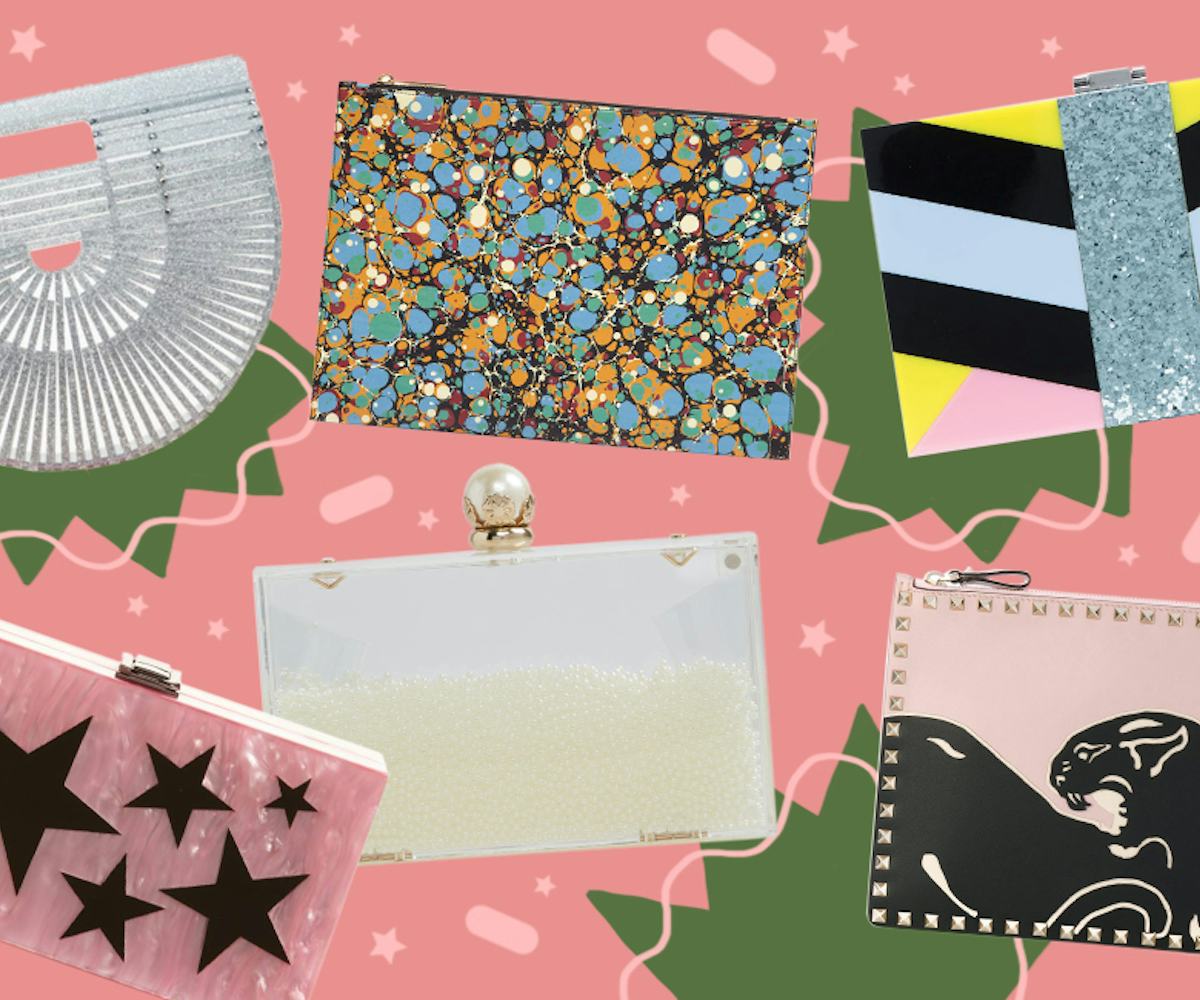 Be The Life Of The Party With These 15 Clutches
So what if you've already worn that dress?
Summer always tends to leave our schedules jam-packed with events and parties, and dressing for each and every one of them can prove to be quite the challenge. Now that we're deep into the season, chances are we're just about ready to restart our rotation of special occasion looks—which means we'll have to rework them a bit. Cue the accessories!
With the right bold, eye-catching bag? No one will know you already wore that jumpsuit to your cousin's wedding in May, even if you did post it on Instagram. That's why we rounded up 15 killer party clutches that are such statements in themselves, no one will know you're rocking a repeat.
Prepare to be the life of the party without the stress of putting together an entirely new outfit. Click through below to check out our summer favorites.
Nordstrom, Etoile Acrylic Box Clutch, $99, available at Nordstrom.
Milly, Geo Square Acrylic Box Clutch, $295, available at Milly.
ASOS, Ring Detail Fabric Pouch Bag, $56, available at ASOS.
WANT, A Piece of Snake, $36, available at Nasty Gal.
Cult Gaia, Glitter Acrylic Ark, $298, available at Cult Gaia.
Gelareh Mizrahi, Round Ball bag, $495, available at Gelareh Mizrahi.
Heirloom, Twin Clutch, $330, available at Heirloom.
Edie Parker, Jean Fruit Cocktail, $1,395, available at Edie Parker.
Zara, Jewelled Messenger Bag, $49.90, available at Zara.
Valentino, Rockstud Panther Clutch, $725, available at Farfetch.
Diane von Furstenberg, Circle Leather And Suede Clutch, $200, available at Net-A-Porter.
Victoria Beckham, Large Simple Pouch, $595, available at Victoria Beckham.
Alice and Olivia, Shirley Embroidered Large Clutch, $350, available at Alice and Olivia.
Anndra Neen, Cage Clutch, $725, available at Anndra Neen.
Aldo, Cipressi, $55, available at Aldo.