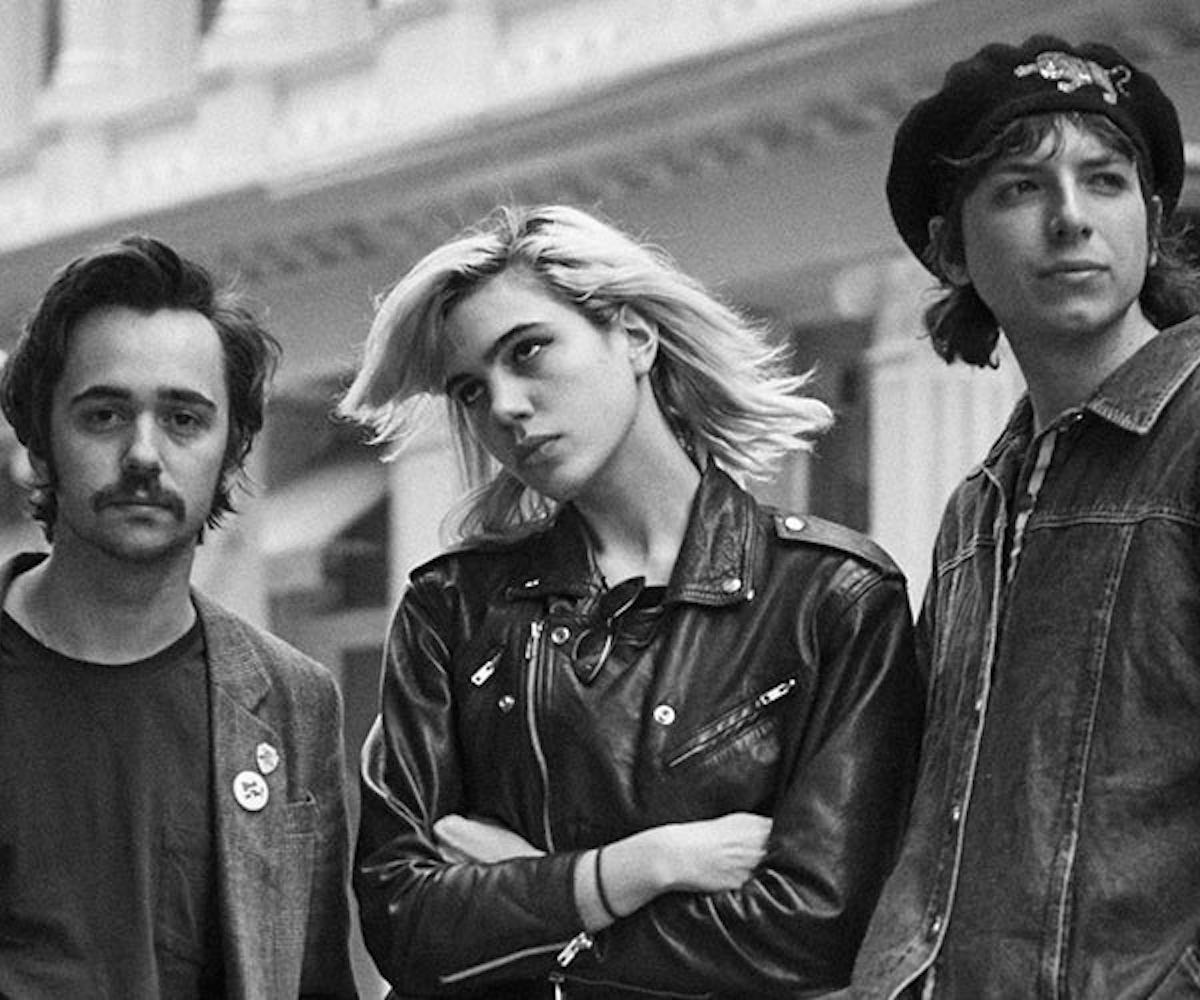 Photo by Mary Fix
Sunflower Bean Are Right Where They're Supposed To Be
On new album, "Twentytwo in Blue'
With their new album, Twentytwo in Blue, Sunflower Bean have gotten to a place that feels right. The New York trio's sophomore album combines all the magic of its debut, Human Ceremony, with a refreshing sense of earnestness that seems to be lost on (or avoided by) most people that age. (They're all 22, in case you couldn't guess from the album's name.)
"When our first record came out in 2016, we were sort of hiding behind a little wink and tongue-in-cheekiness that I feel like is very indicative of our entire generation," Nick Kivlen, Sunflower Bean's guitarist, says. "We're all very ironic and post-modern and sort of calloused and jaded. For this record, we really wanted to strip that away, because, I think, that sense of irony stems a little bit from a place of fear of actually putting ourselves right here on the table."
If it's cool to act like you don't care, then all three members of Sunflower Bean would rather be uncool. They're all about deliberation and intentionality. "This is a very considered record," bassist Julia Cumming says. "It's a very intentional record. I don't think we have anything to lose by not being ourselves." Drummer Jacob Farber adds, "There are all these precious moments on the album that, because they're so vulnerable, will hopefully allow people to connect with it more."
Photo by Mary Fix
Through 11 tightly packaged songs, Sunflower Bean paint a picture of what it means to be a twenty-something in this "Crisis Fest" of a world. "Sinking Sands" explores conspiracy theories; "Puppet Strings" jams to its own ennui; "Twentytwo," the album's tender title track, cruises between youthful abandon and the very adult realization that that abandon is reckless. "Making this record and allowing ourselves to feel everything was kind of like our way of staying on top of current events; we're doing what everybody else is: responding to the climate around us," Cumming says. "What's happening politically is all-encompassing in our culture at the moment," Kivlen adds. "How could it not find its way into our music?" 
"I feel like all the music we make is just us reacting to our existence and where we're at," Cumming continues. "There are a few different places on the record that act as mantras of sorts, ways for others to help themselves but also ways for us to help and nurture ourselves, too." 
Take "Only A Moment," a steady ballad about perseverance and, most importantly, resilience. "You're exactly where you're supposed to be," Cumming sings over and over again. It's such a simple phrase that carries with it immense comfort and ease. "Resilience is a word I've been thinking a lot about in terms of this album," Cumming says. "To survive right now is an achievement. If you can make it through this moment, you'll arrive at a better place." Like they sing on "Any Way You Like," time is on their side. Sunflower Bean is here, present, and exactly where they're supposed to be.