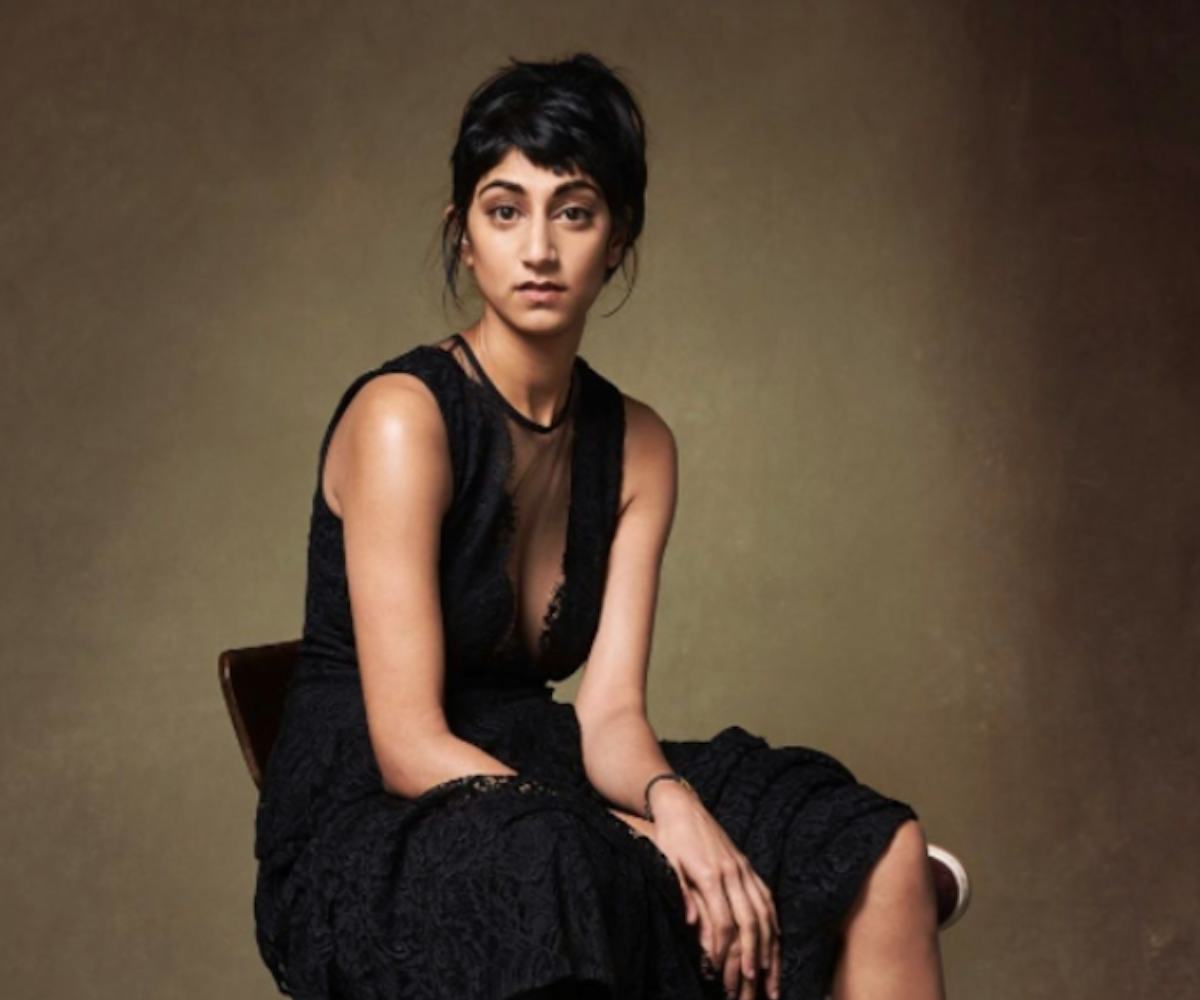 Photo via @sunitamani Instagram / Photographed by Cate Hellman
Sunita Mani On 'GLOW' And Ethnic Misrepresentation In Media
"I get a lot of Reddit commenters who say things like, 'She could never be Iranian!' And I agree with them."
Sunita Mani is into everything. To drama-thriller fans, Mani is hacktivist Trenton on USA Network's Mr. Robot. To alternative comedy nerds, she is one-third of the absurd dance troupe Cocoon Central Dance Team with collaborators Tallie Medel and Eleanore Pienta. (The trio premiered their debut feature, Snowy Bing Bongs, at Brooklyn's BAMcinemaFest, with screenings to follow in Los Angeles; the group has also performed for Ilana Glazer and Abbi Jacobson's Broad City Live tour.) And to viral internet enthusiasts, Mani is the "dancing girl" from DJ Snake & Lil Jon's "Turn Down for What" music video, directed by breakout duo Daniels (Daniel Scheinert and Daniel Kwan, of Swiss Army Man fame). 
But it's likely Mani may reach a new level of recognition with the summer Netflix series GLOW (which stands for, and is inspired by, the original 1986 TV program The Gorgeous Ladies of Wrestling), which had its female wrestlers play into wildly heightened and inappropriate racial stereotypes. Mani plays a mild-mannered pre-med student named Arthie Premkumar who gets developed into a keffiyeh-wearing, gun-slinging wrestler known as "Beirut the Mad Bomber." During Arthie's televised fight debut, the hostile audience boo, yell slurs, and chuck garbage at her head—"Everyone really hated me," Arthie laments backstage. As joyously binge-y as GLOW is, the series also confronts political issues that are still timely as ever.
We catch up with the emerging actress to discuss misrepresentation in media, training for GLOW, and getting recognized for her dancing.
I'm glad we were able to make this work because you've been really busy!
I was traveling a lot—June was exceptionally exciting. I got to do a little part in Daniel Scheinert's movie in Alabama that he and our friend Billy Chew from Emerson College [which Mani, Scheinert, and Kwan also attended] had been working on for 10 years. The movie is loosely exploring the idea of urges or fetishes you can't talk about.
Then, I got back to New York, and it was the Snowy Bing Bongs premiere, then the GLOW premiere in L.A. immediately after that, and then an encore screening of Bing Bongs. Now I'm catching my breath before planning an Indian wedding with Kenny, my fiancé.
Tell me more about what an Indian wedding is like.
They're so fun and elaborate. You get to wear your prettiest sari and get decked out. It's a long ceremony, and it's full of dancing. I like how there are many stages to it. The "night-before" party is symbolic—it's when the groom comes to the bride's village. You make a lot of noise for that, and the groom arrives on a horse. My mom, before we even had decided on having an Indian wedding, asked if Kenny wanted to ride a horse. We were researching where he could take horseback riding lessons potentially. [Laughs]
I don't know if this question bothers you, simply because it feels like an obligatory conversation in media now, but what's it like being an Indian-American actress?
I don't mind that question because I don't talk about it a lot outside of my friends. I share a shorthand with people I'm close to, with whom I don't need to articulate my ideas fully because I know they get me. I also don't mind talking about it because I don't feel defined by my race, especially with my background in comedy and performance, which is rooted in absurdity; I'm just playing the person I am. 
It's funny being in contexts with Mr. Robot and GLOW where I am more defined by my ethnicity or the way I look—that is the reason why I'm there in the story. I struggle with that idea of "token identity," but it's way more in-depth with GLOW. We [the cast] had a lot of open discussions with the writers because the situation was so meta. For me, I'm playing a new-to-acting Indian-American woman who is stereotyped and cast as an Arab, and thusly a terrorist, but I am also, as an Indian-American, playing a stereotype to make a comment on it. It was exciting to figure out the role and the conversation, even though I can't always pinpoint how I feel about it. I went from being nervous to play a loaded stereotype to being very ready, like, "Let's do this."
We need to have nuance in representation. Especially being Indian—it's confusing in the American narrative when Indians are not considered Asian-Americans. India kind of gets passed over. So in many ways, it's refreshing to come as myself. In GLOW, we put all the labels and assumptions on the table. It was exciting to play an actual Indian-American. I've never done that before. On Mr. Robot I'm playing an Iranian, and I get a lot of Reddit commenters who say things like, "She could never be Iranian!" And I agree with them.
GLOW is light-hearted and over-the-top, but there are a lot of heavier themes going on—things that are still scarily relevant given our current political climate. 
At the time of shooting [last fall/winter], it was terrifying that we weren't further along than we were. A layer of irony was stripped away, like, "Are people going to think it's commentary or are people going to think this is what our characters should be?" Like if a black woman should be playing a "welfare queen," or if an Indian character should be playing an Arab who is playing a terrorist. But the series is so smart and well-done, and it was easy to trust the writing and direction. We knew it was challenging, so there were lots of conversation happening on set which was amazing. I've been on sets where you don't have open doors with the writers who are not willing to integrate your thoughts into the stories. The showrunners, Liz [Flahive] and Carly [Mensch], were so considerate and ready for anything. They were juggling 14 different dynamic story lines amongst all the girls.
It's a lot of physical comedy: body slams, hitting the ground, flying in the air. What was the training like?
There was a four-week training period, but I was two weeks late because I was working on a different job. I was nervous walking into that room, intimidated by the fact that the other girls had already been there for two weeks, it was like walking into a new high school. And you see them in the ring helping each other stretch and telling each other inside jokes. But when I get there it's just open arms. It was the most loving, trusting, and supportive environment I've ever been in. The other girls pushed me to be fearless. They were taking everything that was thrown at them and going for it, throwing themselves at the ropes and jumping off them. We were in each others' armpits, holding each other by the neck, farting on each other—there was no time to be uncomfortable or self-conscious.
The producers were big on, "Come as you are, don't lose any weight, don't change anything, we want you for you. Whatever you are is going to be an advantage in some way, we will play to your strengths." It was three or four hours a day of choreography and the theatrics of wrestling. You have to learn moves in order to protect yourself and your partners. So every day we broke down the choreography over the course of a week and then we would trade partners and roles of who's doing the leading, who's following.
Between Mr. Robot and GLOW, are people starting to recognize you more?
You know what it is? "Turn Down for What." I would get recognized by a lot of high schoolers; they would point and scream, "It's that girl!" And then they'd ask for pictures.
I used to work at a restaurant where we would host private events, and there was a wedding in the backyard. At the end of the night, the groom stumbled over drunk and whispered to me, "Your song is playing next, I requested it!" And then he made me dance with them, and his best friend who was gay twerked on me. My boss and the other bussers were picking up glasses from the table looking at me like, "What are you doing?" And I would be like, "I don't know what's happening, I'm so sorry!" That music video put me on the goddamn map. [Laughs] I really owe the Daniels a lot for that.
GLOW is available to watch on Netflix now.