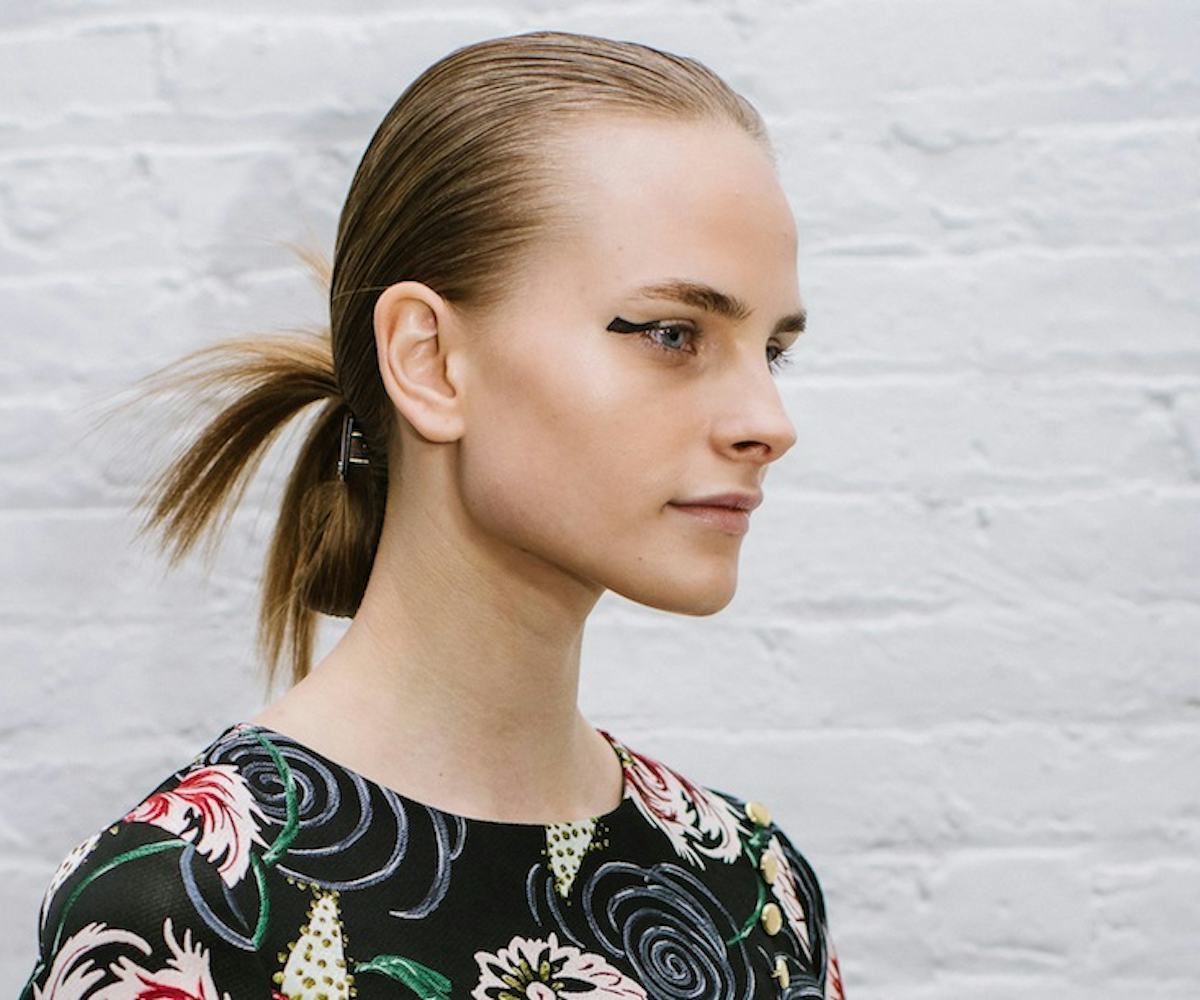 Nina Westervelt
bored of your cat-eye? try this block-eye
the chicest block on the block
Backstage at Suno's NYFW Fall/Winter 2015 show, makeup artist Alice Lane was making us forget everything we thought we knew about eyeliner. Using Maybelline's new Eye Studio Master Graphic, a marker-like liquid eyeliner, she created solid rectangles at the corner of each model's eye. The effect was striking, like a more geometric, futuristic cat-eye. "Think of this makeup like an accesory," Lane said. "Like you're putting on a pair of really cool sunglasses."
The color-blocked liner look (or block-eye, as we've decided to call it) is surprisingly easy to recreate, especially using this specific eyeliner: The shape of the felt tip allows you to draw a super-bold, precise line with one swipe. "Make like you are drawing a cat-eye but only start pressing down when you get to where the flick would be," Lane instructs. "Then draw straight outwards." Worried a look so modern wouldn't be flattering? Lane says it's actually a shape that looks cool on most people, including herself: "I tried it on myself first, because I knew if it looked good on me, it's going to work on a 19-year-old beauty. If it looks like crap on me than we're in trouble." 
Click through to see the block-eye and check out more gorgeous backstage beauty from Suno. 
The look was partially inspired by Matisse—and these lines were created with the Maybelline eyeliner.
A fun, graphic alternative, yes/no?
Keep the rest of your makeup minimal to let this liner really pop. Just even skin and brushed-out brows.
When you're drawing the line, direct it straight outwards, so that it doesn't make you look tired.
Mind=blown.