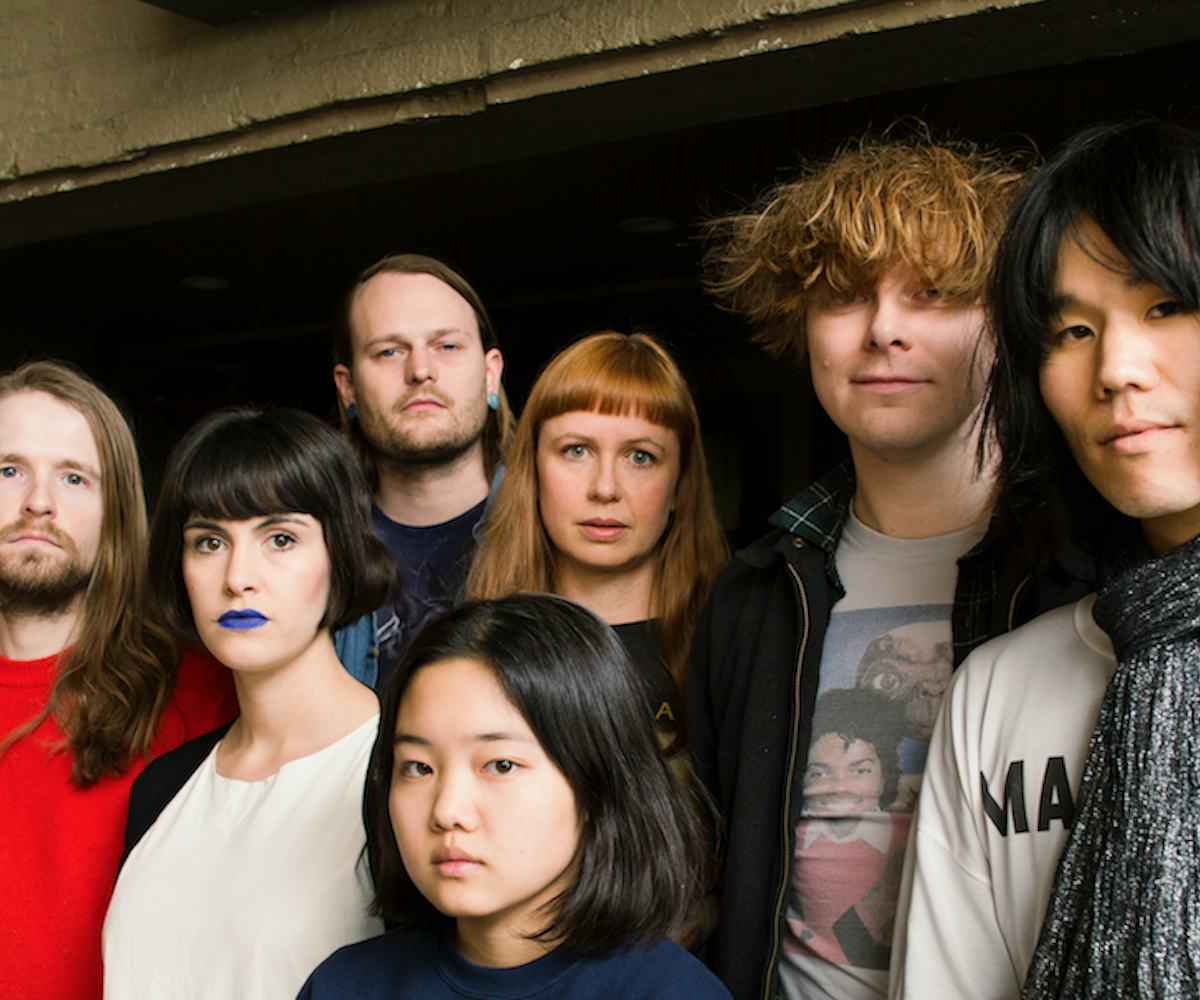 Photographs by Sara Laufer.
Superorganism Is So Much More Than An Internet Band
Isn't every band now an internet band?
The story of Superorganism, the eight-person pop outfit now residing in London but born of the internet, has been told many times. Comprised of online forum friends from around the world, Superorganism burst onto the scene with 2017's "Something for Your M.I.N.D.," a whirring, downtempo, synth-pop concoction that feels like immersion therapy for our social media-saturated era. The song was quietly posted online and accompanied by a cryptic message: "We are Superorganism. We are in Maine/London. We are DIY. We are eight and multiplying. We have become sentient."
Despite that ominous missive, Superorganism's sound is joyous and jagged, a canvas layered with so many textures and contrasting sounds that repeat plays of the same track can leave a listener feeling like they heard two completely different records. As Pitchfork's Ben Cardew noted in his review of their debut, the anchor to it all is the understated vocal performance of teenage lead singer, Orono Noguchi, who met several of the members while they were performing in Japan as their previous iteration, indie pop band The Eversons. She kept in touch with them while attending boarding school in Maine and, eventually, they sent her an early demo of "Something for Your M.I.N.D.," quickly realizing they'd stumbled onto something worth exploring further.
"I still remember it so clearly, because Emily was like, 'Oh hey, Orono's just sent her topline back over the demo. Should we all listen to it?'" says Ruby, one of the group's backup vocalists. "And we were in the kitchen, which is like the only shared space in our house now, and we sat down and I just remember everyone being like, 'What is this? This is cool. This is great.' And we put it out there because we were like, 'Maybe we'll just see what other people think of it.'"
The track was an instant hit and fueled one of web culture's great pastimes: conspiracy theorizing. Rumors began that they were the buzzy new side project of someone like Tame Impala's Kevin Parker or Gorillaz's Damon Albarn, and there were even some questioning whether Orono herself was a hologram, something a nonplussed Orono says was "too bizarre to be believable." In the "Everybody Wants to Be Famous" video, which brilliantly spoofs the widespread mystery surrounding the band, Orono's reaction is a bit more animated. She responds to a troll writing, "Orono is not a Japanese girl, she's a Japanese HOLOGRAM," with, "Your mom's a Japanese hologram," before literally flying through the comment section and dropping banana bombs on the online bully.
I met Superorganism in a fittingly dizzying fashion for a band who seem to constantly be looking to squeeze as much of their singular sensibility into any available nook. A few hours before their show at Brooklyn's Music Hall of Williamsburg, the venue is buzzing with activity, and as I ascend the stairs to the green room, Orono, Ruby, Harry, Emily, Tucan, B, and Soul are perched at the top (Robert Strange, who handles visuals and stage design, was not present). We shake hands in rapid succession, like I'm a glad-handing political candidate on the campaign trail. Even from this brief glimpse, it's easy to picture the free-flowing creativity of their oft-discussed terrace house in London (Soul lives around the corner, despite pervasive rumors that he currently lives in Australia). Ruby sets the scene well when describing the madcap churn that led to a cohesive and fully realized project like their debut.
"Robert might've been making a visual for 'It's All Good' last year, and Orono was, like, recording the lyrics to the last song on the album, and Emily was, like, starting another song in another room, and Tucan's mixing another song," she says. "That stuff is all happening at the same time in the house, so everything's just done in the house and then finished when everyone decides it's finished."
But, much like the appeal of the internet's stranger corners, not everything about Superorganism is intended to be excessively parsed. The joy of cuts like "The Prawn Song" or "Sprorgnsm" comes from letting them wash over you, marveling as the melodies and ideas of the restrained verses are stretched like funhouse mirrors by the bombastic and pathologically catchy hooks. As both Ruby and Orono stress, their eclectic style wouldn't be possible if every element of the songs had to hold up under a close, analytical eye.
"You'd be thinking about every single word and every single line of the song and every single sound that you made: 'What does this mean? What does this mean to other people? How are people going to react?'" says Ruby. "That's not a way to work—it's a bad way to work, I think."
Despite now living in such close proximity, the band has continued to work the way they did when they were oceans apart. They still send each other files instead of spending hours locked in a room together noodling on guitars and keyboards, meaning that their digitally inspired decoupage has successfully made the jump to IRL. Lyrically, their music does tackle some of the thrills and drawbacks of living life online, as Orono shifts between protagonist and narrator: "My router is a candle/ That ignites my slim innocence/ And I see how this was so dull."
But I liked the blue brittleness," Orono sings on album closer "Night Time," while the punchy percussion and buzzy synths grapple for your attention with a cascading stream of tire squeals and the sounds of nocturnal nature. On "Nobody Cares," there's a blissful, judgment-free escape from the pressure of a constantly connected society. "Sweet relief when you grow up and see for yourself/ Nobody cares/ Have a drink, have a smoke, do whatever you need to unload," she deadpans.
But like anyone who's truly internet-fluent, there's clearly some fatigue in having to constantly discuss the impact of something completely second nature, it's almost like asking how playing instruments affects the way they make music. The band wouldn't exist without the connective power of the web, but they don't see themselves as trailblazers compared to their peers.
"It's weird when people are like, 'Superorganism are an internet band,' because I feel like every band that has existed after the internet became relevant is an internet band, because it's been such a crucial part of our lives for the last like 10, 15 years. It's true though, we are an internet band," says Orono. "For young people, for people my age, I don't think it's that surprising of a thing, but for people maybe listening to BBC or watching Jools Holland, they find it so interesting."
On stage, they emerge dressed in neon rain slickers, each in a different color. While many artists create a separate plane between themselves and their visual effects, Superorganism's set is covered in panels that capture the whirring light show, creating a total unity between the band members, the music, and the projections that is kind of a superorganism in its own right.
The band recently wrapped up their first U.S. headlining tour and has a short window before beginning a lengthy European festival jaunt. Along the way, they'll surely be the subject of another dozen more profiles remarking on their internet origins, something that may well become less of a central narrative and more a fun piece of trivia if the band continues putting out excellent records and backing them up with thrilling live shows. For now, they're taking it in stride.
"It's a cool headline, I guess," Orono shrugs.