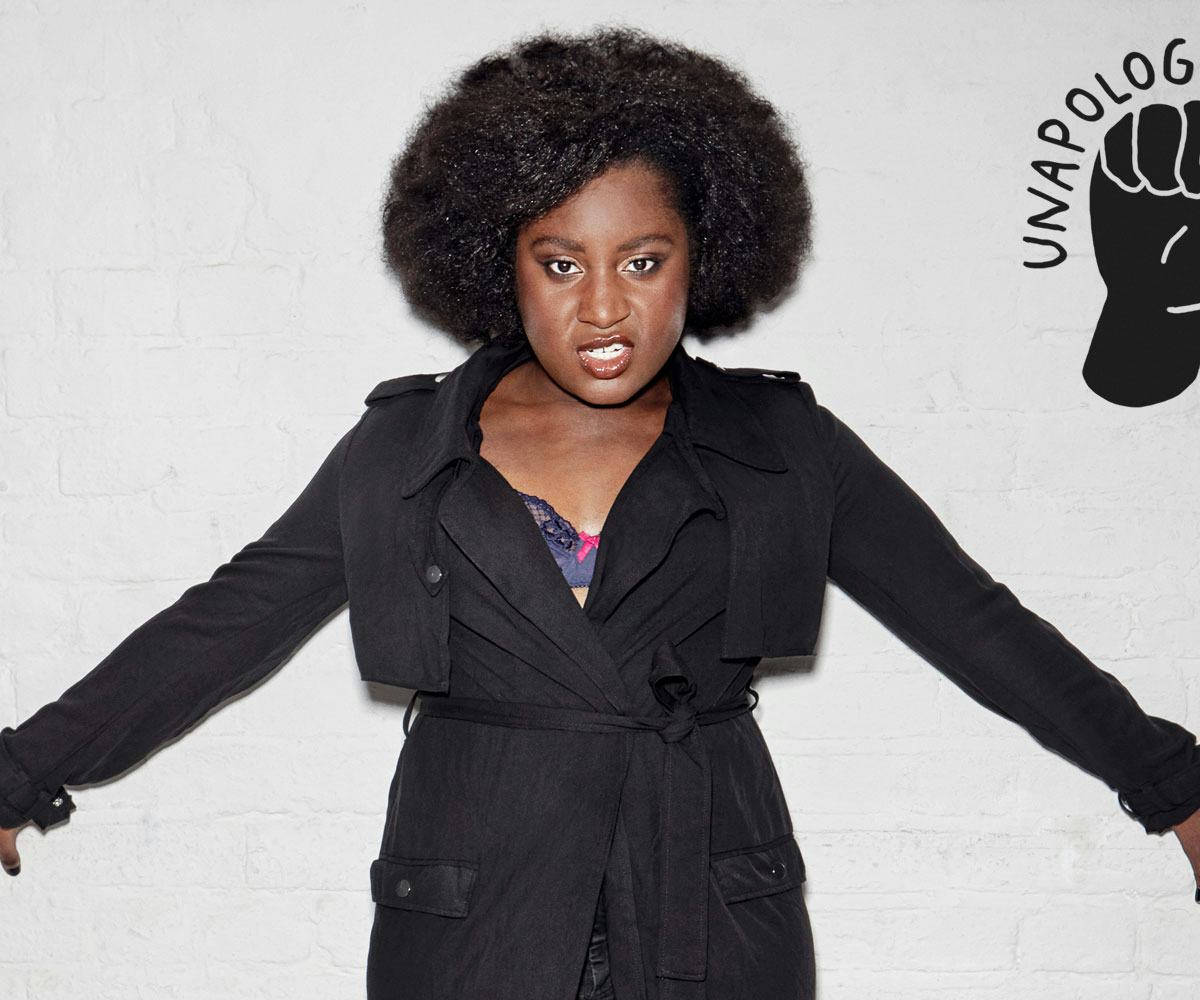 Image courtesy of Antonio Petronzio.
Susan Wokoma Wants More Lead Roles For Black Women
Meet your new favorite actress
In celebration of Black History Month, NYLON is running a spotlight series called UNAPOLOGETIC. Every day, we'll celebrate different aspects of black culture through profiles, interviews, roundtables, reviews, videos, and op-eds. #Blacklivesmatter and we hold that truth to be self-evident.
Susan Wokoma is one of those actresses you know everyone's going to be talking about in the coming months. The kind who deserves more recognition than she's getting, but who you selfishly want to keep to yourself, lest everyone start to claim her as their new favorite, also. Well, world, here she is. We suppose we can share.
Wokoma is a British Nigerian actress who plays a hyper-religious younger sister on E4's Chewing Gum (which Americans can view on Netflix) and a demon killer on Crazyhead (watch this right after you finish Chewing Gum). The roles couldn't be more different (talk about good vs. evil), but she plays both brilliantly. And we're not just saying that because her British vernacular has intercepted ours since binge-watching her shows, it's actually true. She's a comedic force. The way she delivers the line "The devil is prowling" on Chewing Gum still makes us chuckle when we think about it.
Ahead, we chat with the 29-year-old about her career, being a black actress, and future projects. For those still waiting for season two of Chewing Gum to hit Netflix, this one's for you. For everybody else still unfamiliar with Wokoma's work, this is for you, too.
Is there a moment that you knew you wanted to become an actress?
There was no real bingo moment as, for a long time, I didn't realize that someone that looked like me could legitimately be an actress as an actual job. But what I do remember is my first theater trip: "Bugsy Malone" in the West End for a friend's birthday. It was full of kids like me in the cast. I was 10. I remember during the show, and for several days afterward, feeling this weird sadness, longing, and dread. In fact, my mom was really worried about me as I went very quiet for days. I now understand what that feeling was—I had fallen in love. And falling in love feels absolutely horrific.
How did you start working on Chewing Gum and how did that lead to your role on Crazyhead?
I had done a play with Michaela [Cole, writer and star of Chewing Gum] back in 2013, playing her younger sister, and she put my name in the hat alongside lots of other actresses to play Cynthia. I did one audition and got the job. Very, very rare that happens. Then, I was in another Channel 4 show called Crashing with Phoebe Waller-Bridge [of Fleabag], which I think all helped me get in the audition room for Crazyhead. My name was on someone's radar at Channel 4, which was very nice.
I interviewed Michaela Coel a couple of months back and she mentioned that, at one point, in Chewing Gum, there are four black actresses in one scene which she doesn't think has ever happened in the history of British television. Coel both writing and starring in the show is also a rare happening. How does it feel to be a part of that?
It's an enormous responsibility, but only in hindsight. Whilst in the thick of filming or doing the job, you can't try to guess what the impact of your work will be because you can put all your energy into something and the work might not even make a ripple. I know the scene Michaela was referring to, and it was four black women being funny and silly. As a black female performer, those scenes are pretty non-existent, and I absolutely recognized that in the moment. Ultimately, all we want is an equal chance at doing our job! We just want to get on with it.
I know both of your parents are Nigerian. Was it important for you to play an African character on television?
Being a black actor means by default you'll play an "African" of some sort, at some point [laughs]. It's a real talking point amongst black actors! Being asked, "Can you do an African accent?"
"Erm, how about be specific dude—Africa is a big place."
I want to play a wide variety of characters on screen—African included—and I've been lucky to have done that a few times, but one actor getting chances isn't enough. All we want is the same opportunities and chances as our fellow white thespian buddies. That includes a shot at lead roles.
You're a writer, what kind of writing do you do? When you sit down to write, what do you like to listen to?
I write comedy mainly, as that's what I love; nothing broad or gross. There's always drama in my work, as I believe the funniest situations are born out of the darkest of times. And I write autobiographically. My current project is based loosely on me meeting my half sister in Nigeria for the first time when I was 24. When I write, I tend to listen to music that gives me the rhythm and heartbeat of the characters, so right now I'm listening to a host of afrobeat stars like Ice Prince, Timaya, and Iyanya, as well as Springtime Carnivore, London Grammar, and Shura who's an old friend of mine. A big, big mix!
What are some projects you hope to tackle in the near future? 
I have two feature film ideas bubbling away, but I absolutely got spoilt rotten on Crazyhead. Nothing ruins an actor more than getting the chance to play a character with meat on the bones and an actual story arc—especially a female one. More roles like that, please!