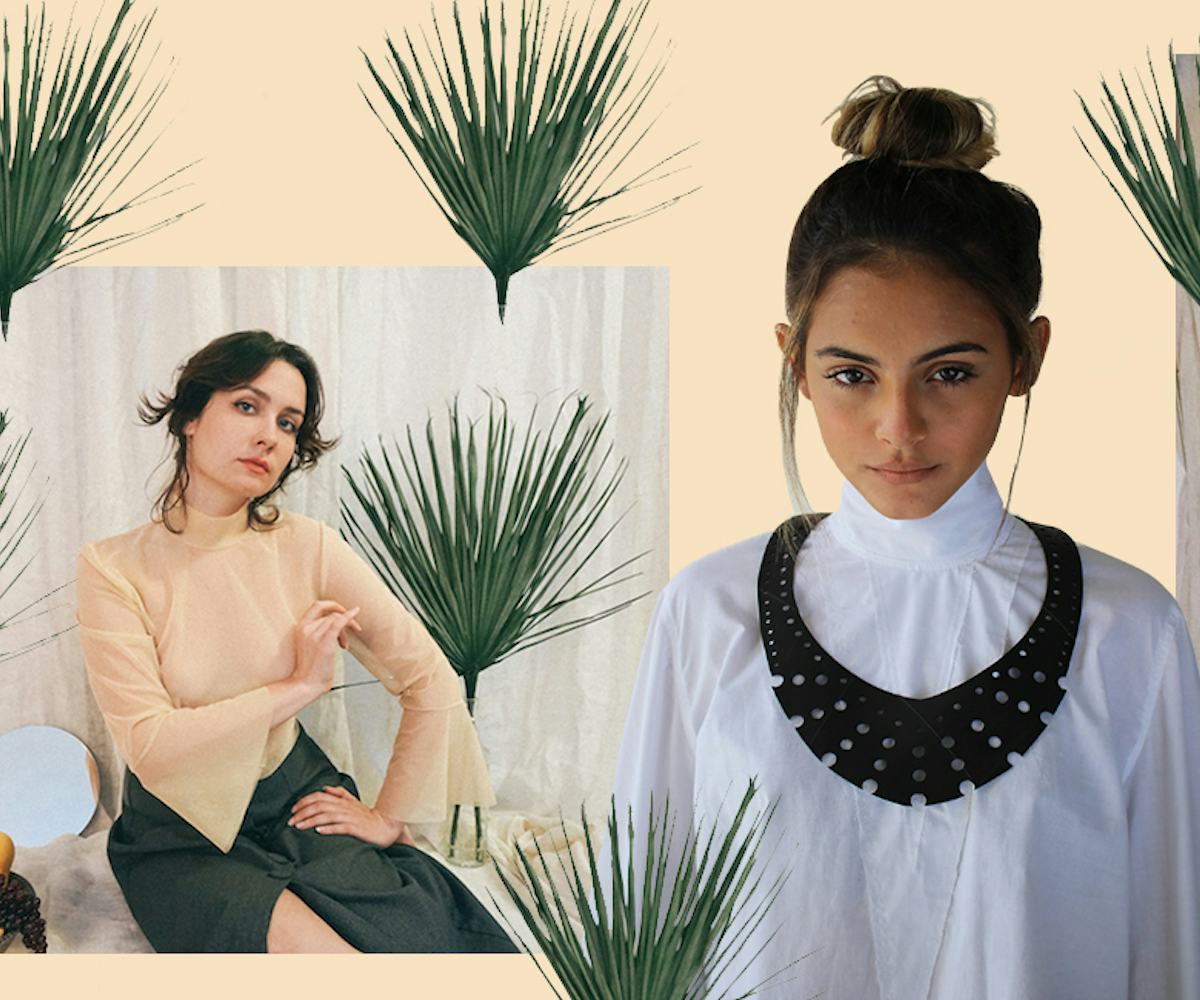 Meet The Puerto Rican Designers Focused On Sustainability
"We are a small island. We can't afford to waste things."
"Tomorrow is a full moon," Polet Guzman tells me, sympathy in her voice, when I finally remember to begin recording our conversation—after we've already spent half an hour discussing her design work, fine art background, and move to New York City from Puerto Rico in 2013. "We should open a bottle of wine," adds Aris Mejias, an actress and designer also from Puerto Rico, who's behind Brooklyn-based clothing brand Skin Onion.
My ego soothed, we go on, the incident having loosened us all up. We are sitting in the back of Guzman's MUZA Concept Store on Hester Street in New York's Lower East Side at a sewing table; it's her studio, which she shares with other women designers.
Guzman's and Mejias' clothing styles are extremely different, with the former focused on sultry, form-fitting, sheer pieces, and the latter designing for an active, maybe older woman—someone who wants to feel sexy while still being able to bend over and pick up a kid or ride a bike. They're both wearing their own designs on this Wednesday afternoon: A MUZA silky, striped, multicolored open-backed jumpsuit with wide legs, an all dark-denim Skin Onion outfit with ballooned sleeves and white stitching.
But their collaborative spirit and focus on clothing a specifically Latinx female body have brought them together, as has their desire to empower their fellow women here and on the island.
Mejias, who's been sewing since she was 6 years old, explains that, in order to design the kind of clothing she wanted, non-stretch and made-to-last, she had to do so with a very specific fit in mind and use her own body as guidance. She launched Skin Onion in 2012, after studying pattern-making and high-end tailoring at FIT.
"Latina, Puerto Rican bodies are very tiny on their torsos, very flat-chested in most cases, with a small waist and big hips," she says. "Because I didn't have a fabric that would be able to stretch three sizes, I had to make a choice on the fit."
Guzman, too, started out designing for herself and friends—she's trained as a painter, not a designer. "All the fitting models that I use have that type of body," she says. "Coming here to the United States, you realize that, actually, we need that. We are so many immigrants: They need that voice to remind them of their culture and where they came from."
"And to feel sexy and beautiful in their clothes," Meijas adds. "It shouldn't be that you're uncomfortable in your garment. I used to get dresses that would bunch up in the back, with a bubble, and it was because they were made for a long torso."
Both are looking for opportunities to grow their businesses in the most sustainable way possible. Skin Onion has partnered with an emerging slow-fashion initiative on the island called Retazo, which wants to use education, product development and production, and sales help to make it a go-to for high-end and local fashion brands. Guzman will be bringing MUZA to a co-op factory in Guatemala this summer, which will allow her to make more considered business decisions, as she'll no longer be sewing each piece. "In the beginning, I was making clothes to empower women," she says. "Now, I'm helping this community and creating jobs for people."
Sustainable, smart growth is a very real concern for Puerto Rican designers both on the island and in the diaspora. After Hurricane Maria, as Puerto Rico stays in the news for the lack of electricity and the massive exodus of its population, there's a new motivation to restore their home not only economically but also aesthetically.
"Right now, more than ever, it is super-important for me to produce locally," says island-based designer Sally Torres Vega, who works from a studio in a central mountainous area called Cidra. Her clothes are often loose and billowy, perfect for keeping cool and comfortable in the tropical heat.
"Due to our colonial status, the chance for seamstresses to make other garments that aren't military uniforms is beautiful. I usually hire workmanship and interns from adjacent towns; they can come from vocational schools or nearby colleges teaching design," she says. "The fabrics I mostly obtain overseas from small mills, but I have fortunately also been able to obtain fabrics from some family-owned stores in Puerto Rico. I try to keep it balanced. I do the screen-printing and dyeing in the studio or with local printers."
Shops on the island such as Concalma, Luca, Placard, and AL Curated have made these designers more the focal points of their curated selections. Estefanía Colón, who runs the online magazine AL, launched its namesake online shop and showroom right after Maria hit.
"The shop was meant to open before Hurricane Maria, but we had a huge hurricane scare with Hurricane Irma two weeks before, so things were not running smoothly," Colón explains. "We opened officially on October 1, 2017, just after Maria, with almost no hope that we'd have any sales—fortunately, we were proved very wrong."
Every purchase at her shop, she says, supports hurricane relief, both organically—by supporting local designers—and through the items whose proceeds go to the environmental restoration nonprofit Para La Naturaleza.
All of these women have the drive to empower each other, their customers, and their home in a holistic and considered way, without pushing their businesses beyond organic growth.
"After the passing of Hurricane Maria, many sectors have been shaken and are now open to new challenges and ideas of creating more solid and independent industries that are bred locally," says Vega, in a call to action that ties her philosophically to Guzman and Mejias. "Being sustainable right now is our real option. We are a small island. We can't afford to waste things."