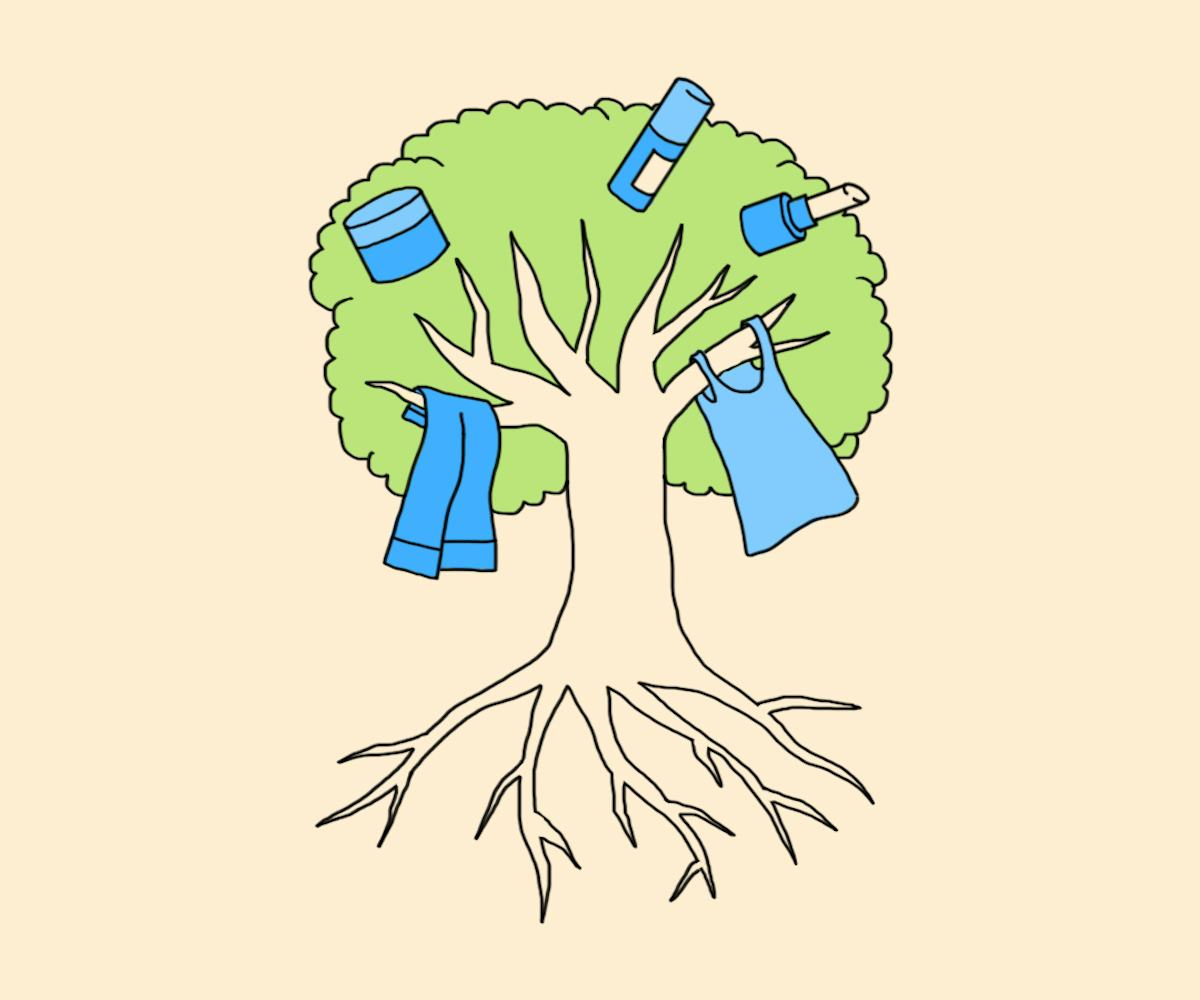 These Are The Sustainable Retailers You Should Be Buying From
Bringing eco-friendly to the masses
Earth Day is just around the corner, and while this day, that this year falls on a Saturday, typically serves as a celebration of the brands that are making a difference within their industries—from the ingredients and materials they use and how they're sourced down to the manufacturing process—we feel that the retailers carrying these brands also deserve to be celebrated.
Below, we rounded up seven retailers that bring forward a beautifully curated selection of ethical and sustainable fashion and beauty brands. While each brand carried is doing its part to be more mindful of our planet, so are these retailers by putting them in front of and making them accessible to the masses.
Each shop has its own unique personality and vibe, and each serves to fight for same mission: a more thoughtful, mindful, and sustainable world. Keep reading to learn a bit more about them all.
FollainFollain has grown to become one of the leaders of the non-toxic beauty industry. Each product carried—whether in the skin care, hair care, or cosmetics category—is carefully selected based on some of the highest standards in the industry. "We use beauty products daily, and the ingredients in these products go back into the water stream," says Tara Foley, founder and CEO. "When you use toxic, unsafe products, they're not only directly harmful to your own health, they're harmful to environmental health, too."
When it comes to their brand selection process, Foley looks for safety, efficacy, and transparency. "We have the highest safety standards around, so each product gets checked for a long line of restricted ingredients," says Foley. "We only sell what works beautifully, too. I test every single product, along with a team of other testers. It has to work as well as, if not better, than anything already on the market, including conventionals." Foley and her team also look for brand transparency, ethical and natural sourcing, and, of course, eco-friendly packaging. Overall, the product should be "a joy to experience," she says. "Using your products should be a moment of mindfulness and self-care you look forward to." We agree.
Reve En VertLet's face it: sustainable, ethical fashion can have a reputation for, well, not always being the most fashion-forward. Retailer Reve En Vert is here to prove that assumption wrong and bring the masses sustainable style that's also super chic. In addition to that, the retailer works only with brands that are aligned with their four pillars of sustainability: organic, local, remade, and fair. Think: Mara Hoffman and Pamela Love.
Cora Holts, one of Reve En Vert's co-founders, feels strongly that the fashion industry needs to take responsibility toward combatting issues of sustainability. "Quite simply, fashion is one of the most polluting industries on earth, but it's also creative and forward-thinking," she says. "There should be no reason why it can't be this way in the sense of ethical and development as well."
CredoCredo is your one-stop shop for all things clean beauty. The brainchild of a San Francisco local who once served on the team that launched Sephora in the U.S., the retailer carries more than 100 clean beauty brands sourced from the West Coast all the way to New Zealand. You'll find everything from cosmetics and hair care to fragrance and candles that are not only sourced ethically, cruelty-free, and sustainably packaged, but that also pass a number of other criteria, from holistic vision to authenticity and transparency.
Annie Jackson, Credo's vice president of merchandising and planning, tells us that sustainability in any industry today is non-negotiable. "There is a wealth of information out there that empowers people to know what they're consuming and how it affects their health and the environment," she says. Lucky for us, Credo takes the burden of researching brands off of us: "As far as beauty is specifically concerned, the brands we work with make a commitment to create advanced, clean, and natural cosmetics without harsh artificial chemicals and non-renewable petroleum ingredients, toxic to both human health and the planet. If you were to start formulating and creating a brand today, why would you do it any differently knowing the impact?"
Kindred BlackKindred Black is more than just your typical ethical retailer—it's a full-on lifestyle brand. Carrying everything from the coolest sustainable fashions and accessories to natural beauty brands, they also offer an assortment of vintage home goods and craftsman-produced decorative knickknacks (like crystal yoni eggs, because, yes).
Founders, Alice Wells and Jennifer Francis, started the company based on the belief that style and design should never be compromised for eco-responsibility, and that eco-responsibility should be left up to the retailer, not the consumer. "As consumers, we got tired of businesses putting the onus of their polluting choices on us," says Francis. "A perfect example: 'Please recycle this bag' printed on plastic bags. The consumer shouldn't have to figure out what to do with the bag, the business should figure out a different way to package their goods and not give out plastic bags in the first place."
At Kindred Black, each item sold is checked against a set of guidelines, such as using natural, recycled, or low-impact materials or heirloom quality made to last, and all must fall into at least one category. Of course, this never results in a lack of style—in fact, it allows for the complete opposite. "The beauty of being business owners is that we can take chances on wacky pieces that no boss would ever let us get away with putting in the assortment," says Wells.
EthicaEthica, a contemporary online fashion boutique founded back in 2012, is here to serve two purposes: (1) to showcase the best of the best in conscious, sustainable fashion brands and (2) to create a more thoughtful approach to fashion, from the way consumers shop to the way they interpret style and trends. Together, the two founders (and sisters) strive to merge a socially conscious lifestyle with a trend-minded, fashion-forward eye, while bringing the coolest new labels to the forefront.
"There are so many reasons to switch to more sustainable practices, from fashion being the second largest polluting industry in the world to human rights concerns," says co-founder Melissa Cantor. "Most importantly, though, is the fact that these changes are possible—the technology exists, the systems exist, and the materials exist. Why would anyone choose to continue to produce in a way that is so harmful to people and to the environment when there are alternatives on the ready?" Each of the brands under the extensive list of fashion labels they offer fits into one or more of their ethical qualities, from "sustainable" and "made in the USA" to "vegan," making it easier for the consumer to have a understanding of what they're wearing and where it comes from.
Shen BeautyJessica Richards founded Shen Beauty when she saw a lack of niche organic and natural beauty retailers in her neighborhood, yes, but also online. Formerly working at Vogue as a stylist and at Lucky in beauty e-commerce, she had quite the knowledge about the existing sustainable luxury brands. Thus, her Brooklyn, New York,-based brick-and-mortar store (and accompanying website) was born.
While Shen Beauty's products may be rooted in the high-end spectrum of natural and organic skin care, cosmetics, and hair care, Richards makes it a point to ensure they're also ethical and sustainable. "I look at a product's packaging first and foremost," she says. "Second, I look at the ingredients and third, I give them a try myself. Sustainability is the only way of the future. Be it in any small or large way, we have to start somewhere. The larger companies are trying to move toward it, but until they really make it an effort, they cannot ever attain this. Hence, why they are greenwashing their companies to make themselves look more ethical than they are."
FjordlifeFjordlife is here to serve all your sustainable fashion and beauty needs. Not only does it offer a well-curated collection of the best in ethically sourced womenswear and clean beauty, but it makes an effort to share the story (and the impact) of each brand they carry.
Founder, Brittany Haavaldsrud, is committed to partnering with brands that work toward improving fashion and beauty industry standards. In addition to looking for the use of organic and natural materials and taking measurable efforts toward waste prevention, she looks out for brands that are in full control of their production process and contribute to the countries they source from.
You can be assured that no matter what purchase you make from Fjordlife, you can feel good about it.