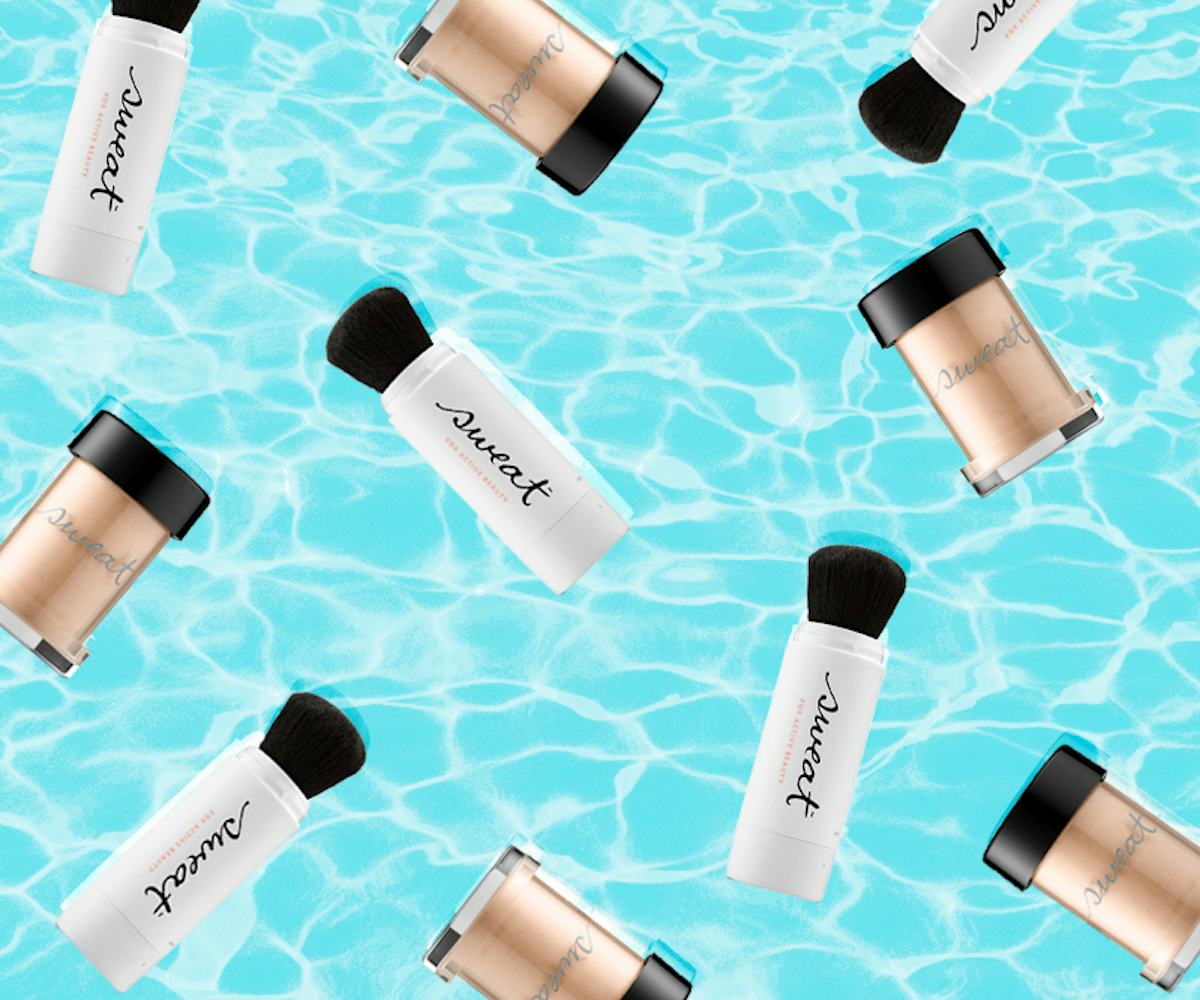 How 5 Retired Athletes Are Changing The Workout Beauty Game
Everyone has a love-hate relationship with sweat. There's just an undeniable eww factor when it comes to fluids dripping out of every pore. But while it definitely does not scream glamorous, take it from two-time Olympic gold medalist Lindsay Tarpley: "Sweat is beautiful."
Tarpley and the rest of her team of retired, professional soccer players—Courtney Jones Louks, Taryn Hemmings, Leslie Osborne, and Emily Hines—work hard to bridge the gap between beauty and fitness. When all five of them were playing college-level and professional soccer, Louks says, "The big thing was, 'I'm going to wear as much Dior and Chanel liquid foundation as I possibly can on the soccer field, and I'm going to look hot.'" Each player dominated the soccer field but didn't always feel like they looked the part. Thus, Sweat Cosmetics was born from their mutual desire to create something active women wanted and, more importantly, needed.
Before Sweat, there were few products on the market for women committed to sports. It seemed almost superfluous for athletes to wear makeup when liquid foundation would end up in a pool by halftime. It wasn't practical, and the women of Sweat wanted to resolve this issue.
"Girls are going to wear makeup no matter what, so we thought, let's give something that's healthy, made for them, and cleaner than most makeup," said Louks. While some women feel comfortable and confident barefaced, others need additional coverage to get through the day fearlessly. As an active woman and someone who struggled with skin imperfections her entire life, Louks says she understands what it's like to want extra coverage. Sweat has everything an active woman could need in a product: natural ingredients, vitamin E, zinc oxide acting as SPF 30, 80 minutes of water resistance, and an antibacterial twist brush.
The brush makes throwing Sweat in your gym bag convenient. Teammates, product testers, and Olympians Heather O'Reilly and Abby Wambach pointed out that although their product has great potential, no active woman will pull out a compact and brush on the sideline or during a workout; that enlightened the Sweat Team. They worked to develop a now patented design perfect for the on-the-go girl. The brush can even detach from the carrier, so you can clean off the sweat and dirt without ruining the foundation poured into the bottom of it. Louks recommends washing the brush with a baby shampoo for a gentle, but effective, cleanse.
Sweat Cosmetics has received criticism that by encouraging women to wear makeup while working out, they're making it seem like it's a necessary part of being an active woman, but that's far from their intention. "The most important thing about Sweat is that we are encouraging people to be active, be healthy, and protect your skin," says Tarpley.
"It's natural for a girl to want what they can't have," adds Louks. "It's something that I've been struggling with. I want to walk around not thinking 'Oh my god, that person is staring at my pimple.' If covering it up makes me feel better and work out even harder, knowing that I'm not self-conscious, in the long-run, it's worth it."
The Sweat team hopes to release a full makeup line within the next few years that will add eyeliner, eyeshadow, mascara, and five new foundation shades to their line of powders, bronzers, and illuminators that can be purchased now at Sephora.
It took three years for Sweat Cosmetics to come to life, but now that the products are thriving, Olympians like Natasha Hastings and pro-athletes like Marissa Coleman promote Sweat as brand ambassadors with the fit, active lifestyle Sweat wants every woman to have. As Louks sums up, "Nothing should stop you from being active, especially your skin."