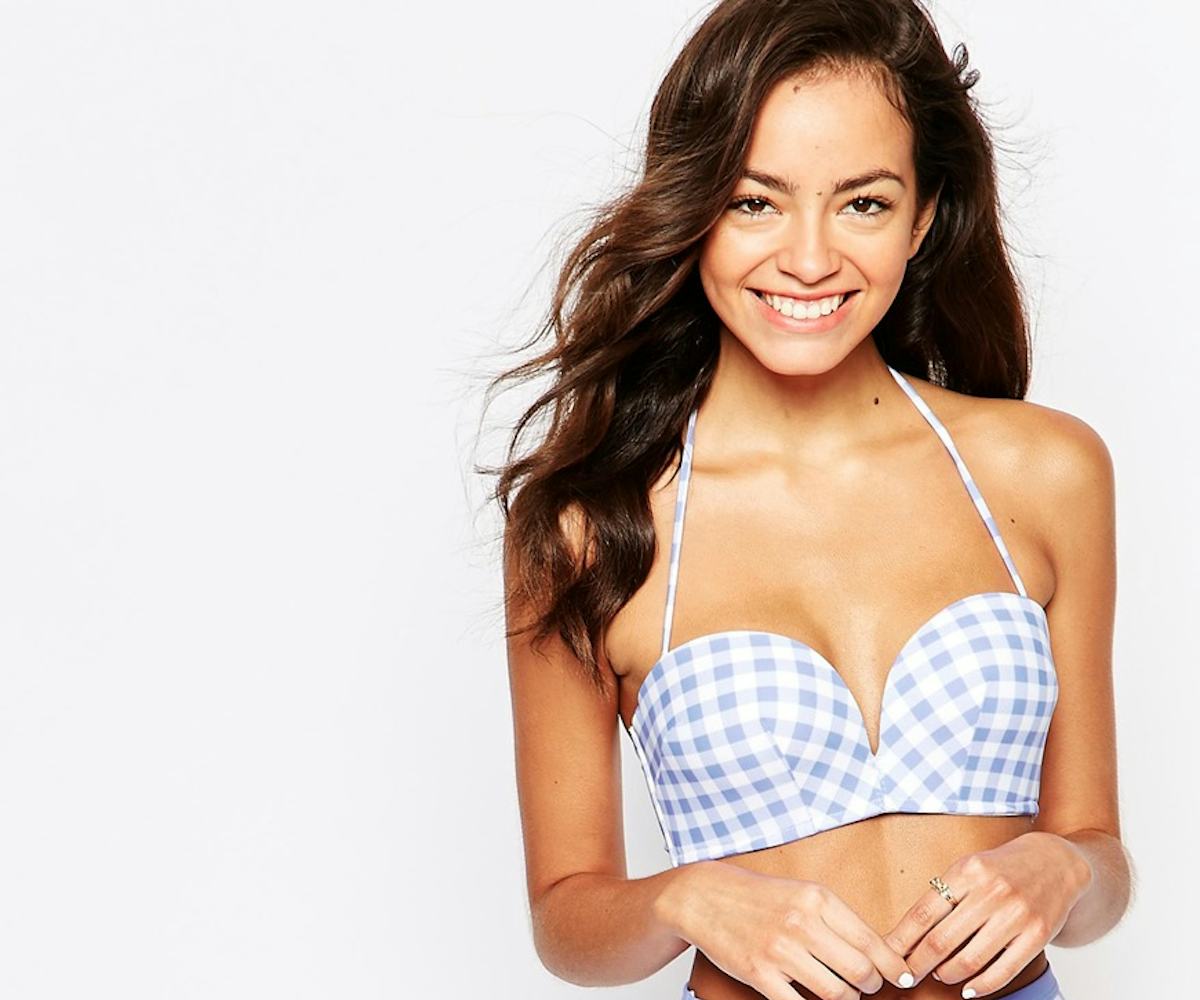 photo via asos
what your swimsuit style says about you
beachwear speaks louder than words
It's hard to believe it now, but there was once a time when women wore shapeless frocks as their swimwear to hide their forms, sometimes sewing lead into the hems so the cloth wouldn't billow up in the water and reveal anything. But thankfully, we've come a long way since then. Swimwear is now not only lead-free, but also has grown incredibly diverse, both in style and in function. So diverse, in fact, that our choices in swimwear speak volumes about our preferences and the kind of people we are.
Flip through the gallery to see what your swimsuit style might say about you.
High-Waisted
What does it mean when you've chosen the Taylor Swift of swimsuits? You appreciate something classic. You can rock a red lip. You may or may not have a belly-button. Either way, the high-waisted swimsuit suggests you're the sweet, girl-next-door type who will take matters into her own hands if need be.
New Look, Gingham High-Waisted Bottoms, $21.73, available at ASOS.
One-Piece
What was once the bathing suit rejected by young, preteen girls across America is now the hottest trend. But of course, you knew this was coming long ago. You're generally a step ahead of the crowd, and you appreciate versatility because you know a one-piece can double as a badass bodysuit.
Urban Outfitters, Out From Under Snap-Front One-Piece Printed Swimsuit, $72, available at Urban Outfitters.
Rash Guard
Your spirit animal is Anne Marie from Blue Crush. For you, the beach isn't a spot for leisurely lying around—it's your arena for extreme sports. You actively seek out big waves, and you enjoy being challenged by the things that may frighten others. You also don't need to rely on salt spray to have great, beachy hair.
Seea, Doheny Rashguard, $68, available at Urban Outfitters.
Athleisure
You rock the athleisure look daily, and the beach is no exception. You're stylish, but you will never abandon comfort and function because you're active and love trying everything. The worst thing that could happen? Being stuck in a swimsuit that prevents you from jumping into the water without worrying about emerging topless.
Nike, Two-Piece Nylon Sport Bikini, $68, available at Urban Outfitters.
Teeny, Tiny Bikini
You may go to the beach, but you generally don't hit the water. Mainly because if you did, one giant wave would send your little top floating far out into sea. Instead, you're happy lying on the sand, drink-with-umbrella in hand, reading a nice book as you get your tan on. Bonus points if your bikini straps are removable for an even tan.
She Made Me,'70s Halter Top Bikini, $88, available at Free People.
Cut-Outs
Anyone else might take one look at the cut-outs and forgo this style in fear of awkward tanlines that will last through the rest of summer. But you're not one to worry in advance about future consequences, especially if you know you look damn good in your frock right now. Also, you're kind of into bondage.
New Look, Super Strapping Bikini, $32.60, available at ASOS.