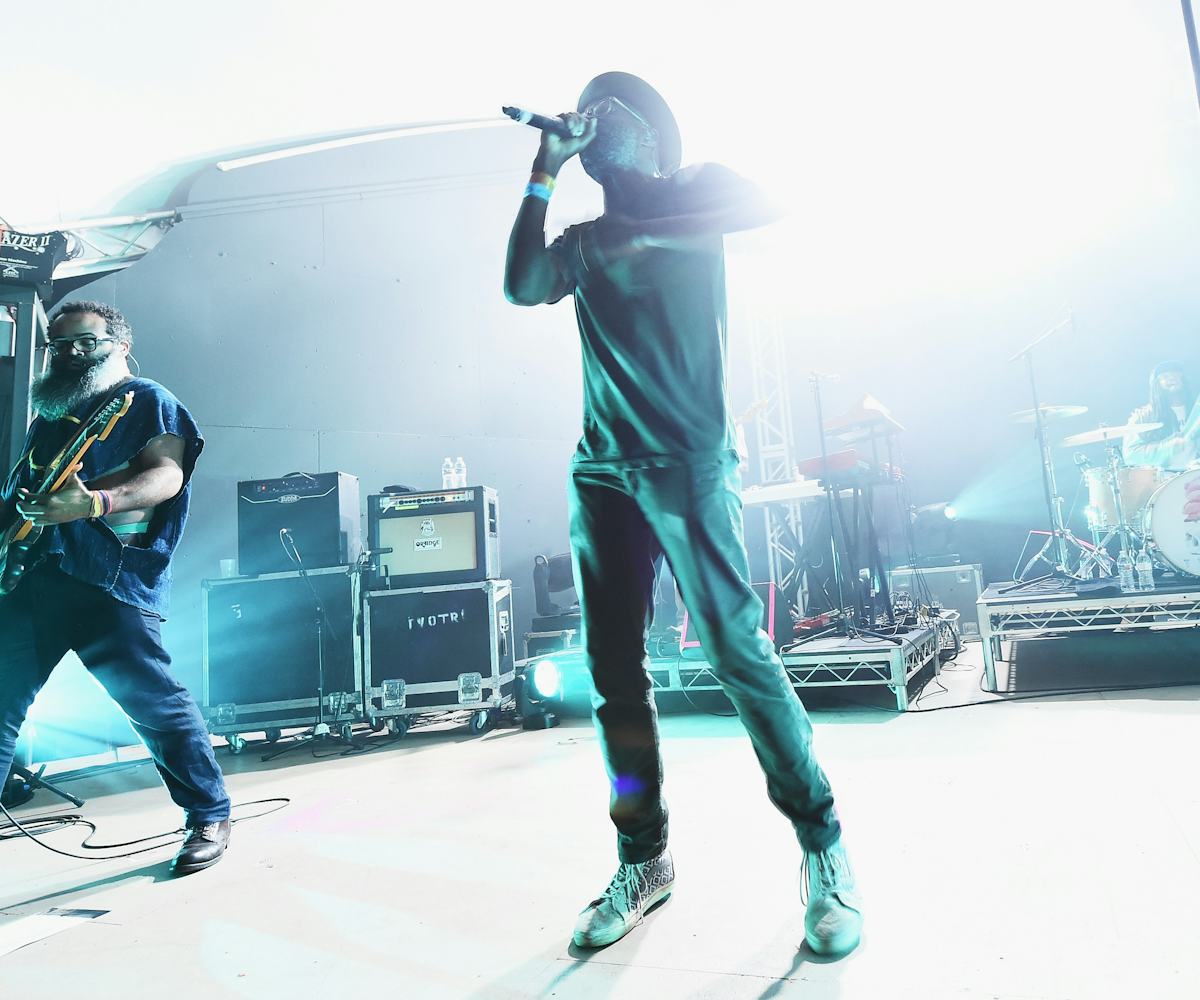 Photo by Michael Loccisano / Getty Images
the best performances we saw at sxsw
Of all the performances we saw at SXSW—and we saw a lot—it's still humbling to think we only saw about 5% of them. See it seems a little unfair to try and name the best, but these are the shows we can't get out of our heads.
July Talk
The Toronto-based bluesy garage-rockers July Talk turned a packed, shack-like Scoot Inn into a sweat lodge with Leah Fay and Peter Dreimanis's alternating girly-and-gravelly vocals providing a soul-exfoliating sugar scrub. I blame this show as much as the following day's downpour for the overall moistness of my still-unpacked suitcase contents. — Melissa Giannini  
Years & Years
Years & Years arrived in Austin as a relatively unknown act. That changed after the British electro-pop trio played a slew of venues over the course of four days. We caught Olly, Mikey, and Emre three times (FLOODfest's showcase, Fader Fort, and the Neon Gold party) and saw audiences quickly go from neutral listeners to full-blown fans. The boys debuted a few new tracks off their forthcoming album, Communion, and shut the various houses down with singles like "King," "Desire," and "Real." By their last show at Neon Gold, the name on everyone's tongues was Years & Years — and we've a strong feeling that trend will continue for, well, years and years.—Hayden Manders
Sophie
This enigmatic Brit makes rave music for a generation who doesn't know what rave music is, and the result feels brilliantly like outsider art. My notes for the show actually read, "Is he a mystical alien creature? Am I really seeing him or is he from outer space?" The answer to all is: Yes. 
—Leila Brillson 
Grace Weber
If you heard her music coming from another room, you'd imagine you were listening to a Black gospel singer. But then when you walked around that corner you'd find that that the voice belonged to a petite blonde. Indeed influenced by singing in church choirs, Weber's performance at St. David's Bethel Hall bordered on religious experience.—Shruti Ganguly
Ibeyi
Dragging my ass out of bed at 8 a.m. for KUTX's morning shows is one of my strangest—yet fondest—SXSW traditions. Walking the eerily empty, early a.m. Austin streets is its own form of detox, but hearing Ibeyi sing "River" a cappella at the Four Seasons was straight-up baptismal. PS: Find out more about the French-Cuban twins in NYLON's March issue! —MG
Mike WiLL Made-It and friends
On Fader Fort's second night, the buzz in the crowd and backstage was who the "and friends" would be in producer Mike WiLL Made-It's headlining set. There were obvious answers like Riff Raff and Rae Sremmurd, who were everywhere at SXSW, but no one would have predicted that Miley Cyrus would join a crew of rappers that also included Future, for renditions of her hits "23" and "We Can't Stop." What was even more surprising was that Miley Cyrus, former Disney princess, fit right in.—BB
Shamir
After lighting the Internet on fire with his giddy video for "On the Regular," we wanted to see if Shamir's stage presence could match that clip's techniolor explosiveness. Yup. The 19 year old from Las Vegas took the stage at Fader Fort with bombast and the kind of efforless cool that can't be taught. Shamir has a way about him that makes you want to give him a hug. The highlight came at the very end when, during an epic performance of his song "Head in the Clouds," Shamir hopped into the audience and hugged what felt like every person in there as his excellent backing band played on. It was a fitting end to a set that was equal parts adorable and fearless. —Ben Barna
ASTR
The New York duo brought it down to close at the Saturday NightNeon Gold showcase, with the crowd dancing like crazy to their brand of explosive, hip-hop inspired electro music. Singer Zoe Silverman won the crowd over with with her daydream vocals and unstoppable stage presence, while her partner Adam ended SXSW with a literal bang. Many of them
—SG
.
TV On the Radio
Headlining NPR's stellar showcase at Stubb's—an incredible concert that featured the likes of Shamir, Courtney Barnett, and Belgian superstar Stromae—would be a near-impossible task for almost any ban. But TV On the Radio (pictured on top) aren't just any band. Mixing barnstorming classics like "Wolf Like Me" and "Golden Age" with material off their latest album,
Seeds
, TVOTR and particularly lead singer Tunde Adebimpe, fed off the crowd's energy and gave it right back.
—BB  
Christine and the Queens
With a voice like The Knife and the dance moves of Robyn, this French singer from Nantes, who combines music with dance, performance and videos, will definitely garner attention and anticipation around her Fall album. She brought the roof down at the Neon Gold showcase 
Saturday
night, playing just before Marina And The Diamonds, who she will soon be touring with. 
Everything at the Illmore
has emerged has SXSW's craziest party, and therefore its most coveted ticket. It doesn't start until 11, finishes well after all the other venues have emptied out, and features a rotating, secret roster of SXSW's buzziest acts. This year, the
-sponsored event took place in a sprawling warehouse on the East Side out of town, just far enough from the chaos downtown to make it feel like if you were there, you had to know someone. Over the course of three nights, acts like Chance the Rapper, Fetty Wap, ATrak, Future, Rae Sremmurd, J-Cole, Bun B, Big Sean, and Mike Will Made IT all rolled through to perform in a neon room adjacent to the main one. It was wild.
—BB
Twin Shadow
Gone are the naval gazing electronics of early Twin Shadow. George Lewis Jr.'s just-released
Eclipse
is a big, anthemic gesture to pop music...and it wonderful. The lively show sounded crisp and clean despite the appearance of new material, and Twin Shadow is writing cutting, epic pop music with a soul. Headliner status, achieved.
—LB