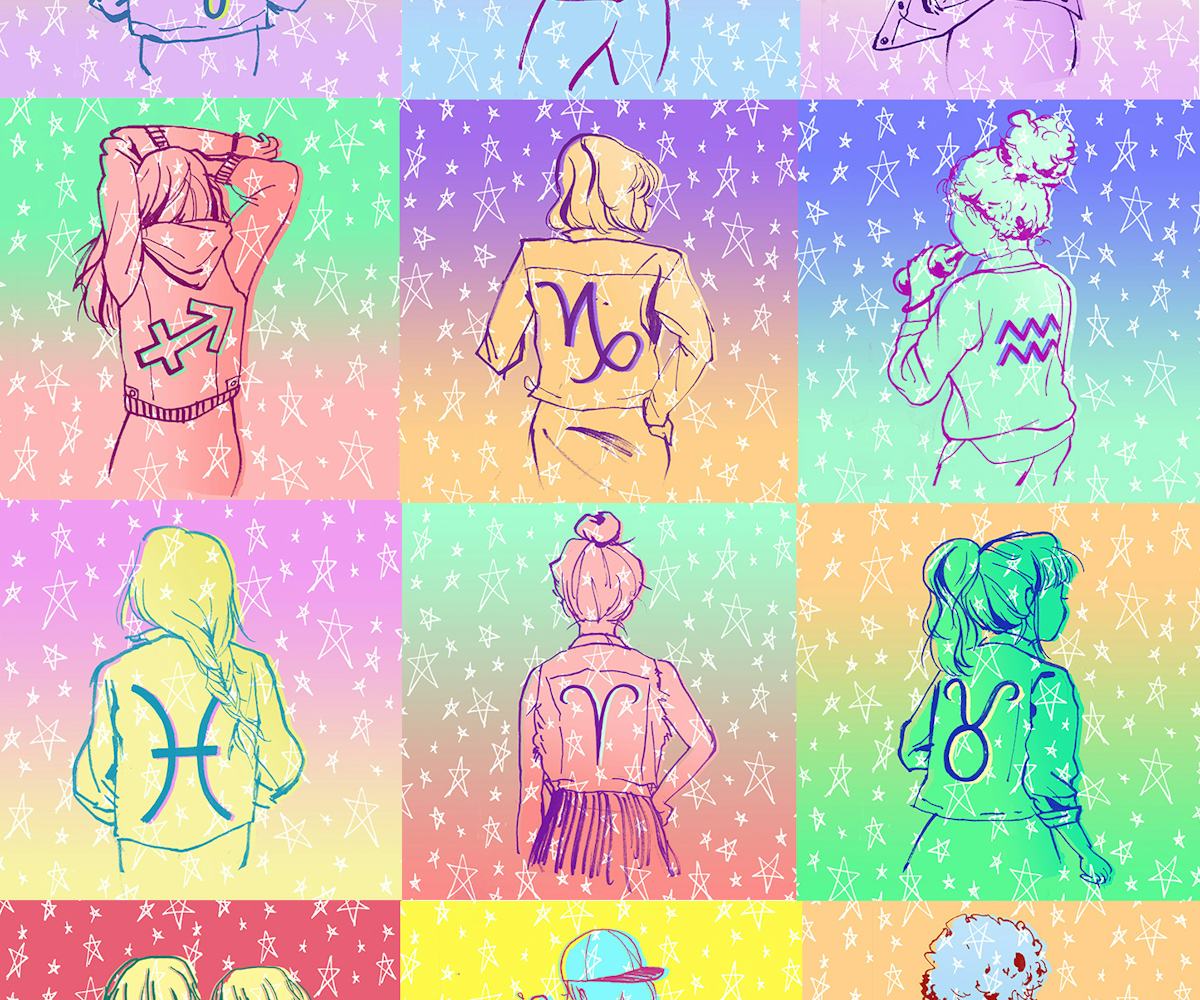 illustrated by julie kwon
The SXSW Musicians You Should Check Out, Based On Your Astrological Sign
your sxsw horoscopes are here!
Whether it's your first time at SXSW or your twentieth, it can be a total challenge to navigate your way through all the showcases and parties. But among all the taco trucks, you'll find some of the best new artists—ones so incredible that they seem to transport you away from all the madness and into another beautiful, utopian dimension. 
If you're overwhelmed at the sheer amount of awesome bands and singers at this year's festivities, don't fret. Let astrology figure it all out for you. We tapped one of our fave girls, Emmie Lichtenberg (aka @emmieshouse), to come up with some super-rad SXSW horoscopes. Click through the gallery to find out what new artists you should check out.
Pisces
You're the dreamer of the bunch. Expand your mind with the dreamy sounds of The Range, a dude who has also probably spent a lot of time dreaming away in his bedroom or on the Internet.
Aries
Arians run hot… in the head. Cool off and release some aggression with Philly punks Sheer Mag. As Kid Rock said in "Bawitdaba": "Get in the pit and try to love someone."
Taurus
"Casual opulence" is kind of the best way to describe the Taurus personal brand. You love the finer things in life but you're not trying to make a big deal about it. So you'll looove the lush and fuzzy sounds of Day Wave or Cullen Omori, better known as the sonic equivalent of lying in the grass while sipping Champagne. 
Gemini
Since Geminis are curious and tend to get bored very easily, variety is their JAM. Try it all—new country queen Margo Price, South Korean mega-rapper Keith Ape, and PC Music standout Danny L. Harle. You'll feel safe knowing that you tasted a little bit of everything and you're guaranteed to stay as spicy as you already are. 
Cancer
As a Cancer, you tend to wear your heart on your sleeve. Tennessee teen dream Julien Baker will help you tap into your emotions. She proves being a little sad can be sassy, which is pretty much you in a nutshell. If your eyes don't well up during her song "Something," you should maybe check your pulse real quick.
Leo
Charismatic and fearless, you're just as likely to be performing at the festival yourself! If you're not, check out fierce frontwomen like Mitski, Grace Mitchell, Dua Lipa, Margaret Glaspy, and Kitten (aka a baby lion). Here's hoping that VH1 brings back Divas Live with this exact lineup.
Virgo
You've probably been researching bands and plotting your SXSW plan of attack for months. You're a Virgo, it's what you do. Even though you're the organized and reliable one, it's time to let you hair down a little. Link up with Aries and get in that pit! And be sure to add Diet Cig and Big Ups to that perfectly plotted itinerary of yours.
Libra
In a constant search for balance and harmony, Libras thrive on collaboration and friendship. Check out Charli XCX, who's teaming up with producer SOPHIE for performances at the festival (she also worked with him on her latest EP, Vroom Vroom). Also recommended: family bands Tigertown and XYLØ. They're great, and it's also a miracle that they haven't all killed each other. (Siblings, am I right?) If you're still in need of some balance, try holding a beer in one hand and a taco in the other.
Scorpio
Oh hey, saucy Scorpios. Your secret sensual side makes the "baby making music" genre right up your alley. May we suggest artists like Jahkoy or Gallant to get you in the mood?
Sagittarius
As the intellectual of the zodiac, you're philosophical but also very optimistic. Soak up those positive vibes from Anderson .Paak. He's deep AF.
Capricorn
You're the ambitious and independent one of the group. Check out one-man bands like Jack Garratt or Bayonne—you're sure to appreciate the hard work that goes into making their massive sounds. Also, A$AP Ferg; he's always leveling up, and his new album, Always Strive and Prosper, is pretty much your motto. 
Aquarius
You're a true original and fellow eccentrics PWR BTTM are totally your team. After all, there is no one else quite like them, or you.