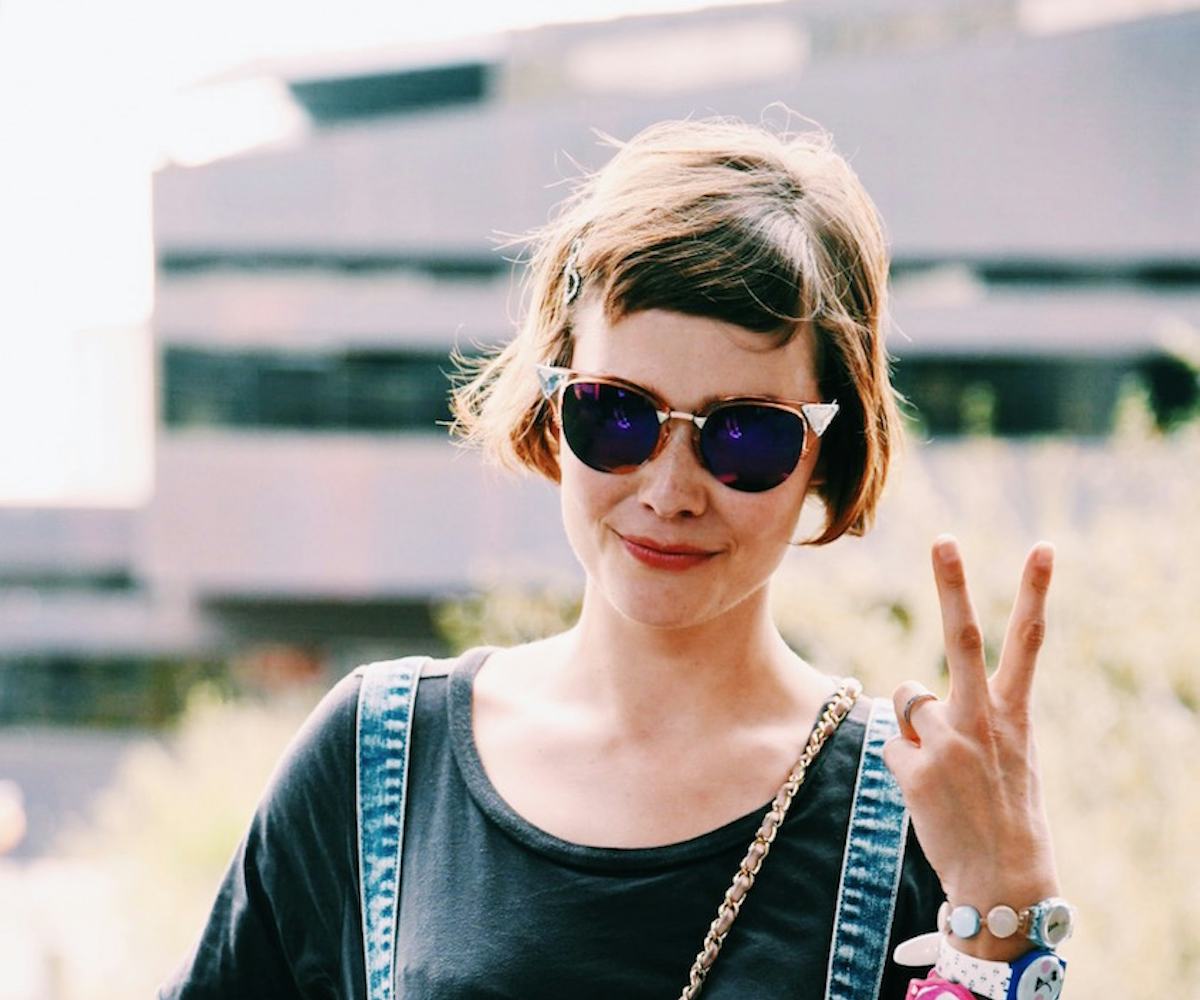 Photo by Kara Smarsh
the 15 looks that took sxsw by storm
festival fashion done RIGHT
Do you remember—back when we were young and bushy-tailed—SXSW 2015? We hardly do, even though it ended, well, yesterday. South By always presents the most interesting of challenges when it comes to style: For bands, they've been on the road for a bit. For visitors, they have to pack outfits in advance. And for everyone, the changing weather of Austin in March is a bit of a conundrum: One day, it is 70 degrees and skies are blue, the next, you are in the middle of a severe thunder storm. (Though, "severe" in Texas feels a whole lot different than it does in New York.) So when people nail the SXSW style, they really nail it. Ahead, the well-heeled festival-goers we spotted who traversed Austin with true aplomb.
Photos by Ben Sklar and Kara Smarsh
Julie knows the secret to packing light: A retro-patterned jumpsuit. 
Jane told us she was super excited to see Basecamp. We don't blame her!
Just look at Alyssa's pants. They are magical.
Erin takes a break from seeing bands like Keeper, and demonstrates that black doesn't need to be heavy or boring.
There is so much right about Lucy's outfit, from the matchy-matchy red to the knee socks. (Knee socks are a powerful thing, and should not be used lightly.)
Leah has the perfect South By trifecta: A short, flowy dress, some vintage cowboy boots, and a super-poppy wall to stand against.
Meet Shyvonne, who is making a serious case for the two-piece.
We loved her look so much we had to catch some details.
Be Forest's Erica proves that the cool kids can wear bright colors. She told us she was thrilled to see Ibeyi.
Dear Oh Land: Please send us your overalls. Thanks in advance.
Scarlett makes her layers look light and ethereal.
Ugh, Olivia is just killing it with the summer vibes. How lovely is her necklace?
We mean, like, seriously. Those people who don't think that "perfect" exists have clearly never seen Nicole's bold and brilliant look.
No worries! When the rain comes down, Melanie is all set with a toasty hat.
If we could summarize South By Southwest in one look, it might be this bright number (with the shades and braids) worn by Nancy.