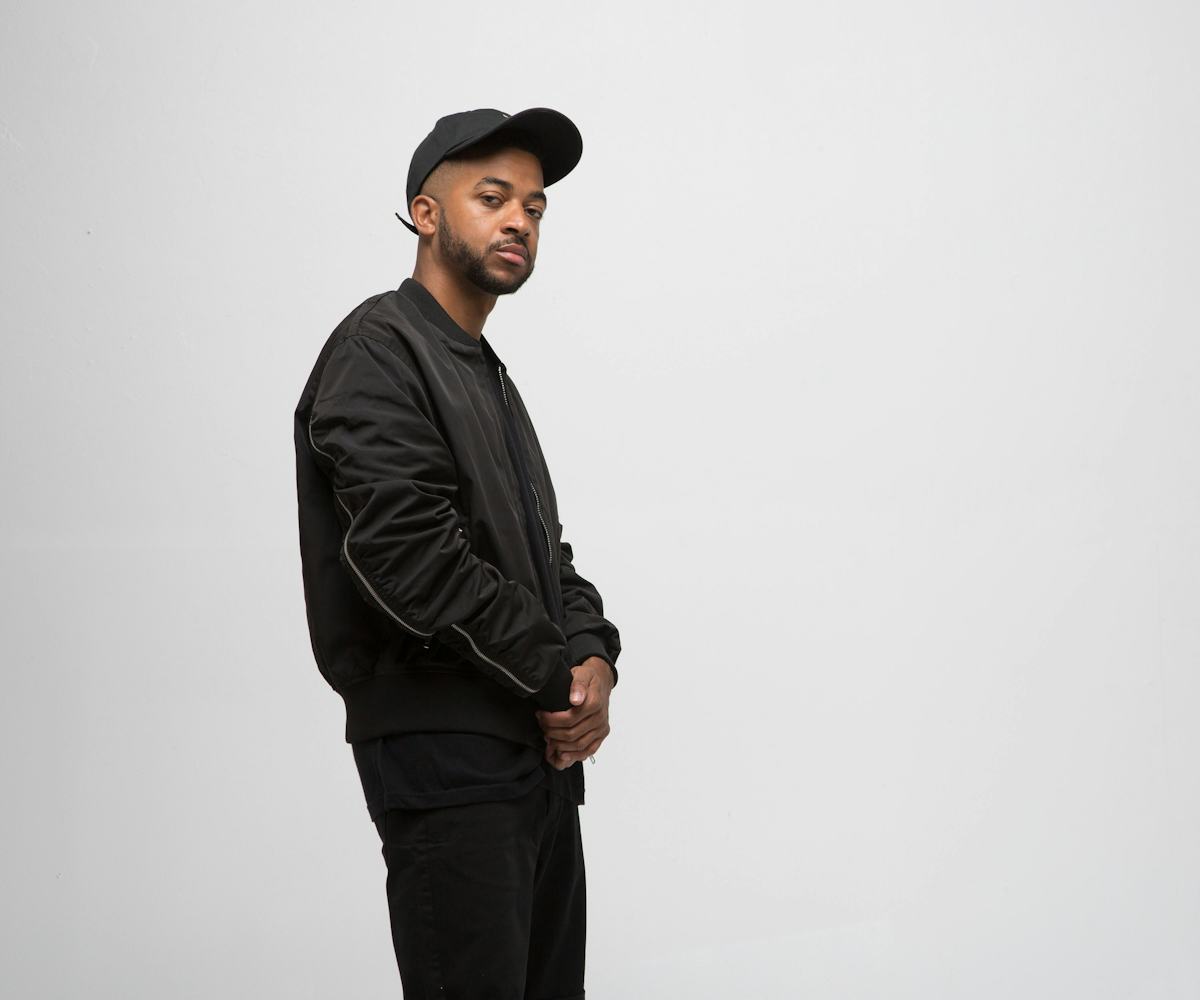 Photo by Nick Walker
Ta'East Breaks Down Every Track On His 'Okay, I'm Ready' EP
Ta'East, hip-hop's freshest new voice, has been making a name for himself in the underground scene for quite some time. With the release of 2012's The Popular Stranger and 2013's Sonata, he played along as the underdog while working with some of the biggest names the industry has to offer (Travis Scott, Hit Boy, and B.J. The Chicago Kid to name a few!), but things are different this time. Ta'East is older and ready to leave his mark now more than ever with his latest EP, Okay, I'm Ready. 
Born in Kentucky, but raised in Oceanside, California, it wasn't always easy for the rapper who worked a nine-to-five job while simultaneously working on his music. He quit his job and was later evicted, but his struggle serves as the inspiration for his sound.
"At one point, I was just broke. I would look at my account and I would have $13 to my name, and I wouldn't get paid until next Wednesday," he says. "That's why I think I sound so aggressive in my music. That comes from a place of frustration—being an underdog, getting out of that valley, and climbing to the top."
Now is his time to step into the spotlight and with Okay, I'm Ready, and if one thing is clear, it's that there's no stopping Ta'East. "People are like, you never gave up," he says. "You have to understand, I come from nothing. And I think by showing face, if I open my mouth and tell you my story, you're going to look at me, and be like 'I can do that.' The same way I looked at Hov and thought, 'I can do that too.'"
Stream the whole EP and read the breakdown for each track, below. 
"Go Off"
"Go Off" was originally a reference [that] Hit Boy, Cairo, and myself worked on to shop to a few artists. I had the idea for the hook so we went in writing verses for it. It didn't end up getting placed with anyone so we revisited the beat as I was working on Okay, I'm Ready. I tweaked the hook a little and wrote new verses that catered to the way I was feeling at the time. I wanted to do something that paid homage to the influence The Notorious B.I.G. had on me while showcasing the artist I've become today. Since the drums had such a gritty feel, we went back and dirtied the track up even more with some distortion on my vocals. We wanted it to feel like I was rapping over a two-track to give you a raw, nostalgic feel. The second half of "Go Off" actually came while wrapping the EP. I had a lot of things on my mind that I wanted to put down at the time, so one day Cairo hopped in the car and told me he had just made the beat in 15 minutes, played it for me, and I knew exactly what I wanted to do with it.
"WithTheShit"
I've never felt like I've thoroughly expressed myself until I put this one down. It comes from a place of frustration and exhaustion. There was a time when I was traveling far for a job, from L.A. to Anaheim, when I moved to the city in 2013. I was waking up and breaking my back to make it to work on time, living check to check, but I knew I would become that person I'd always wanted to be. I was relentless in getting closer to my dreams and felt like I was getting to a point that I may have to do it by any means necessary. Cairo had always wanted to sample something from a movie, so it was instant when he heard the eeriness of the strings in "Under The Skin." Sonically, this was one of the harder songs to rap on, but I was up for it. I wanted to challenge my delivery to rhyme words that normally wouldn't rhyme. I was listening to a lot of Eminem at the time and I heard him do an Irish accent on the
Relapse
album so I went for a fake Jamaican accent on "WithTheShit" as well as "72-10" to show more skill and see how far I can stretch my vocal ability. 
"72-10"
This one is special to me because it was one of the first songs we did for that EP that solidified the sound that we've been building for eight years. "72-10" was a reaction to the things that happened to me over the last three years, but through reassurance and empowerment. I wanted to remind myself and everyone like me in my generation of where we came from and the things that influenced us while focusing on the positive. There's a very uplifting chant in the hook that is disguised in 808s and a sense of urgency in the sonics you can't quite put a finger on. It's a masterpiece. 
"N Word"
"N Word" has
a lot
of layers to it. It's pretty self-explanatory but it goes in so many directions. It's a rollercoaster in a sense because it starts out with "everybody wanna to be a nigga, but nobody wanna to be a nigga." There's a dosage of commentary on today's society and how much hip-hop has become the new pop culture of America while realizing the capitalism that comes with that. On the second half of the song, I wanted to speak on the stigmas of rappers and the backlash hip-hop has received over time. It's a moment of reaching for understanding. We're all products of our environment and we reflect our influences. The genius behind it is the layering... the trap elements with the violins, Malik Yusef's insight, the style of Young Lyxx and his lyrical content, as well as the two styles I approached the song with. The original version had a spoken word sample from a Def Poetry Jam special. We couldn't get the sample cleared so my engineer reached out to a few people to get ahold of Malik Yusef and he gave us some gems. 
"LYLA"
"LYLA" came from a place of vulnerability. I was in the darkest point in my life in the summer of 2015 with a number of things including some relationship issues, so I channeled that energy into a positive space. I was alone one day thinking about the perfect woman, thinking of everything I was looking for in a woman, so I came up with a storyline and was inspired by some of the women I admired most. I wanted to pay homage to Aaliyah and the influence her and Timbaland had on my overall sound—the same way I did with Biggie on "Go Off." We wanted a dark, cinematic feel, but with some of the elements of today's sound—that's why it's lead by 808s. I wanted to challenge myself again with melody, so I used my vocals to the best of my ability. Cairo reworked this beat at least 10 times to get the feel at 100 percent, then Preston came in toward the end and added some soul that took it over the top. 
"Twenty|Twenty"
This is my audio version of a Ted Talk. "Twenty|Twenty" ties the EP together as far as every emotion and mindset I've expressed throughout. I had to go through those things to get to this point of enlightenment and wisdom. Manifesting is a huge part of my life so I wanted to put a song full of mantras out into the world—somewhat of a prayer. We knew this was the beat with the most bounce to make your head crack so I went with an aggressive delivery. We wanted to give it more character so we added two bridges: one with melody, and one with a bounce to showcase both me and Cairo's versatility. I channeled my inner Swizz Beats at the very end and wanted to come with a cool chant that would get you hyped, yet still inspire you.