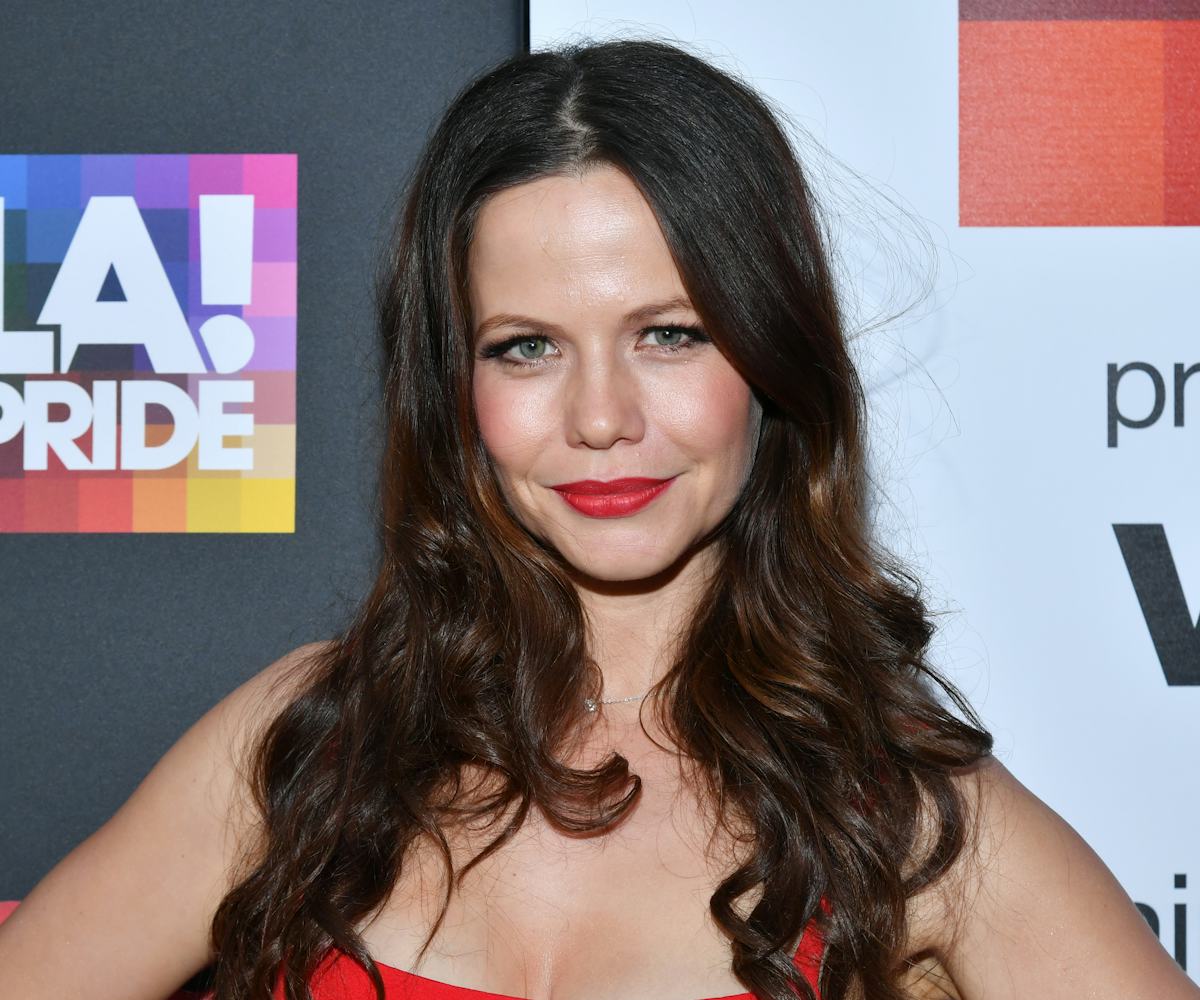 Amy Sussman/Getty Images Entertainment/Getty Images
She's Back, B*tches: Tammin Sursok On Her Return To 'Pretty Little Liars'
"I don't want to play the girl next door"
The last time we saw Jenna Marshall, the fictional character on the phenomenon that has become the show Pretty Little Liars, she was maybe-maybe not blind, maybe-maybe not "A," and maybe-maybe not returning to town after last appearing at the Christmas ball as part of Alison's posse on 2014's "How the 'A' Stole Christmas" episode. Vanishing without a trace from the show's plotline, she left a void in television that no subsequent character of equal calculating proportions could fill—a signature breed of twisted and mysterious that she's come to master since the show first launched. 
But behind the manipulative character of Jenna is Tammin Sursok: actress, singer-songwriter, wife to producer Sean McEwen, and mother to adorable daughter, Phoenix, who Sursok gave birth to shortly after we've last seen her on-screen. And while Jenna has taken a break from haunting residents of Rosewood, Sursok hasn't slowed down in real life. In fact, she dedicated the last two years to launching her blog, Bottle & Heels, which focuses on "real" conversations surrounding motherhood, family, and career—topics that have become close to her heart since giving birth. "Since I had a child, I felt like my identity shifted. I'd gone from being an actor who was working on a TV show, and then I was a mom," she says of the blog's beginnings. "I struggled a lot with that in the beginning, and I wish there was a site that I could've gone onto to feel like I wasn't alone."
Up next, you'll also see Sursok starring in a new Lifetime movie, You May Now Kill the Bride, premiering on June 4, that finds her playing another villainous character. "Maybe I'm pitching myself as the murderous girl," says Sursok of playing a young woman who will do anything to keep her stepbrother from marrying his fiance (even Sursok is not immune to how familiar this role sounds). "But then again, I don't want to play the girl next door." 
Expect anything but that when Sursok finally returns to PLL this summer for the last season of the franchise that has kept us wondering about the identity of "A," and now "Uber A," for the last six years. So will it be Jenna? Sursok told us that she can't reveal anything but promises that "a lot of answers will be revealed," and "that everything will start to make a lot more sense." As for the end of the show, Sursok admits that it feels bittersweet to leave the set that has been her other home for so long: "It's the end of an era. It's sad to know that these characters won't be in people's living rooms every Tuesday. But, it's also exciting to see all the different paths everyone will take after the show ends." Catch Sursok when she returns on June 21 at 8pm EST, and read on for our conversation with the actor about the show, motherhood, and Bottle & Heels.
You took a break from starring in Pretty Little Liars during season five. What has it been like being back on the show?It's so weird because it has been quite a long time before I came back, but I honestly feel like no time has passed. Everyone is like family, and it's like seeing your brothers and sisters again. So it's been quite easy to be back.
A lot has changed since you left the show. For one, the show's jumped five years. What does that mean for Jenna? Very exciting things, actually. I come back with gusto, and there's a lot to explain about what's happened and where I've been, and I'm in a lot of the season, so a lot of answers get revealed. But of course, with the show, a lot of answers create a lot of questions. So yeah, it's definitely a little bit of both. But there's definitely a murder—there's always a murder, people are always dying [laughs]. But I think everything starts to make a lot more sense now. You'll find out everything. That's why my character's back, to wrap up some of those answers.
What has been your favorite part of playing Jenna? 
I love the fact that she was a mysterious character. There are so many different layers, and I never knew which way she would turn. My scene with Lucy Hale in the pottery class [in "My Name Is Trouble" episode in season two] was my favorite. You saw her vulnerability and the pain she had been through since the accident. There haven't been many times throughout the series that you were able to feel empathy for her. 
Yes, for a very long time, she was the most controversial character on the series. What was it like to be playing such a role?
I loved it. I think as an actor you don't always want to play someone who's just a goody two-shoes because in your life you're trying to be the best person you can be. So you want to play characters that are layered and have faults and they fail and they change and they grow, and I think that that's what's really exciting about Jenna. She's been demonized for so long, and it's like she's really not done anything wrong. So, I love playing those kinds of characters—I think it gives them a lot more depth when they have a lot more layers.
Also for a big chunk of the show you played a blind character. Was that a challenge to not be able to use your eyes?
Yeah and no. I think I've learned how to act with my body—which is quite interesting—and my mouth and the parts that can see. And then it's been challenging because when you get emotional, you want to see people and their eyes.
I know that you have a movie, You May NowKill The Bride, coming out on Lifetime. Can you tell me about your character in that?
You know what's kind of scary and crazy is that other than the blind part, she's exactly like Jenna. She fell in love with her stepbrother, but in this one, she's a little more of a villainess because she definitely wants to murder anyone in his path. He's getting married, and she wants to be with him and doesn't want the woman he's getting married to be with him.
Wow! That is very similar. Since leaving Pretty Little Liars, you've had a lot going on. Can you tell more about the blog that you just launched?
After I had my daughter, I didn't have a tribe of women I worked with around me. So, it took me probably a good year to find a good group of women, and I wanted to capture those conversations that I had with them—about the fears and the failures and the truths about motherhood, and how tired we really are, and, you know, can you really have it all and what does that really look like? I wanted to capture these conversations and put them all on an online forum, an online network where people could come in and talk about everything.
And then, it sort of went from motherhood to talking about sex. We talk about mental health, we talk about religion. So now it's become more of an open conversation about everything that we all face and it is tailored towards women, but you don't have to be a woman to be there. I think it's a pretty cool thing that we're trying to do.
For a first-time mom who is coming to your blog, what do you want her to get out of it?To feel like someone gets her. I've been through it all, and some of it's been incredible and some of it has been really hard, and we need to speak about this stuff. We need to have an open conversation and talk about it, and help people and help each other because everyone has gone through it. If you've had a kid, you've gone through periods and struggles, and they've been hard.
How has motherhood affected you?
Well, I think my career used to be the most important thing always because that's all I knew. When you start a family, they become the most important thing, your priority shifts. And, I think, for me, now, I don't want to do anything that's going to take me away from her, unless it's something I really want to do. Whether it's in film, TV, or whatever, it has to be really something that is right for our future as a family so in that way, the perspective definitely changes.
Do you think it's difficult to maintain this career as an actor and have a family and other ventures?
Oh, absolutely! It's very, very, very hard to balance it all. It's kind of the genesis of it all. It's very hard with these hours you work—sometimes 18 hours a day—and then have a family as well. You've got to prioritize.
And how do you do that?
By trying to really be present in everything I'm doing. If I'm working, I try to be there; if I'm home, I'll try to be with her, try to get off the phone, try and not look at Instagram or Facebook, or anything like that. And I just try to be there and be as present as I can.
So with everything going on, what does your ideal day off look like when you do get one?
Probably going to yoga in the morning, and then being at the park with my daughter, and then, maybe a glass of wine with my husband at night. You have to find a balance between your own identity, things with your husband, and things with your child.