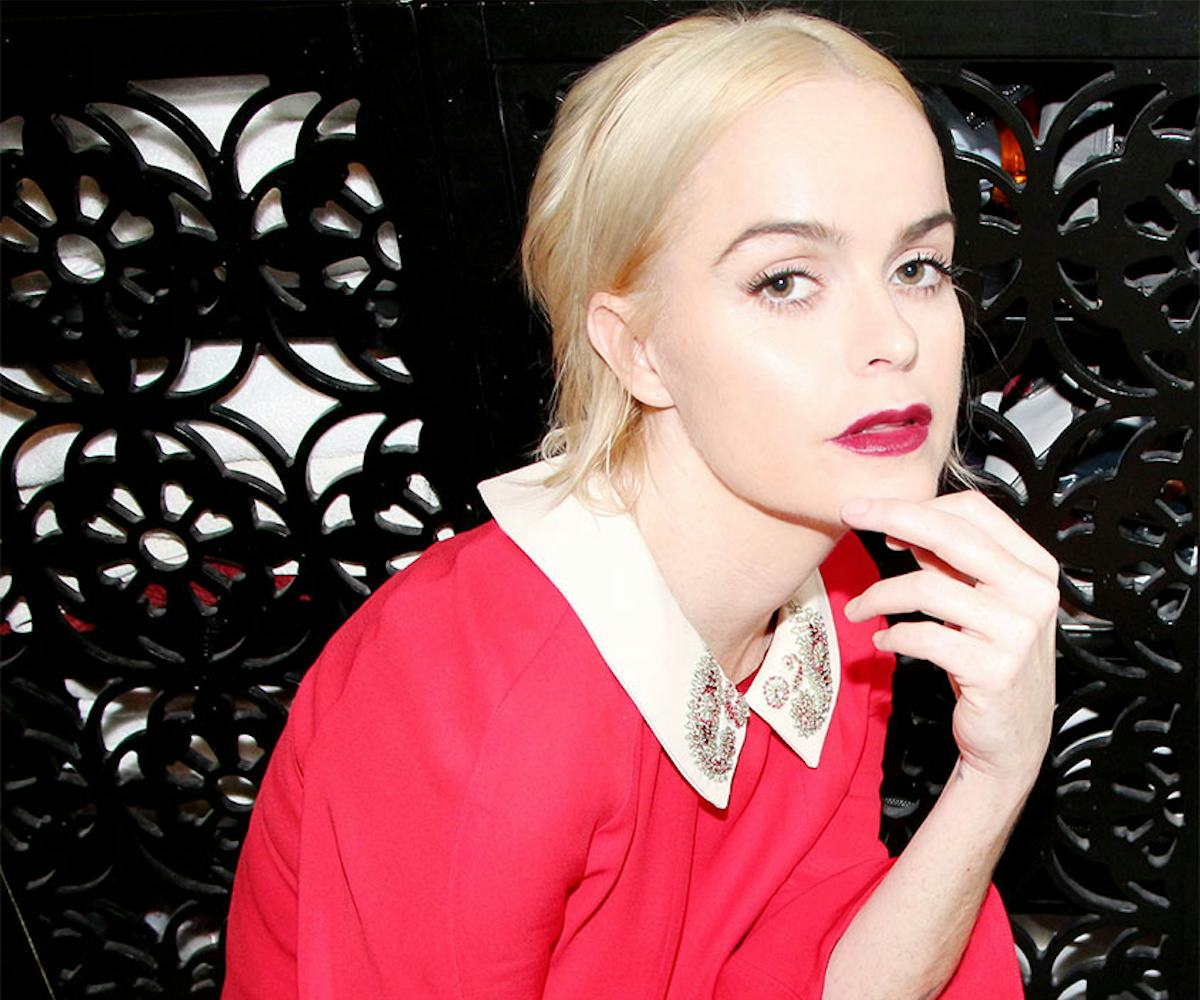 Photos by Tina Turnbow
taryn manning on beauty, heroes, and dj'ing
more about this self-proclaimed california gal
Taryn Manning began Orange Is The New Black as Tiffany "Pennsatucky" Doggett, one of season one's primary antagonists and a crazy, evangelical former meth-head. The third season of the hit show, however, gave Pennsatucky a more thoroughly explored story arc, and viewers got greater insight into her past and the dark turn-of-events with Officer Coates. The exploration of Pennsatucky's character seemed like a testament to how the show is maturing over the seasons and how the actors, like Manning, so perfectly portray the evolving of their roles.
Manning, when she isn't playing Pennsatucky, is a talented DJ, self-proclaimed California gal, and lover of her dog, Penguin. She talked with us about how she finds her voice through her music, personal style, and beauty routines, and who the real heroes in her life are.
Photos and makeup by Tina Turnbow; Styled by Deborah Ferguson, Hair by Andrita for Bumble and bumble. 
Dress by Giulietta.
Your performance in season three of OITNB is stellar! Are you looking forward to the evolution of Pennsatucky in season four?Thank you, It was a rollercoater of a ride, I know. I am really pleased to watch this girl grow, change, and experience all of the beautiful and not-so-beautiful things we go through as human beings. I am definitely excited to continue to see the arc of Pennsatucky Tiffany Doggett. I even feel like she should be called "Tiffany" in my humble opinion [laughs]. I love being a part of this show so much. I love my co-stars, they impress and make me proud daily.
You've just settled into NYC for filming. Do you enjoy being in the Big Apple for a while?I am a California gal for sure, but since this show started I have lived [in New York] six months out of the year, and it continues to grow on me each season. The cold is beyond anything on this planet, seeing as I'm basically a lizard who was raised in Arizona and then moved to sunny California. It might even turn out to be a healthier choice since I'm pale as a ghost and sun is supposed to be my enemy.
Can you catch us up on all that's happening with you musically right now?I am recording all the time, I plan to put out a single again very soon, and just shot the video for my single on Sunday in Upstate New York. We shot inside the mansion on Grasmere Farms in Rhinebeck. Its this huge, empty mansion with like 30-something rooms, and the land it sits on was pure heaven. It was all nature, the most green grass and beautiful, huge trees with deer running around—it was so much what I needed. I loved shooting there, getting out of the city, and doing what I love most at such a beautiful place. I think this video is going to be amazing. I love the song, too.
I am constantly writing—it is my outlet for downtime when I am not on the show or [have] days off. It's my expression that helps me through good and bad times. My music has saved my life at times and made me feel whole again in times of despair or even when I'm the most happy. It's so fulfilling when a song is complete. To know that you accomplished that alone or with other people has to be for me one of the best feelings in the world. I have been talking about my album Freedom City coming out for a long time, but during recording it—which now, I am 64 songs in—I have changed directions. I have been inspired by other things, or life has just taken a turn—such as getting this show—and its taken a moment. But when it does come out, it's going to be worth it. At least for me.
What do you like best about DJ'ing?I love traveling to all the different cities and seeing the way people rock all over the world. I like bringing the party, rather than attending—those days are behind me, but I still love music and dancing. I just want to be the one creating the dancing and the good vibes. 
Jacket by Mantū; Blouse by Acne Studios; Skirt by Francesca Liberatore; Earrings by Parme Marin. 
What style or look do you go for in real life, when DJ'ing, or on the red carpet?My style changes and varies. I love getting dressed up for the red carpet. I truly loathe doing my own hair and makeup, and tend to not even wear that much makeup on my off days (and we all know my character wears none, too). I also have a tomboy who lives in me, so I love my jeans and Supras, as well as I love looking super-chic and rock 'n' roll with a twist of glam. It just depends on the mood and what the occasion is. I have definitely been a hit-or-miss many-a time. Usually when  I'm a "miss," that's when I feel I looked my best [laughs]. 
What are you into with your hair and makeup these days?I just went super blond again, which I love very much. It's funky and I like it on me. I have fine hair and its not always the most fun at the party, so I wanted to spice it up, bleach it out, and have some fun. I do my makeup all different. I don't love [wearing] a ton, but I like lashes a lot! I was blessed with good lashes, but fine hair.
You can't have it all like some of Hollywood's hottest babes. As I get older, I accept more and more what I was born with, because at the end of the day, we can't change it. I mean, some people try to adjust it and it works, but I am all about just being Taryn. She knows who she is, and I am proud of myself and my accomplishments. I have been practicing giving myself more pats on the back, lately. Sometimes, we forget to stop and look at the wonderful things we do have, but [once we] focus on that, abundance pours in. Stop and smell the roses, and become grateful.
You have great skin! What is the biggest challenge keeping it smooth? Do you have any favorite products?Why, thank you. It isn't a challenge for me, I just drink a lot of lemon water—like all day long. I take a lot of vitamins and minerals for overall health. I wash my face with a little machine that scuffs off the day. I love doing home facials. My friends make fun of me because I am always coming out with some crazy thing on my face or something wacky, usually some mask or natural serum I am trying. I have to give some credit to my wonderful facialist and friend, Geri G. She is located in L.A., Chicago, and NYC. She is a miracle and works from the inside-out with all her vitamins and powders for inner health. Oh yeah, and always sunscreen daily. Can't forget that! 
Your dog Penguin is the cutest! Is that one of your most treasured relationships?Thank you! Yes, hands down. I think anyone who knows me knows that. Obsessed with my Penguin. She is the greatest little dog and brings me so much joy, and her loyalty is unsurpassed. Gosh, I love her.
Would you share who or what inspires you most? Who are your heroes?Well, I would start with my mom as my number-one hero. She has made all of my dreams possible since I came tap-dancing out of her womb. She did everything she could to make it so I could do everything I wanted. She says I always had Champagne taste on a beer budget. We didn't have much, but you would never know it because she made it possible for me to do whatever whim of the week I had. Eventually, I landed on music, acting, and dance. My brother and father inspire me. My brother and I have a band together, and he's so freaking smart and talented and hilarious—I can't believe he is my brother sometimes. My pops was an amazing man and musician and he lives on in my heart. Apparently, I am a lot like him and he was quite a force.
Dress by Giulietta.