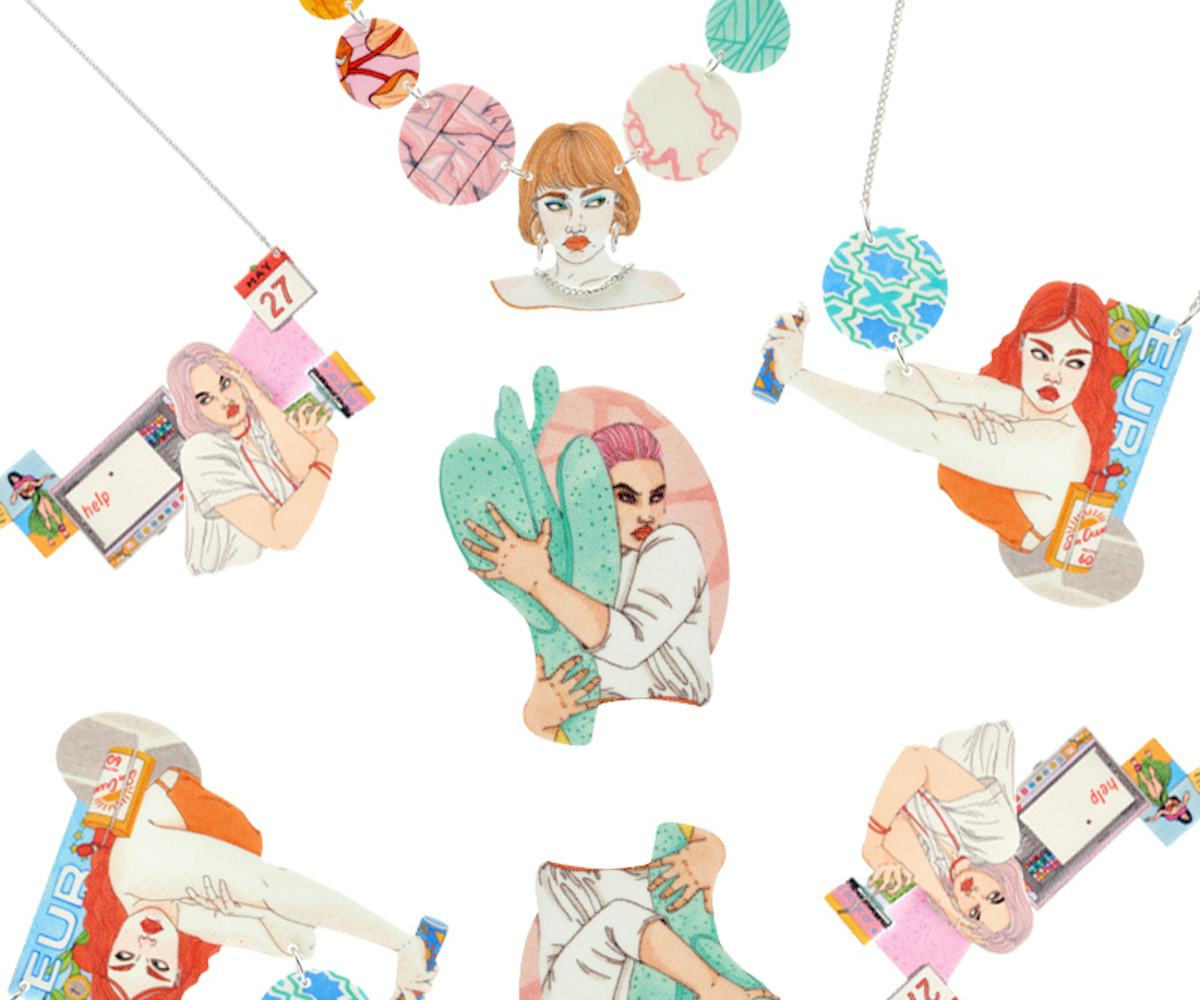 Tatty Devine And Laura Callaghan Create Jewelry For The Modern Woman
If you're not already familiar with British jewelry design duo Tatty Devine, prepare to fall in love with their whimsical world of color and quirkiness. Known for designing fun and out-there pieces with materials like wood, acrylic, leather, and more, they definitely take jewelry to a whole new level.
The brand just collaborated with U.K.-based artist Laura Callaghan on a capsule collection that launched today. Callaghan is known for her hyper-detailed use of watercolor and ink to vibrantly, and with a witty sense of humor, illustrate women in their day-to-day lives. "It was her tongue-in-cheek watercolors from her first solo exhibition 'Aspirational' that really caught my eye. I knew as soon as I saw them that they would perfectly translate as pieces of jewelry," says Tatty Devine designer and co-founder Harriet Vine.
The capsule collection, called Girls, is comprised of three necklaces and a brooch that represent the modern 21st-century woman. Each piece, which features one of Callaghan's watercolor paintings digitally printed on acrylic, is named after a fictional girl and has a story—they're one part sarcasm, one part humor, and provide a refreshing outlook on the humdrum of everyday life.
The pieces range from $34 to $100 and are available for purchase now at TattyDevine.com. Click through the gallery below to take a closer look at each piece, and learn a little more about each of the girls.
"Thea​ is the goddess of light and the mother of the sun. She is ready to face the new day, she isn't afraid to fly too close to the sun—but knows a high SPF is essential."
Tatty Devine x Laura Callaghan, Thea Necklace, $47, available at Tatty Devine.
"Ida works as an unpaid graphic design intern, but the company covers her Pret [A Manger] lunches every day—how cool is that?"
Tatty Devine x Laura Callaghan, Ida Necklace, $100, available at Tatty Devine.
"Sienna​ is having her ear talked off by someone. She figures if she looks in the other direction for long enough they'll take the hint, but probably not."
Tatty Devine x Laura Callaghan, Sienna Necklace, $67, available at Tatty Devine.
"As in the Garden of Eden, Eden means 'delight.' She has decided to embrace the cactus that is life—needles and all! Go get 'em, tiger."
Tatty Devine x Laura Callaghan, Eden Brooch, $34, available at Tatty Devine.