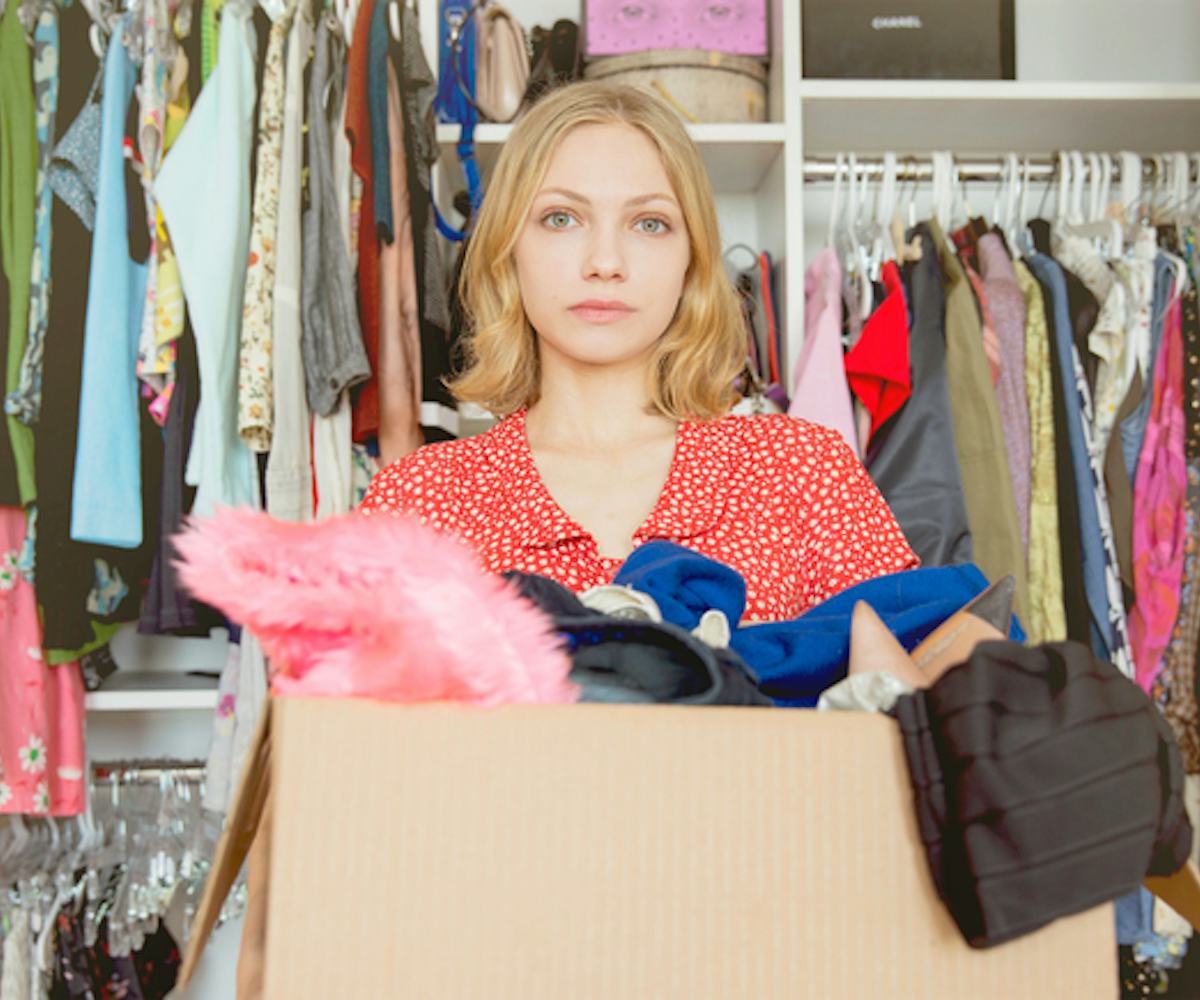 Tavi Gevinson, tavitagsale.com
I Bought My Dream Fall Outfit At Tavi Gevinson's Charity Tag Sale
I got to scavenge an It girl's closet—and it paid off
I got to Tavi Gevinson's tag sale early this Saturday, but it was already bustling. Despite the drizzle, fashionable young women milled about the canopied area outside 300 Ashland, the gigantic apartment complex in Brooklyn, New York, with which the host of the sale frequently partners on her Instagram. It's also where she lives.
The sale was a collaboration between Gevinson, founder of Rookie, 300 Ashland, and Housing Works, the NYC nonprofit "fighting the twin crises of AIDS and homelessness." The sale promised a combination of clothes, home goods, shoes, and books "in need of a good home," and, as evidenced by the sale's website, prices were considerably less than what you'd find at your typical NYC vintage shop. 
Years of following Tavi's fantastically weird, stylish exploits on the internet encouraged me to stop by—and I wasn't disappointed. I was first drawn to a rack of fur coats, priced between $35 and $120, from which I immediately grabbed a long faux-fur leopard coat and a short, wide-shouldered, deep blue coat that was, I swear to you, the softest faux fur I've felt in my life. 
From there, I pivoted to a rack of sequins and brocade, two of the other textile types that I want to make up my closet. Unfortunately, long-sleeved, red sequined minidress was snatched up immediately by a savvy young woman that was faster than me. Another loose, dark gray sequined top remained on the rack, which had a faint "artsy mom" vibe that I honestly could've pulled off if I'd had the gumption (and an extra $40 in cash). 
A pair of low-slung Prada slacks, a bright orange Kate Spade crossbody, and a gray velour Rodarte sweatshirt were among the most notable options at the sale (I still regret putting the sweatshirt back on the rack after carrying it around for 20 minutes). 
As for what I did get? I didn't exactly make out like a bandit, but the aforementioned blue faux fur coat and a baby pink pleated midi skirt are now mine, and while not exactly a steal, the $65 I spent on both didn't break the bank, either. I'm thinking this simple black tee and my platform Docs will make the perfect early winter outfit. And for that, Tavi, I thank you.