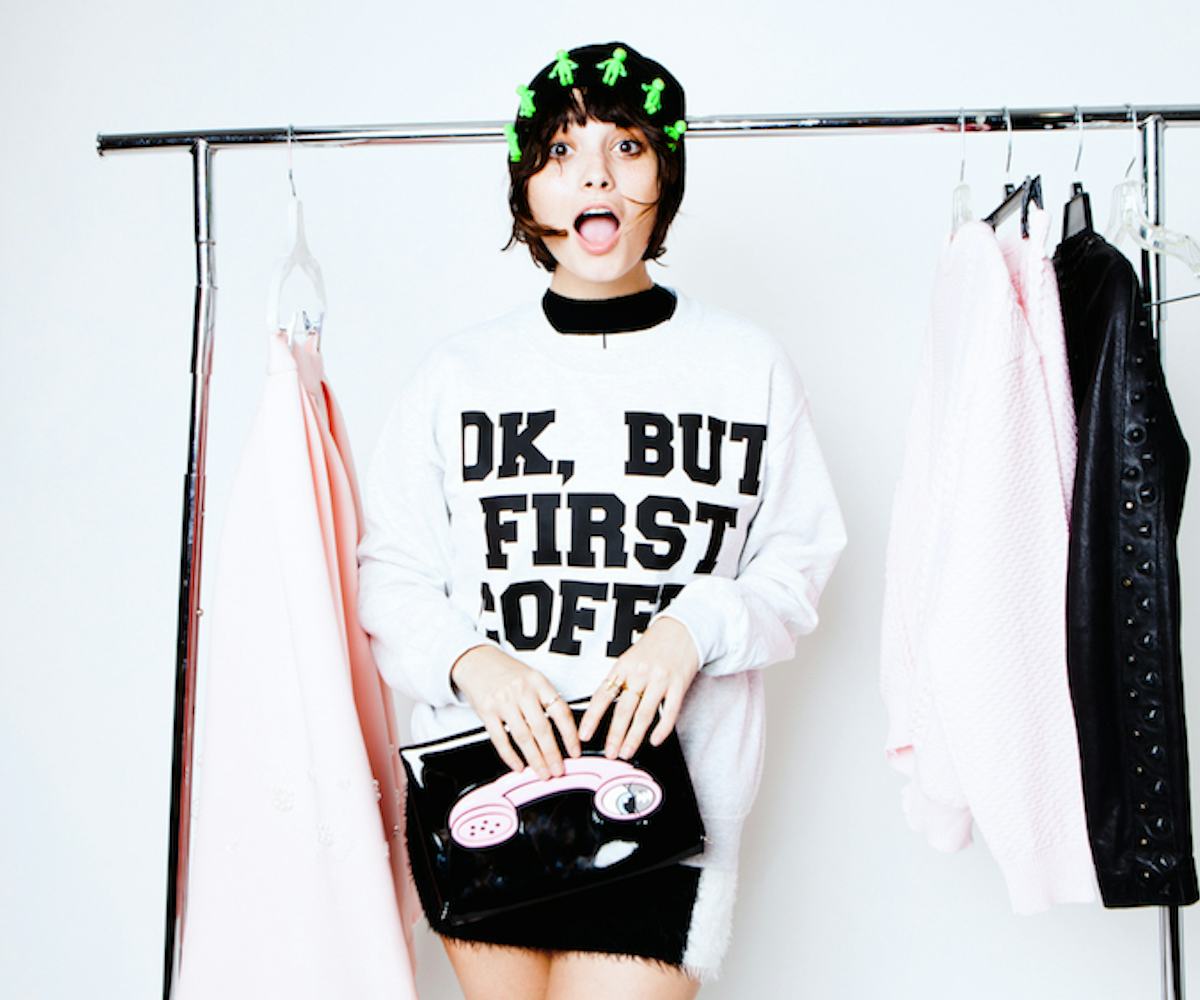 photos by suzanne darcy
get to know actress taylor lashae
bet you never knew she was a self proclaimed space nerd.
You might know Taylor LaShae as the doll faced girl with killer style and a major
following—but as you probably already guessed, she is so much more than that. The Houston, TX native has been actively and steadily working as a full-time TV/film actress and she's built a ridiculously impressive resume thus far. With dozens of commercials already under her belt, LaShae is most definitely on the threshold of becoming a feature film actress. Living in NYC for the past four years hasn't allowed Taylor to forget about her roots back in TX, where she grew up right next to NASA. 
As a student at the Nina Murano Studio (where she is learning the Meisner acting technique) and a member the AAA (amateur astrologers association) here in NYC, we're pretty sure Taylor is one of the most diverse girls we've ever met. Fun fact about Taylor? She's a huge conspiracy theorist. With a love for all things mysterious and unknown, Taylor only continues to surprise us. We've already covered her
, and as far as her style goes, you probably could have assumed already that Taylor doesn't put herself in a fashion box. Her style changes dramatically from day to day—sometimes she's the girl next door in blue jeans and a T-shirt and other times, she's the epitome of NYC chic in all black (she also is completely capable of looking like a J-Crew mom and a '70s rocker babe.) Why does she model her aesthetic after her eclectic way of life? "Because this is New York and you have to dress per occasion... which is one of my favorite things to do."
Name: Taylor LaShae
Occupation: Actress
Hometown: Houston, TX
Current City: Brooklyn, NY
1) How did you gain such an enormous following on social media?
I honestly am not really all too sure. When I was 15, I worked at a very popular online vintage shop. I would model for it and I got a lot of following from that. Afterwards I started working at a modeling agency where I could cover the media when I went to fashion shows and do all the social media for the modeling agency. Then I moved to New York—which was a big step for being so young—and I had a lot of support from my family, friends and followers. Once I got to New York, I noticed my Instagram page in particular got more followers. I would like to say it was my aesthetic but I'm honestly not even sure. I started modeling and doing marketing for other brands on my Instagram and I suppose since they have been reposted, reblogged, etc. from many brands I was able to see my following grow. It's a strange thing, really; fun in ways. Some people tell me they follow me because they like my clothes while some people like to see what next commercial or film I'm in. Regardless, I love them. It represents support—and who doesn't need that as an artist living in this big ol' city?
2) If you could transport yourself to any era, which would it be and why?
The '20s for sure. The fashion, the music, the way lives were lived at that time. I love everything about it. I was also working on set of
Boardwalk Empire
, where most of the series was based in the '20s. I became so in love and nostalgic about the era.
3) Describe your perfect day—where would you go, what would you do, who would you bring?
My perfect day includes Tex-Mex food at the Hayden Planetarium with my boy [photographer] 
to take pictures of me—haha I'm kidding. He will love that I said that… but no. We love learning and we love the planetarium and the Met. We love exploring and taking pics…then dinner in Little Italy!
4) Most loved item in your closet right now?
Oh man. I'm stuck between my
and my boyfriend suspender jeans from
.
5) What do you hope to pursue next in regards to your acting career?
Well, pilot week starts soon and that is going to be a pretty hectic/best time to get new projects started in the new year. I am crossing my fingers for a HBO TV show or a lead in a feature film for either HBO or Showtime. A girl can dream! And when dreaming… DREAM BIG!
6) Anything else we should know about you?
I prefer ordering in and watching TV and movies every night rather than going out. I am more of a grandma than you'd think, and I'm okay with that. :)
Shop Taylor's looks on 
!
202 factory: phone clutch—$175. toy syndrome: alien beanie—$29. (available here.)
wicked custom apparel: ok, but first coffee sweatshirt—$19.99. (available here.)
never fully dressed: imogen knitted co-ord set (pink)—$80. gl nyc: black wide brim hat—$210. love cortnie: calf hair clutch—$150. (available here.)
never fully dressed: imogen knitted co-ord set (pink)—$80. gl nyc: black wide brim hat—$210. (available here.)
lucy paris: window pane crop shell—$46. ukulele: pearl circle skirt—$260. donna di eleganza: collarless washed leather jacket—$376. crown and glory: flower kitty ears—$42. (available here.)
lucy paris: window pane crop shell—$46. ukulele: pearl circle skirt—$260. donna di eleganza: collarless washed leather jacket—$376. crown and glory: flower kitty ears—$42. (available here.)
wicked custom apparel: ok, but first coffee sweatshirt—$19.99. illustrated people: black cher sports skirt—$72. 202 factory: phone clutch—$175. (available here.)