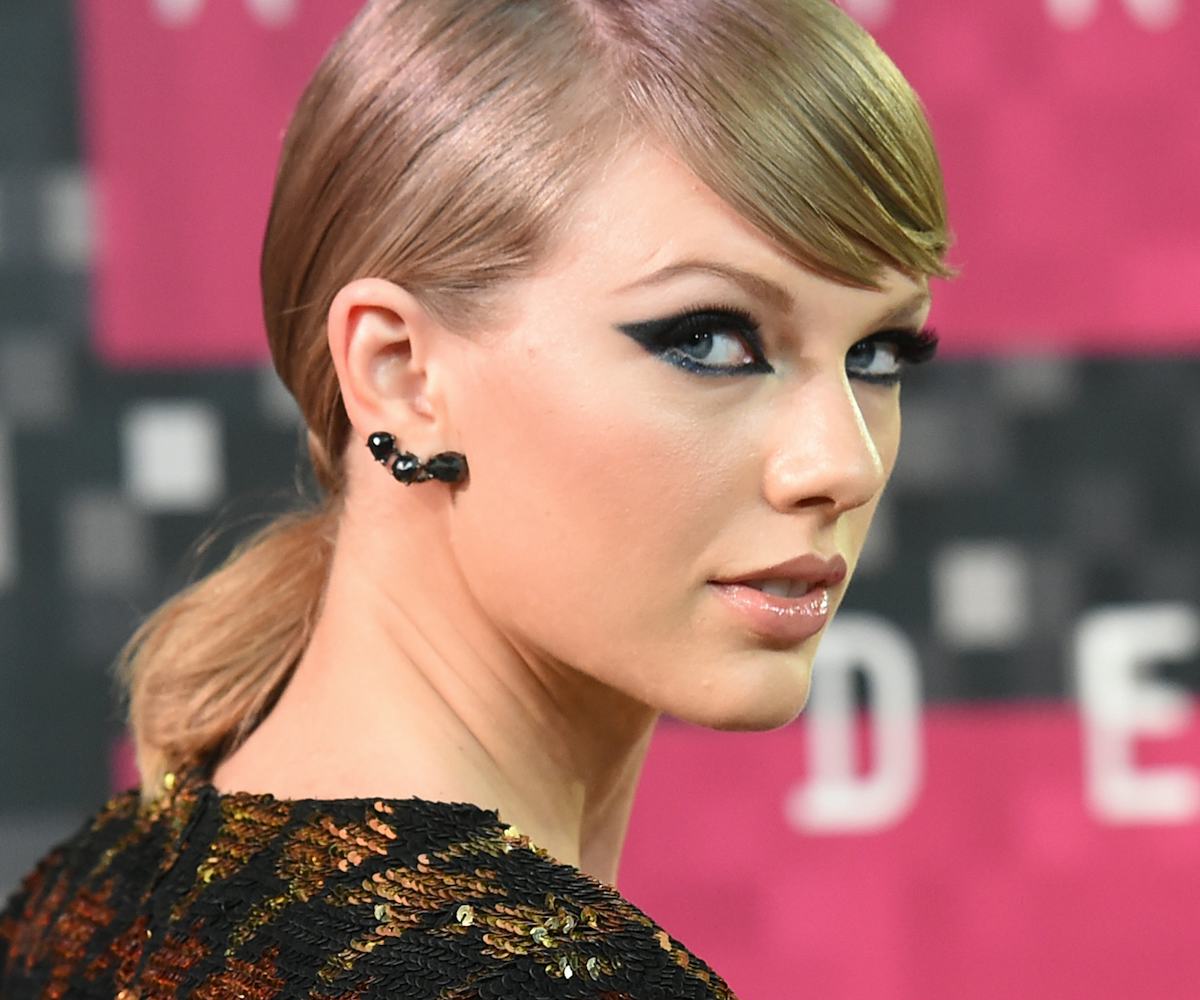 Photo by Jason Merritt / Getty images
Did Taylor Swift Steal Someone's Art To Promote '1989'?
Taylor Swift has long been a vocal advocate of an artists' rights, which culminated in the open letter she wrote to Apple last year, urging them to compensate artists for their work. But now, Swift finds herself on the flip side of the coin, after the New Orleans based artist Ally Burguieres accused Swift of using her work without permission. 
In an open letter to Swift, Burguieres explains that Swift used a watercolor print of a fox to promote her alubum 1989, with the belief that it was made by a fan, and thus fair game for approproation. As it turns out, Burguieres sells prints of the fox image for $45, and she was understandably miffed when she received neither compensation nor credit for her work, which at that point had been viewed by millions of people. 
"I was devastated, but I took solace in thinking that someone so outspoken about artists' rights would willingly fix her mistake," the letter reads. "Mistakes are easy to make; I thought if you only KNEW about the error, you would do what is in your power to make it right. I was wrong. My efforts to combat the pirated and unauthorized copy (and your use and distribution of it to millions of people) were noticed, as you removed the post after several days. But the copy had been shared and downloaded countless times, and it seemed neither you nor your team intended on correcting your mistake."
Burguieres writes that after "months of effort", she received a laughable offer from Swift's team, that stipulated she must donate her compensation to charity. She turned it down. "Taylor, as a professional, would you agree to such terms from Apple, or Spotify? My work is my living ­– it is how I pay bills and support my family and employees," Burguieres wrote.
Swift's team has since issued a response, which can be read below in full:
A fan has stated that she created the watercolor drawing of a fox, added some of Taylor's lyrics and signed the artwork as her own, posting it. Ms. Swift, believing it to be the fan's original work, reposted the fan's art, with her own comment, continuing the social media conversation.  Ms Burguieres did not contact Taylor's office, but she posted on social media her claim that the fan had used her drawing. We found that posting, accepted it at face value and immediately took down Taylor's posting of the fan art. At no time during these postings did Ms Burguieres contact our office directly. Notwithstanding the huge publicity this has generated for Ms Burguieres and her store, in early November Ms. Swift's office made a fair offer of payment well above a reasonable licensing fee for the short time that the fan art was posted online. The offer was for a payment to Ms Burguieres — there was no requirement of a contribution to any charity. Her lawyer further advised us that Ms Burguieres chose to go after Taylor only and not against the woman who has admitted she used Ms Burguieres' work as inspiration. Ms. Burguieres' lawyer acknowledged Ms Swift's action was unintentional, but rejected the offer. She promised to get back to us with an explanation of why she felt Ms Burguieres was entitled to more money, but she never did that and the next we heard was Ms Burguieres' new posting. We have tried on multiple occasions to address Ms Burguieres' concerns, but these actions make it clear to us that this is just an unfortunate effort to extract more money and more publicity
Ally Burguieres has also responded via Facebook, writing: 
I'm not interested in name-calling or a back-and-forth with Taylor Swift's team. I would like to clarify some things about their statement: They're saying they never stipulated donating -- they did. They're saying they offered fair compensation -- they didn't. They're acting as if they "gave" me publicity -- they didn't (it is the thousands of people who believe in doing the right thing that brought this publicity, not Taylor's team). They claim I want "more" money -- they didn't give me any. And finally, how does one contact "Taylor's office"? To pretend she is that approachable and accessible is a lie. I STILL haven't been graced with direct contact from her or anyone on her team. If they spoke with me directly, maybe they wouldn't be so suspicious of my motives. The fact that I didn't accept the offer they gave (it still didn't include credit) isn't proof that I was "holding out for more" -- it's proof that I preferred to keep my dignity and stand strong for independent artists, even if it meant getting nothing. For all artists, it's worth it.
The ball's in your court, Taylor.