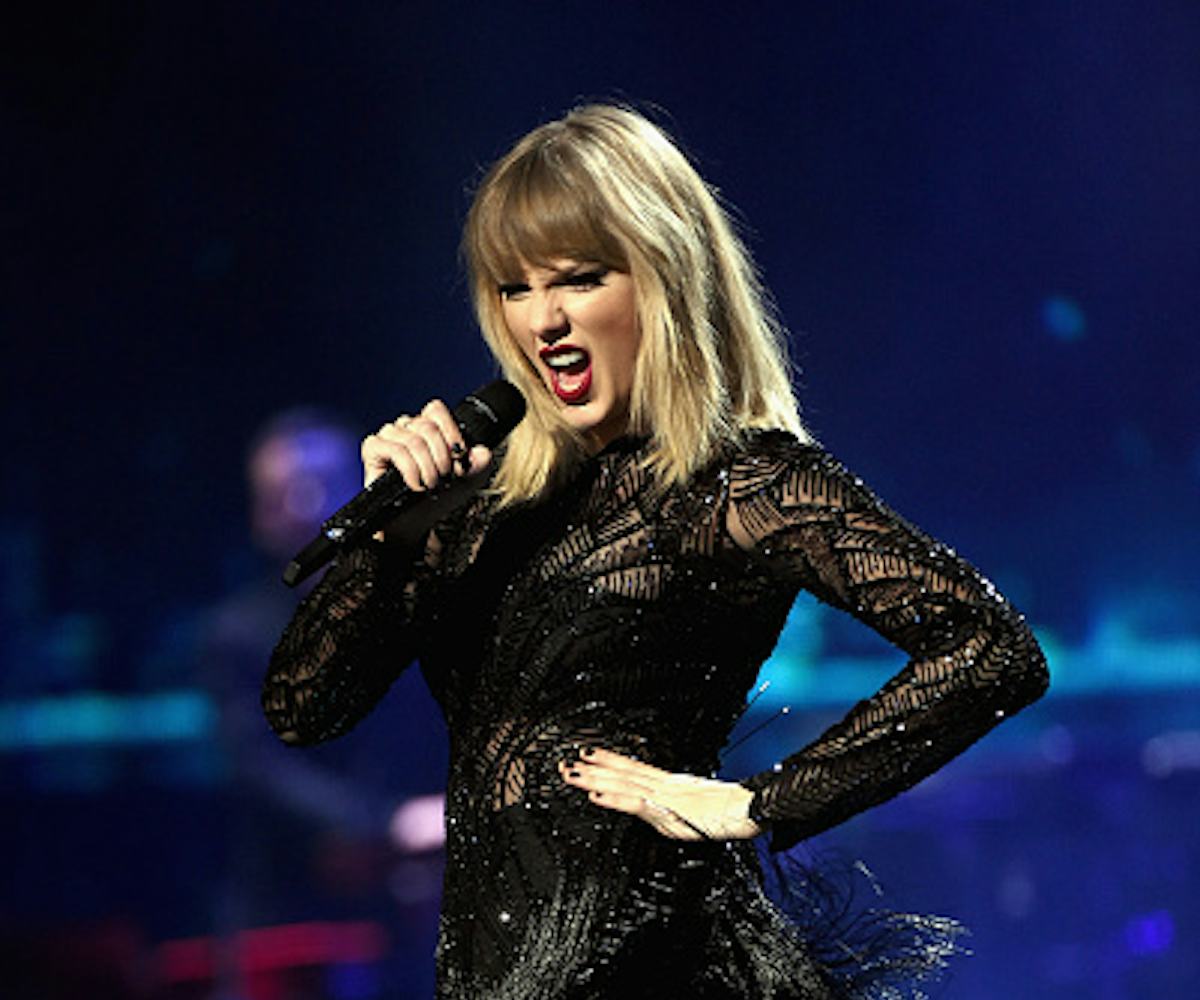 Photo by Larry Busacca/Getty Images for DIRECTV
Taylor Swift Returns To Spotify The Same Day Katy Perry Drops 'Witness'
Did she reach peak petty?
Update: Because God forbid she be upstaged, Katy Perry will now be live-streaming herself on YouTube all weekend long. Watch here. Or, you know, don't. Whatever.
There's been yet another development in what feels like the never-ending feud between Taylor Swift and Katy Perry. For someone who is "surprisingly nonconfrontational," Swift sure likes to start some shit. Today, the singer returned all of her music to Spotify, three years after boycotting the streaming service, and it just so happens to be the same day Perry released her new album, Witness, and tickets for her headline U.K. tour. What a coincidence! 
Swift made the announcement yesterday on Twitter, posting a statement from her team explaining that she would release her entire back catalog of songs to all streaming services on June 9. 
"In celebration of 1989 selling over 10 million albums worldwide and the RIAA's 100 million song certification announcement," the statement read, "Taylor wants to thank her fans by making her entire back catalog available to all streaming services tonight at midnight."
While a lot of fans are excited that they'll have access to all of Swift's music again, some people are pointing out that this could possibly be Swift reaching "ridiculous levels of pettiness," given the timing.
It's also relevant that the "Bon Appétit" singer has been talking a lot about her conflict with Swift recently. She told James Corden on "Carpool Karaoke" that "there's a situation," and Swift "started it, and it's time for her to finish it." Despite Perry saying she's "ready for all that BS to be done," she can't seem to stop talking about it.  
She also told NME that she couldn't get over Swift's song "Bad Blood," rumored to be about her, and felt the need to respond with "Swish Swish." 
"I mean, I'm not Buddha—things irritate me," she told the site. "I wish that I could turn the other cheek every single time, but I'm also not a pushover, you know? Especially when someone tries to assassinate my character with little girls [her fans]. That's so messed up!"
Perry's Witness launch was announced about a year ago, so Swift definitely knew this was coming up. And while I think we can all agree Perry has gone off the rails a bit while desperately trying to remain relevant, it's still a very petty move on Swift's part. Basically, both of them need to get over it so we can move on to a more interesting feud. I mean, the beef is allegedly over backup dancers from a tour that happened almost five years ago. Seriously? 
Also, today SZA released her new album CRTL, so I think we all know who the real winner is.