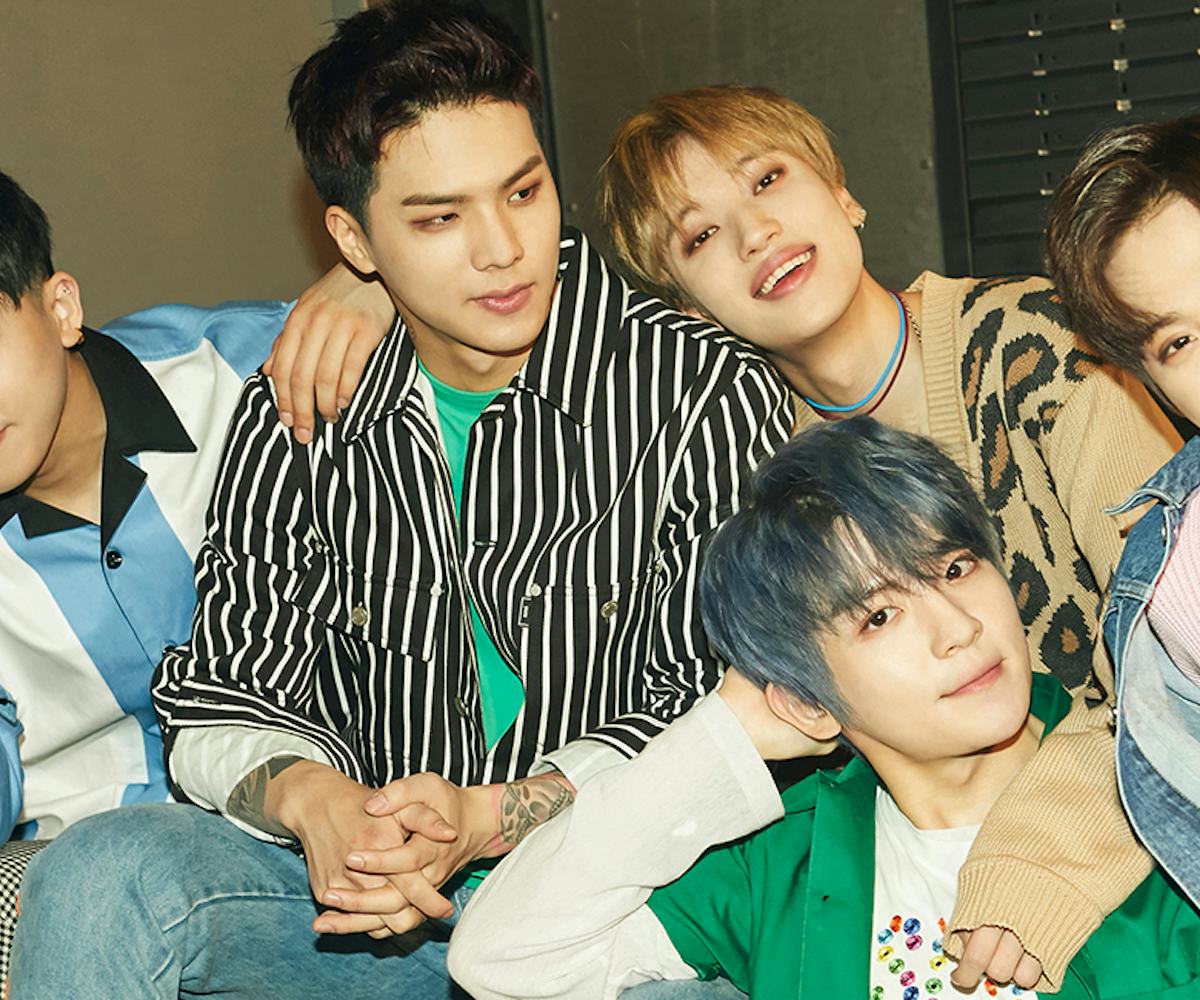 Image by TOP Media
Get To Know K-Pop Sensation TEEN TOP
Find out why one member "drooled" because he was so tired when filming a video
Perhaps the most surprising thing about K-Pop group TEEN TOP is that none of the members are teenagers anymore.
Such is the seemingly contradictory nature of one of South Korea's most popular boy bands, who broke into the scene nearly a decade ago with their 2010 debut with Come into the World. But if Aaliyah taught us anything, it's that age ain't nothing but a number.
The K-Pop group returned on May 8 with their eighth EP Seoul Night, an energetic collection of bright, bouncy synth-pop stormers and melodic R&B grooves. It's also their most artistically involved set to date, featuring writing and arrangement contributions from members C.A.P and Changjo.
As the group has matured, they've only continued to hone both their sound and high-energy performance style. Now, at a time when K-Pop acts regularly impact the charts in places far from their own homeland, demand has never felt stronger for the group to go the distance and musically conquer the rest of the world.
With a determination to stay true to the goals they set for themselves as trainees years ago, the boys-turned-men of TEEN TOP are still living out their teenage dreams. Here's what they had to say when we talked with the recently about their new album, being more involved in production, and how to have a great night out in Seoul.
Seoul Night is the eighth EP since your debut, and your most personally involved yet, as Changjo and C.A.P contributed to the album's writing and arrangement.
As the years go by, we think harder about the type of songs that we should make. After multiple meetings, we finally decided to make a fun and exciting album that closely represents TEEN TOP. It was a process of self-reflection. The hardest part was to choose the right song from a number of selections that we thought the public and fans would like.
Was it important to the members to participate more heavily in the production?
We're doing our best to expand participation, and we'll continue to do so for future projects. We know our music the best, so we believe it's necessary to work on it on our own for better concepts and songs.
You've admitted that because you're so close, you fight—and even physically fought during your early debut days. How do you resolve the fights? Hopefully not with more fist-fighting.
We have small to big disagreements, but we hash it out pretty quick. We know and understand each other so well now that sometimes we resolve it without even talking about it.
Your band name Is TEEN TOP, and you recently said in an interview that even though you're no longer that age, you still make music with the mindset of teenagers. What kind of music and message do you think connects best with today's youth?
Messages about hope and dreams always connect well with teens. We all went through the teenage years, so we can sympathize with them and understand some of the hardships that they might be going through. We want them to think about the bright future ahead, and we want to encourage them not to give up on their dreams.
Are there songs or artists from your teenage years that inspire you to return to that teenage time in your mind?
Artists like Michael Jackson, Usher, and a Korean group called g.o.d really bring us back to our teenage years.
In a competitive space like K-Pop, what sets TEEN TOP apart from other boy bands?
Our biggest strengths are live performance and engaging with the audience. We always like to have fun-filled performances with our songs.
You recently toured Europe. How was that experience?
It was really unfortunate that the visit was so short due to our schedule. Next time, we'd like to visit more places and explore the local cities. Also, we all decided to study the language to communicate better with our fans.
How do you connect with audiences that may not speak the same language?
We do our best to learn different languages, but it's quite difficult. But even with the language barrier, we believe our music, dancing and eye contact helps us connect with the audience.
Now that Korean pop is enjoying more success than ever internationally, do you have interest in expanding abroad?
We've been doing overseas promotion, and we'll continue to do so. We're so happy to see that many fans around the world love K-Pop. It pushes us to make better music. We want to meet all the fans who are waiting for us.
Are there more group or solo activities planned after this latest comeback?
C.A.P: Personally, I would like to share the songs that I've worked on myself.
Chunji: TEEN TOP is scheduled to have a Seoul concert after a long time.
Niel: I'm getting ready for a musical in August, and I want to do more variety shows.
Ricky: We're planning to come back with another TEEN TOP album as soon as possible.
Changjo: This year, we'll be focusing in our team activities, but all the members are planning to do musicals and other activities here and there, so please stay tuned!
What does the future look like for TEEN TOP after Seoul Night?
We would like to try different types of music, and plan to see our fans more often. We'll strive to bring better music for as long as possible.