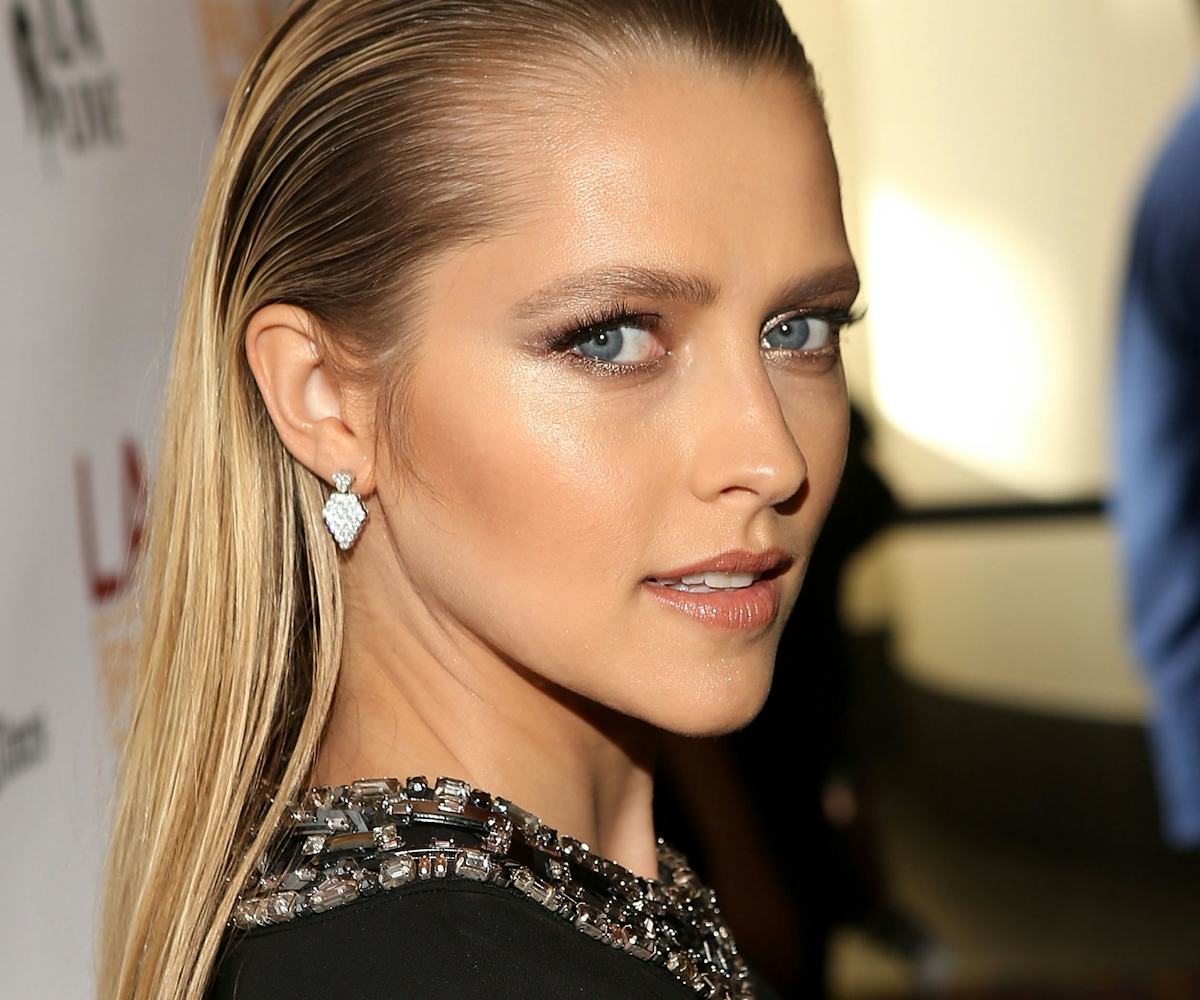 Photo by Jesse Grant / Getty Images
teresa palmer on balancing motherhood with hollywood
the 'cut bank' star on having it all
Teresa Palmer almost gave up a career in the movies. In 2006, the Australian actress was cast in her first American role as one of the leads in the sci-fi blockbuster Jumper. Then, just two weeks before the film was set to begin production, the roles were rewritten for older actors, and Palmer's part went to Rachel Bilson. Devastated, she returned to Australia and considered leaving the industry altogether. 
That didn't happen, and thanks to a talk with her agent and some soul-searching, Palmer returned to America and began booking parts immediately, becoming a steady presence in major films like The Sorcerer's Apprentice and I Am Number Four. But Palmer, who recently became a parent with husband Mark Webber, also relishes the collaborative nature of smaller movies like her latest, Cut Bank, a bare-bones thriller that also stars Liam Hemsworth, Billy Bob Thornton, and John Malkovich. Palmer plays Cassandra, girlfriend to Hemsworth's character who witnesses a murder and tries to profit from it, only to have things go terribly wrong. 
Palmer recently scored a career highlight when she was suddenly cast opposite Christian Bale in Terrence Malick's latest odyssey, Knight of Cups. Here, she tells us what that experience was like, along with how she's managing to balance work and motherhood—and the struggle and drive to find great roles for women in Hollywood. 
You're a movie star and you're also a mother. How do you reconcile these different lives?
I just try to prioritize as much as I can. My number one passion, ultimately, is and always has been to be a momma and have a family. It's always been the thing I've been most excited to do. I didn't know what that would look like in terms of my work, but it seems as though the universe is presenting lots of opportunities to me, so I devised a plan in which I can do both, and that is just by bringing my son with me to work and just having an environment on set that is very family friendly.
Do you have any funny stories of the two of you on set?
He's been in a few of the movies because he's around and we need a baby. In the Nicholas Sparks film he plays my son, and in this one I'm doing right now called Message from the King, I have a seven year old daughter and just the other day they asked me if I'd mind putting Bohdi in a pink, frilly dress and have a photo with him as if he was the younger version of my daughter. So we laughed about it, and we did it, and it's been great.
There was a period after Jumper where your career seemed in limbo. Can you talk about that and what's happened since then? 
That was quite a big transition for me in that after my experience with Jumper, I quit and went to Australia. I thought, the lifestyle is too unpredictable, and I had a bad taste in my mouth. I was really burnt from that experience. I was hurt and scared, and I couldn't see how it could be a lifestyle that would ultimately make me happy. So I quit and thought, I'll just be a teacher in Adelaide. I went home and talked to my agent who understood what I was going through. But he told me to give it one more shot and go out to L.A. for two months to give it another go and see if I could change my mind about the industry. So that's what I did, and I started working again.
I did Bedtime Stories and then I did The Sorcerer's Apprentice and I got to play a warrior-like character in I Am Number Four. Although the movie didn't do as well as many had hoped, it highlighted me in a new way. I played more of a dramatic character, and she was sassy and flashy and I had stuff to do, and from that moment on, I decided that I didn't want to continue playing the girl who supports the male. I wanted to find well-rounded, deep, meaningful female roles. The director Jonathan Levine went and saw I Am Number Four when it came out right as I was auditioning for his movie Warm Bodies. That was my third audition, and I Am Number Four premiered, and he went to see it, and I ended up getting Warm Bodies. Things just really started to shift for me and opportunities started to open up.
You said you didn't like being cast as a complement to male leads, but when I was watching Cut Bank, I saw a little bit of that. Did you feel limited by this or am I wrong in my assumption?
Well, unfortunately what happens in the editing process—just to get films down to a certain length—some of my key scenes with my father, Billy Bob, weren't included in the movie. I think ultimately, the script was so flashy and I had been attached to that movie for four years, and that was really an opportunity for me to work with John Malkovich again and to work with Billy Bob and Liam again. So I decided that, given how intricate and cool the script was, I was willing to take on this role. And in the process, some of my bigger scenes got cut out and it is what it is. But I ended up thinking the movie was really interesting and different and dynamic, and that was one of the main reasons I wanted to do it.
What is the difference between filming in Australia and filming in Hollywood?
It's actually not the difference in how films are made in Australia versus America, in terms of country, but just the difference in size of projects. I've never shot a film that had more than a $10 million budget in Australia. In Australia, I've been part of a lot of independent movies, which I'm passionate about because I'm such a fan of independent filmmaking and the collaborative process in which that takes place. And it feels, on these smaller budget movies, that you're part of a small puzzle, whereas in huge, studio films—I've done $180 million budget films—you're such a small yet integral part of a large puzzle.
You're in Terrence Malick's Knight of Cups. What was it like having him as a director?
That was the highlight of my career so far. It's a really funny story how that all came about. I didn't even know I was in the film until I saw the trailer, and I thought, well I've made the trailer, I can hear my voice, I know that I say stuff in the film, and then I read the reviews out of Berlin, and they talk about me in the reviews. So I thought, alright! I'm in the movie. But I'm very surprised I am because I was a character that was written in sort of last minute, and I was only supposed to have one scene with Christian Bale. I was meant to come in and talk to him and help steer his life on a different path. I didn't know anything about my character except that she was a stripper.
I also heard that your scenes with Christian Bale were shot with GoPros. Is that true?
Yeah, there were moments where Emmanuel Lubezki, who won the Oscar for Gravity, would give us GoPros, and say, Okay, while we're setting up the next scenes, can you and Christian just run down to Santa Monica and jump in the ocean and film each other with the GoPro? We went relatively unnoticed and jumped in the ocean and used a GoPro, just the sort of situation that blows your mind. I wasn't even meant to be there for that scene; I was only supposed to come in for one scene.
Where would you like to see yourself in ten, maybe twenty years?
Still acting. I don't know if I'll be shooting four to five movies a year. Ultimately, my truth is that I really enjoy acting. I also want to direct some documentaries–I have big plans and ideas for future collaborations, and I think my husband Mark and I always say we want to use our profiles to affect positive change in the world. In however that transpires, I truly hope that I'm leaning into that. I have a whole gaggle of children and I'm working on my philanthropic ideas, and that I'm healthy and happy and I'm doing whatever inspires me.