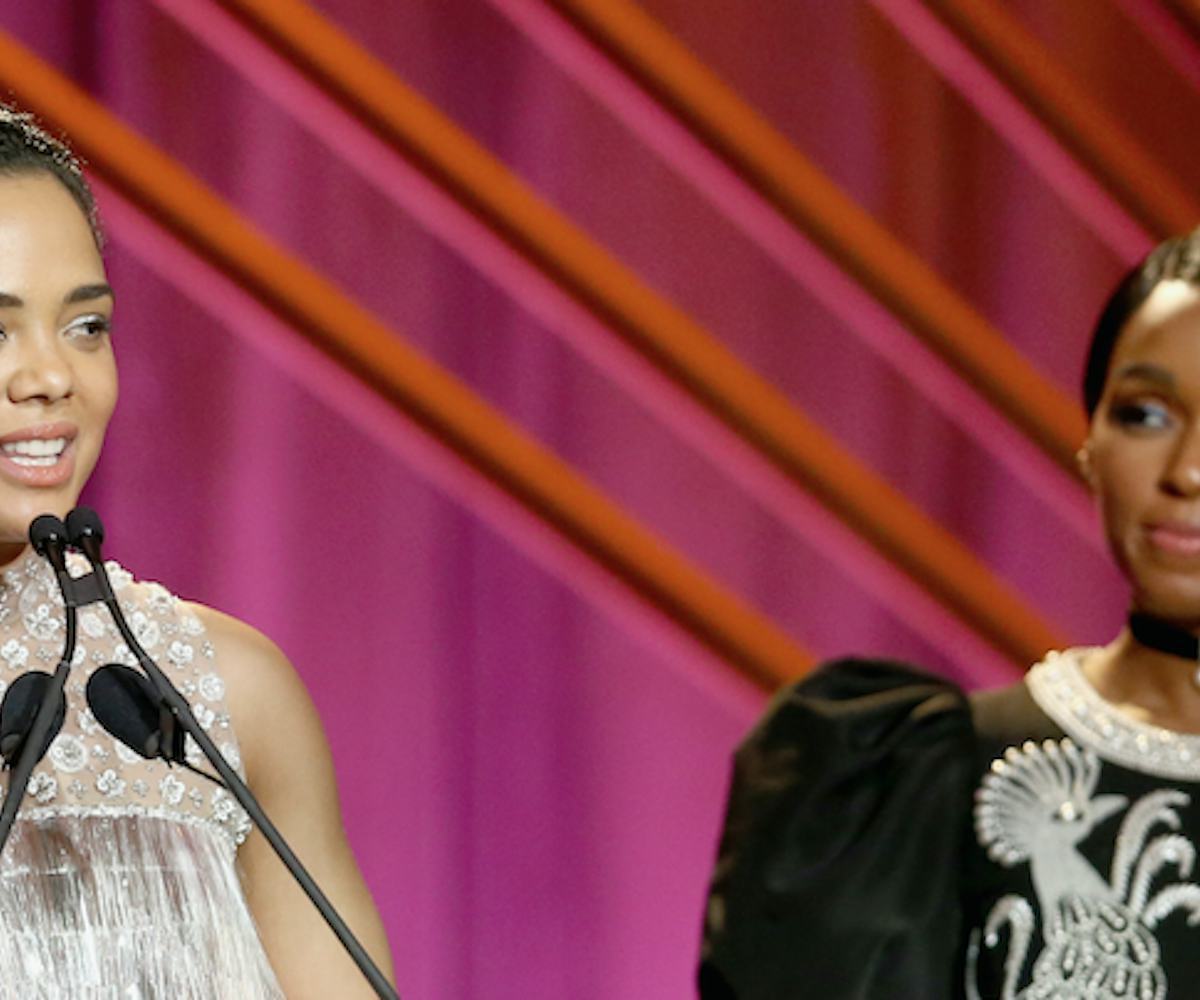 Photo by Rich Polk / Getty Images.
Tessa Thompson Says She And Janelle Monáe "Love Each Other Deeply"
And reveals that she is "attracted to men and also to women"
Tessa Thompson has just addressed her rumored relationship with Janelle Monáe. In a new interview with PORTER, the Sorry To Bother You star said that she and Monáe "love each other deeply," and, for the first time, opened up about her sexuality, stating that she is "attracted to men and also to women."
"We're so close," she said of Monáe. "We vibrate on the same frequency." Though Thompson didn't explicitly confirm whether or not the two are a couple, she said, "If people want to speculate about what we are, that's okay. It doesn't bother me."
She added that she and Monáe sometimes have trouble navigating their sexuality in the public eye because they are both naturally private people. "It's tricky, because Janelle and I are just really private people and we're both trying to navigate how you reconcile wanting to have that privacy and space, and also wanting to use your platform and influence."
Thompson also noted that her family has always been in support of her relationships and given her the space to be who she wants to be. "I can take things for granted because of my family—it's so free and you can be anything that you want to be," she said. "If I bring a woman home, [or] a man, we don't even have to have the discussion. That was something I was conscientious of in terms of this declaration around Janelle and myself. I want everyone else to have that freedom and support that I have from my loved ones. But so many people don't. So, do I have a responsibility to talk about that? Do I have a responsibility to say in a public space that this is my person?"
Thompson additionally talked about her thoughts on Monáe's new album, Dirty Computer, stating that she's gotten messages from friends about how it helped them come out to their families. "I get text messages from friends which are like, 'Would you please let Janelle know I came out to my family because of her?' I think that work is really helping people and probably saving some lives," she said. In April, one day before the Dirty Computer release, Monáe came out as pansexual, stating that she "consider[s] myself to be a free-ass motherfucker."
You can read her profile in full, here.