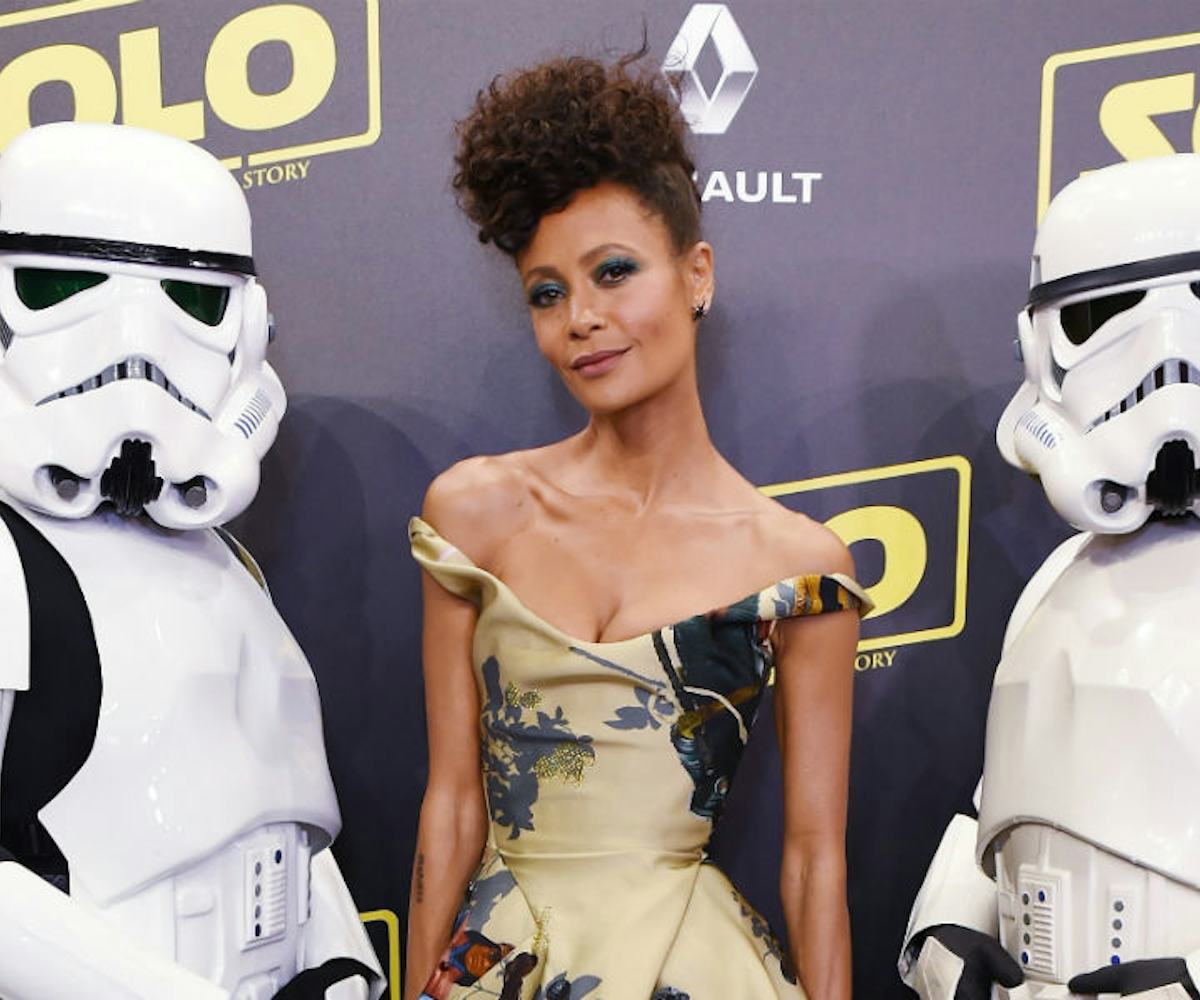 Thandie Newton Wore A Gown Featuring Black Star Wars Characters
A lot of stuff is happening in the theaters of Cannes Film Festival this year, but even more is happening on the red carpet. Lupita Nyong'o brought Wakanda to France with her varying outfits, and Kristen Stewart made a statement by taking off her heels while attending a premiere. Now, actress Thandie Newton has graced the festival with a moment of her own.
During the screening for Solo: A Star Wars Story, Newton, who plays Val in the upcoming film, walked the red carpet wearing a custom-made Vivian Westwood gown featuring all of the black characters from the Star Wars franchise. According to stylist Erin Walsh, photographer Christian Högstedt took pictures of action figures from Newton's personal collection from which Westwood created the print. As if that wasn't enough, it was then embellished with Swarovski crystals. 
Newton managed to fit all of the black characters on the gown comfortably... which wasn't hard to do given the short list. It includes Billy Dee Williams as Lando Calrissian, Donald Glover as a young Lando Calrissian, John Boyega as Finn, Samuel L. Jackson as Mace Windu, Forest Whitaker as Saw Gerrera, and Hugh Quarshie as Captain Panaka. (Newton is the first woman of color to land a leading role in the franchise's history, so it's also very male-heavy.)
As Glover asked while hosting Saturday Night Live, "Where are all the black people in space?" The cast for Solo: A Star Wars Story is an improvement from movies past, but, as Newton's gown illustrates, the sci-fi world could benefit from a lot more color.