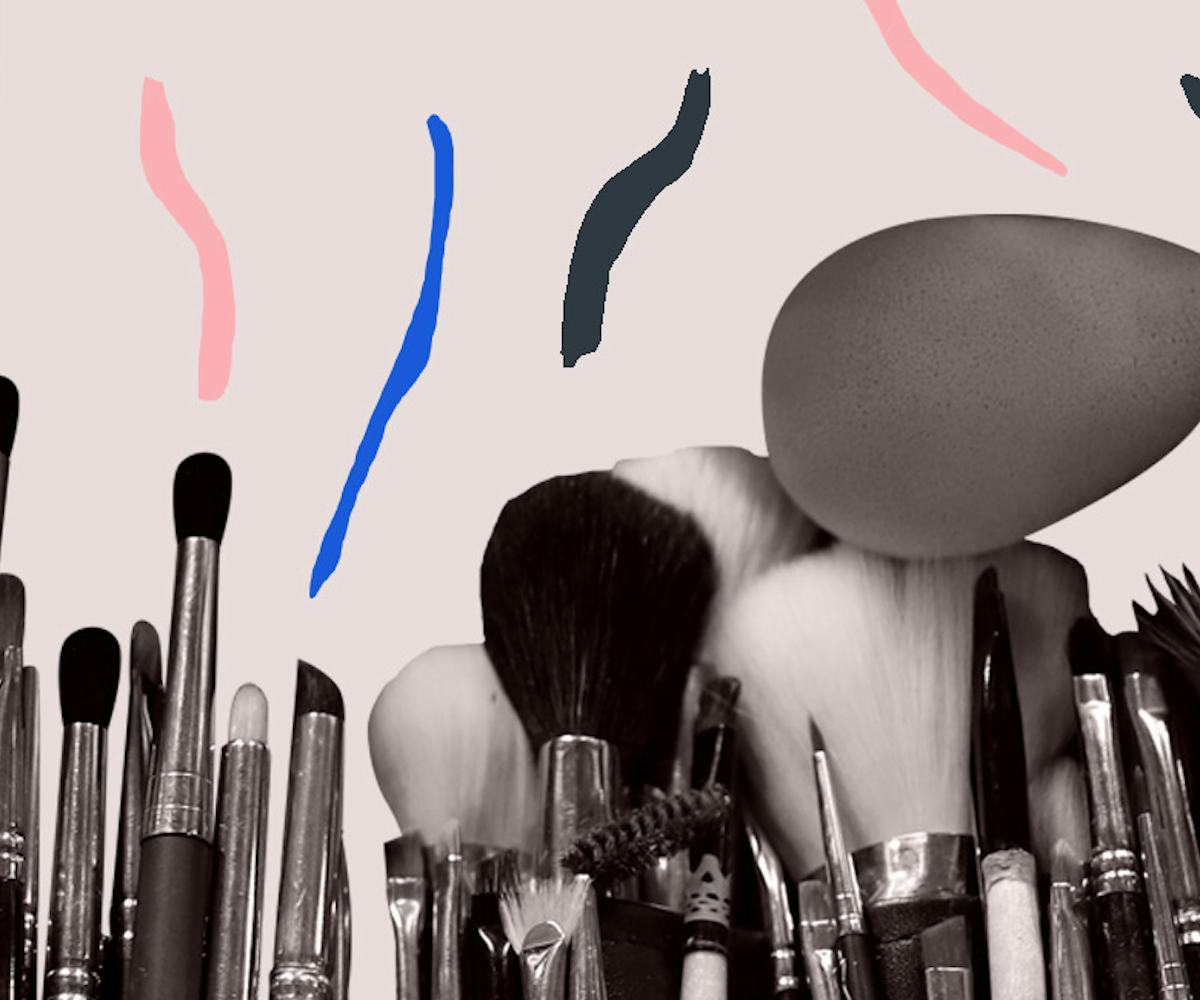 Photos via Getty Images
The Beginner's Guide To Makeup Brushes
Put your pointer finger down!
I believe that there are two kinds of people in this world: those that apply their makeup using a vast collection of brushes, and those that use their fingers to swipe on pretty much everything. Even as a beauty editor with a mountain of brushes—still in their packaging—surrounding my desk, I am one of the latter.
Sure, I have one blush brush and one eyeshadow brush tossed into my drawer that I use on the rare occasion that I wear eyeshadow or blush powder, but honestly, I'm probably not even using the right kind of brush. If it's a creamy or liquid product, though? Everything is either applied with the wand attached to it or with my own fingers. Not to mention, I've never once cleaned the brushes I do have, which is pretty gross.
Recently, though, I decided it was time for me to give brushes a chance, considering many are reaching the same cult-favorite status as the products they're used to apply. I talked to the experts in the field to get their opinions on the brushes versus fingers debate, and where every novice like me should start.
I was pleased to find out that Matthew Waitesmith, founder of the brush brand Artis, didn't completely knock the use of fingers. "Fingers have a couple good things going for them in terms of makeup application: First, you don't have to search for them in a drawer or bag. Second, you're very used to using them for other things, so you're familiar with how they work. Lastly, the ridged pattern of a fingerprint can help distribute makeup product across the skin."
Still, he points out, brushes are better. "Some makeup brushes offer much more enhanced applications and finishes than fingers can offer. For example, the fingerprint pattern on the last pad section of your finger is big enough to see with the naked eye. Those ridges are much larger than the particles of makeup you're applying, so the finger is not as precise or detailed as the hundreds or thousands of hair or fiber tips in makeup brushes." Having control over application will still make all the difference.
Makeup artist Lindsey Williams agrees, telling me that while fingers may, in fact, work in a lot of situations, everyone can benefit from brushes for at least a few steps of their application process. "Whether it's brows and winged liner or blending multiple products into the skin, I always encourage people to explore brushes and, at least, give them a try."
But being that there are so many brushes on the market, it might be difficult to know where to start. The good news is, you don't necessarily need to buy a 20-piece kit to get going. "Watch most professionals, and they'll use a few brushes to do everything on a face. If you want to keep your collection smaller and multifunctional, buy a few brushes in different sizes to perform multiple tasks," says Waitesmith. He goes on to explain that, despite what some brands may preach, you can really get away with owning just a few. He recommends going with a large brush for foundation, blush, face contour, highlight, and setting powder; a medium/small brush for concealer and eyeshadow; and a small brush for eyes, nose, brows contour and lip color.
If you're not the multipurpose type, makeup artist Omayma Ramzy shares what she considers to be the most vital brushes, especially for the beginner:
"A small shadow brush is great for packing on eyeshadow, but also can double up for a little smudge action if you looking for light blending. Then, I'd say a fluffy eye brush is great for blending colors, especially if you're looking to do something like a smoky eye, which requires some control." She also absolutely swears by a smudging brush (something she dubs "The Smolder"), which, when run along the lash line, will create a stunning, smoldering eye look without much effort.
She additionally considers a face brush for any powders or blushes an essential, as it keeps things precise and will allow you to create a simple "swoop" of blush while keeping things looking blended. Lip brushes are next on her list, as you'll have way more control—especially with brighter and bolder colors. "Having a bold lip done wrong can really ruin a makeup look, and a precise lip brush does the trick." She recommends carrying a retractable lip brush in your bag, rather than applying it straight from the tube,
And then, of course, there's the foundation brush. Many may be wary of using dry brushes when applying wet makeup such as a liquid foundation, but, from what I've recently learned, it's definitely the way to go—maybe even life-changing. Waitesmith proposes a test if you don't find yourself swayed. "To convince yourself of the difference in application, from using a brush versus the fingers or a sponge, test your foundation by applying it using each on one portion of your face. You'll be surprised that there's a significant difference in the application of the same product to the same skin depending on the tool you use," he says. "Most people who have tried a high-quality brush agree that the application is vastly superior to other methods or tools."
Bonus? You'll also save on product. "A great brush uses less product to achieve a high-end result," says Waitesmith. However, Ramzy does suggest applying any liquid foundation directly to your skin in order to warm it, so be sure to apply as little as possible and build it up if need be.
In the end, building a brush collection should be a fun and exploratory adventure. As Williams says, "Don't be afraid to explore and try a lot of different brushes. Not everyone has the same needs, face and eye shape, or aesthetic." With that in mind, she also recommends being aware of a brand's return policy. She explains that sometimes a brush just really won't work for you, and—especially if you invested in a pricier one—you'll want to be able to return it.
Like most things in life, you have to take good care of your brushes in order for them to last. And that begins with cleaning. "When a brush has makeup on it along with dead skin cells, oils, and moisture, it can become a perfect breeding ground for some unfriendly creatures," says Waitesmith. "So, try to create a regular habit of cleaning and caring for all the beauty tools and products you use—especially those that touch your eye and mouth area, as those are entryways into your body."
So, how do you clean them then, and how often? "On a daily basis, a mini spray brush sanitizer will put your mind at ease—especially if you're a germ freak like me," says Ramzy. "They're also a great way to get a brush ready to switch over to another color."
Next, comes the deep clean. "Depending on how much you use your brushes, I'd consider deep cleaning them a minimum of once a month, but if you feel like your brushes are getting gross, go for it." She uses an antibacterial dish soap and warm water to break down the bacteria, grease, and grime without damaging your brushes. Then, she lets them dry—being sure to never leave them brush-side-up. "There's glue holding the bristles together, and if you were to let your brushes dry brush-side-up, the water and any extra soap will train into the glue and start to break it down, leading to hairs or fibers falling out and the brush not lasting as long. I lay mine on an angle on a folded towel so that the water can roll down as it dries." 
One thing that was pointed out to me was not to skimp and settle for the most affordable brushes when it comes to buying your first set. You may end up splurging a bit—but it's well worth it. "Don't go too cheap where you'll end up with poor quality," says Williams. "Be willing to spend a little and take care of your brushes—they'll last you years!"
Especially if you're aiming to keep your collection small (because who has room for a zillion brushes?), Waitesmith preaches aiming for a better quality. "You're much better off investing in brushes that are greater in quality and designer and are multifunctional, as opposed to a set of poor-quality brushes that have limited usage titles stamped on the handles."
Still, if you're really not looking to splurge, Ramzy recommends checking the drugstore: "If you've never used brushes before, you can pick up a few that look right to you. They're only a few bucks, so you can't really go that wrong."
So, there you have it: Starting a brush collection can be as simple as picking up a few basics or investing in a large collection, but either way, it makes all the difference in terms of application. It looks like I'll finally be unpacking all of these brushes on my desk.