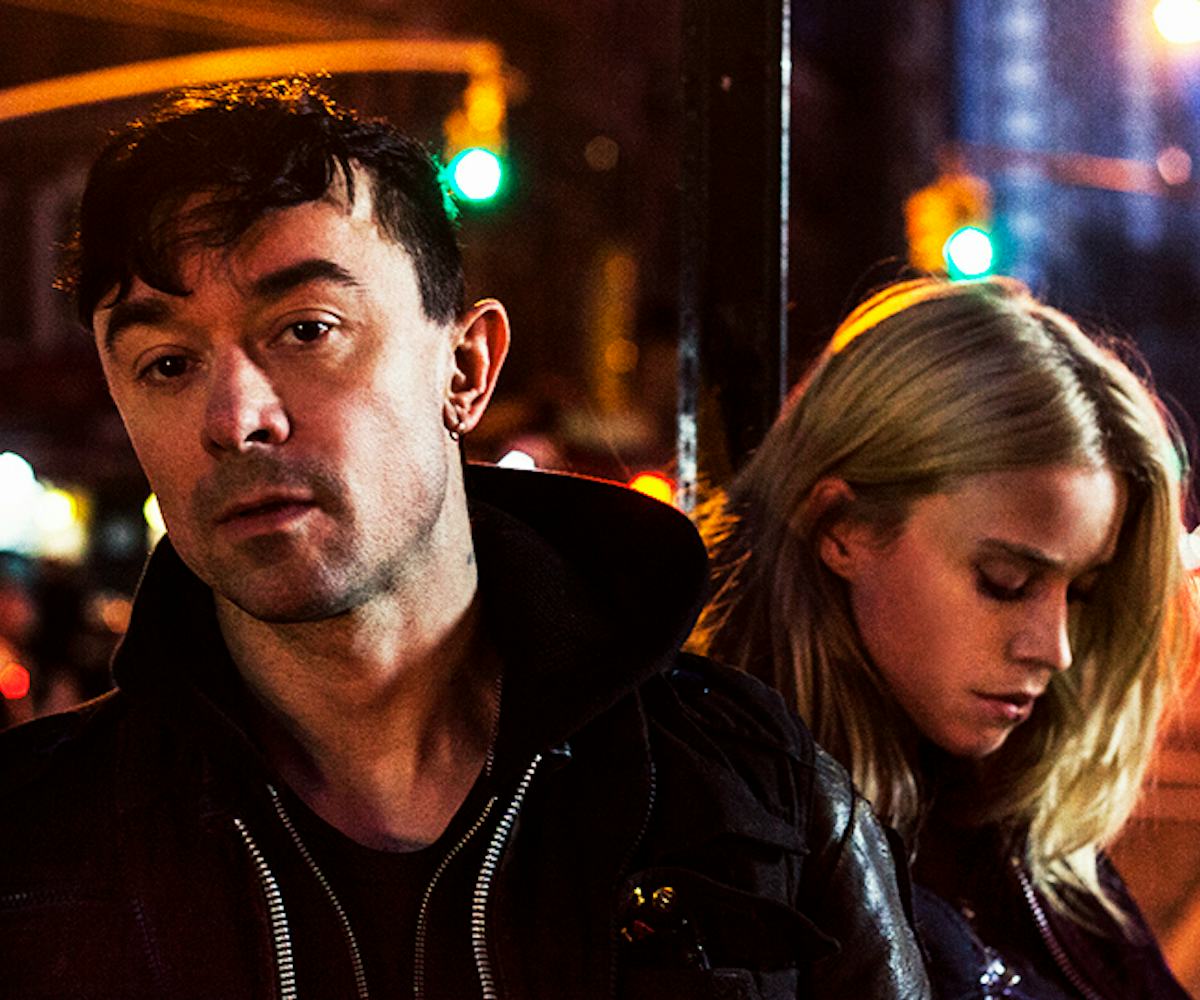 Photographed by Victoria Stevens
Let The Big Pink Supply Your Weekend "Hightimes"
you won't be able to get them out of your head
At first glance, The Big Pink looks like a British punk-rock fantasy: shaggy hair, head-to-toe leather, piercings, and jewelry in unabashedly chunky silver. Mary Charteris and Robbie Furze play the part well too, but when you listen to their new Empire Underground EP, you hear a different story. There's an overflow of danceable and optimistic beats that flirt with Top 40 enthusiasm. In fact, you can't talk about a single track on the release without citing a handful of contradictory influences, from R&B to riot grrrl rock—a genre-skirting mishmash that The Big Pink wears like a badge of honor. 
"You know, I listen to mainly hip-hop," says Furze nonchalantly backstage at NYC's Le Poisson Rouge, their third tour stop of the year. "I love the beats. And lots of big synth-y bass lines, which I suppose is a dance influence."
Their contradictory influences are what ultimately makes them our band crush: they make infusing bubblegum hooks into fuzzy guitar rock look seamless. Get to know more about The Big Pink, their upcoming album, and their genre-defying sound, below.
You just got back on the road for the first time in years. How has the tour been going so far?
Robbie Furze
: It's been crazy; we just started without any rehearsals. The band rehearsed separately—they did it in Boston and we did it in London.
Mary Charteris
: So these shows are our rehearsals, basically. 
Do you thrive off of that spontaneity?
RF
: I don't know if I like it…
MC
: I'd like to be more prepared, maybe [laughs]. We like playing well. But then again, it makes you feel even more accomplished when we play a good gig. Like, wow, we played that and we didn't even have rehearsals!
RF
: I'm really proud of it. The songs really feel good live. I think the people are a bit more positive in America as a whole, especially in live music. People seem to go out more here, and they're more enthusiastic. Not a lot of people go out to small gigs in London.
That's surprising, I'd imagine there would be a thriving underground music scene there.
RF
: There probably is that we don't know about. Or weren't invited to… I'm really looking forward to playing Minneapolis—people there are really enthusiastic about The Big Pink.
MC
: We love America, and they love us.
The band has gone through a lot of changes between the last full album, both in members and in the sheer length of time. Do you feel like your creative process has changed or are you staying true to the band's original sound?
RF
: We definitely wanted it to sound like The Big Pink. When we started writing, after Milo [Cordell, who exited in 2014] left the band, there was a moment when we were trying to figure out what would happen, whether we would carry on or go solo. Mary and I started writing, and it just started sounding like The Big Pink. And we were like, "Of course we're going to carry this on. It makes total sense." It's a bit more like the first album. More refined as a whole, with more guitars… but less dense. I wanted it to be a rock record.
You got your name from The Band. What other influences can you cite on the album, both new and old?
MC
: We like Young Fathers. We listen to Massive Attack.
RF
: I find it weird that rock—if it has a guitar in it—it has to have a vintage-retro band. Why are there all these new bands that sound like '70s psychedelia and blues rock? Why do they have to sound like some genre from the past, whereas hip-hop and pop are so progressive? I hope The Big Pink doesn't sound like a '70s band that no one's heard of. We strive for an original sound.
Do you have one song that you really think captures that?
RF
: My favorite is "Hightimes." I just love it. I'm hoping it's one of those songs I can play thousands of times and not get bored. It just came so easily. I can foresee that I'll love playing that every night.
MC
: My favorite on the EP is "Empire Underground." I love the effects. It's kind of sexy.
Shifting to your upcoming album, where are you in that process?
RF:
We wrote the record as a whole. We were working on it for a couple of years, so it's one coherent record. Every song feels like it's part of a groove. Now we have this EP out, and maybe we can use a couple of those songs, but there's going to be a gap. So we'll have to write more. We'll put everything together after this tour—we have lots of bits and pieces to finish the record. We want to deliver it before the summer, though, we're hoping by October. If we don't do that, it's because we've been really lazy.
MC
: Not that we ever are.
RF
: No! We're not lazy. So it's going to happen. 
What experience would you want NYLON readers to have at a Big Pink show?
MC
: To come away from it feeling like they've heard a new type of music they've never heard before. An amalgamation. Something different. There's a lot that's the same out there, and we want you guys to hear something else.
RF
: There's a lot of soul in what we do. It's real. I hope people walk away feeling like they've had a group therapy session every night.
Empire Underground is out now via B3SCI Records. Stream the entire EP, below.