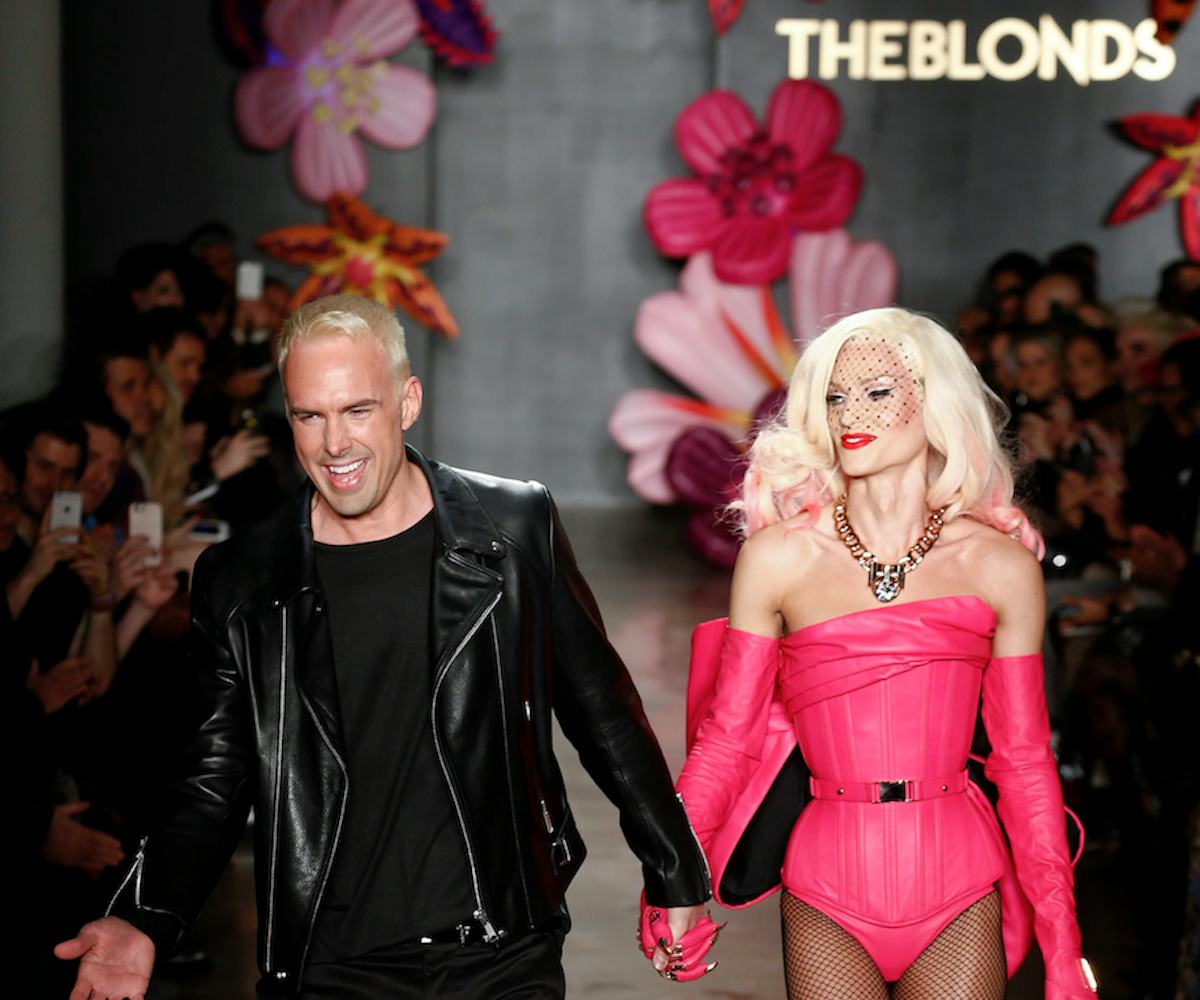 Photo by Brian Ach/Getty Images.
The Blonds' New Collection May Be Their Most Controversial Yet
and is a mashup of 'Gentlemen Prefer Blondes' and 'Alice in Wonderland'
If Gregg Araki was to direct a mashup of Gentlemen Prefer Blondes and Alice in Wonderland, it would look exactly like the Fall 2016 collection from The Blonds. David and Phillipe Blond, the duo behind the label, are known for creating whimsical and otherworldly designs, and this season continued that tradition and sparked major controversy, too.  
When I sat down with David and Phillipe at their beauty test last Sunday, David described designing this season with a vision of a "blonde wonderland filtered through the lens of Gregg Araki," later commenting that the collection is "sort of like a [Quentin] Tarantino movie—there's always the antihero and there's always something a little off about her." Phillipe chimed in, "But, she's always very glamorous."  
Glamorous she is—with jewel-encrusted corsets and gowns, sequin puffer jackets and pantsuits, and bedazzled oversized sweatshirts reading "Off With Your Head"—emerging through a sea of large, colorful flowers onto the runway, in custom made Christian Louboutins (some, even, with wings).
However, when it comes to The Blonds' over-the-top look, beauty is just as important as the clothing itself. While the final makeup look was sexy and vampy with pink highlights and a classic red lip—just enough color to pop behind the handmade crystal-encrusted veils—the nails were, as always, insane. The nail designs, created by CND, take about 70 hours of conception and 18 hours a day of actual labor. This hard work certainly pays off, with the selected looks boasting chained flower petals and other three-dimensional designs such as stars, lips, and cookies that read "eat me."
While the brand may be known for their eccentric and outrageous looks, with both clothing designs and beauty choices, the most controversial part of the show was the hair look, which featured platinum blonde and hot pink dreadlocks on a group of mostly white models.
According to David and Phillipe, the hair for this season was inspired by Lisa Bonet and the idea of "FKA twigs and Miley Cyrus having a lovechild." This dreadlock look is how the lead hairstylist interpreted the creative direction. But when you take a black hair style and put it on a white model—and, as we mentioned, the models cast for the show were almost all white—it, without doubt, becomes cultural appropriation. 
David later referred to the look as a modernized version of '50s Hollywood glamour à la Gentlemen Prefer Blondes, commenting, "So they've got dreadlocks—they're pink, sort of like the way that the roses are on the girls' hair in that famous scene. It's a modern interpretation."
While it's unfortunate that a look like this even got approved in the first place, it has sparked an important conversation around cultural appropriation, which is taking place on our Instagram in the comments of the photo we posted from backstage. "I've protested to the hair stylists, designer, and company. They don't care cause there's more money in ripping off black culture. Super shitty that the fashion industry is one of the leaders in racism and cultural appropriation,' commented @apachesoup, while @autnumbnal commented, "This is disrespectful and disgusting."
The Blonds, a drag-inspired brand run by two queer people, is part of a culture that is known for "copycatting," where cultural appropriation has been an ongoing issue. Because of how crucial this conversation is to the ongoing discussion of racism within the fashion industry, we opted not to take the photo down. Instead, we encourage the comments and hope that the conversation continues beyond this specific hair situation. 
The Blonds Fall Winter 2016
The Blonds Fall Winter 2016
The Blonds Fall Winter 2016
The Blonds Fall Winter 2016
The Blonds Fall Winter 2016
The Blonds Fall Winter 2016
The Blonds Fall Winter 2016
The Blonds Fall Winter 2016
The Blonds Fall Winter 2016
The Blonds Fall Winter 2016