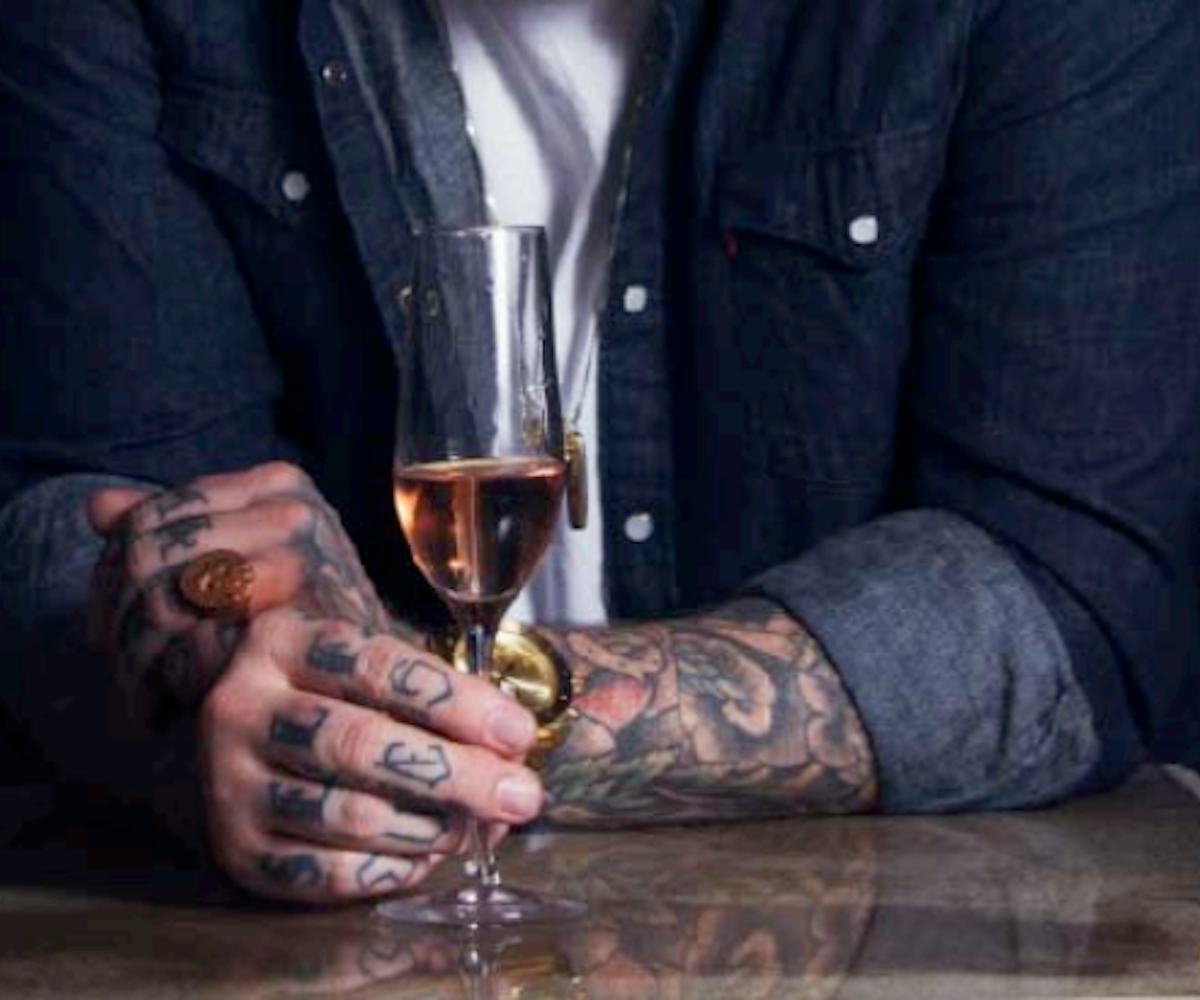 The Brosé Effect: 5 Sparkling Wines to Ring in the New Year
by Busra Erkara and Sofia Lyons
When Rick Ross and his entourage showed up at our offices last summer with a case of Luc Belaire Rosé in tow, we made a mental note to keep tabs on the stuff. Was it just a fad, or the harbinger of a new era in which men order pink bubbly? Turns out, it's the latter, and part of a growing movement dubbed "the brosé effect." Don't believe us? Just do a quick search of #brose or #blackbottleboys (Ricky Rozay's hashtag of choice) on Instagram.
"I don't subscribe to the idea that men drink beer and hard spirits, and wine is a more feminine beverage, but I think it has been shaken from the collective mind-set over the past decade," says Steve Wildy, beverage director for Philadephia's Vetri Family restaurant group. "When you think about Southern France, there are big, burly farmers, real salt-of-the-earth tough guys, who drink rosé throughout the summer. There's a real utilitarian reason for it: It gets to be 105 degrees down there, and they would hurt themselves if they drank a big, tannic, high-alcohol red wine after a 10-hour shift. So using the red grapes that they had in the vineyard, they started making these wines that were meant to be refreshing, thirst-quenching, reinvigorating."
The bubbly version, which shares these crisp characteristics, got some help from well-known admirers such as Roger Federer and Sir Mick Jagger. "There is a very big trend in American sparkling wine as well," adds Xander Oxman, CEO of Club W, an online wine club. "We've had this explosion of prosecco and cava out of Spain that has made sparkling wine more approachable, and created a lot of growth in the category. Rosé has a pretty and subtle quality, kind of like watermelon, peach, and cranberry. Also, you can drink it for a day and your hangover is minimal." According to Wildy, sparkling wine also pairs very well with food. "If the meal has been big and rich, and you've had a couple of really monster red wines, you can sense a little bit of fatigue," he says. "To have something that uplifting and bubbly at that point in the meal is really eye-catching." With New Year's eve approaching, here are some suggestions of what to pick up on the way to that party.
CHANDON HAILS FROM: NAPA VALLEY, CALIFORNIA AROMAS: STRAWBERRY, WATERMELON, AND CHERRY WITH NOTES OF APPLE AND PEAR "PATRON SAINT": ROGER FEDERER (THE BRAND AMBASSADOR OF MOËT & CHANDON GROUP) FUN FACT: CHANDON WAS THE FIRST FRENCH-OWNED SPARKLING WINE COMPANY IN THE UNITED STATES.
LUC BELAIRE ROSE HAILS FROM: PROVENCE-ALPES-COTE D'AZUR REGION, FRANCE AROMAS: STRAWBERRY AND BLACKCURRANT "PATRON SAINT": RICK ROSS FUN FACT: WHEN LUC BELAIRE FIRST LAUNCHED, RICK ROSS SENT HANDWRITTEN NOTES TO ALL HIS INDUSTRY FRIENDS ALONG WITH A BLACK BOTTLE.
VEUVE CLICQUOT HOMETOWN: CHAMPAGNE REGION, FRANCE AROMAS: RASPBERRY, STRAWBERRY, DRIED FRUIT, AND PASTRY NOTES WITH A SLIGHT ORANGE ACIDITY "PATRON SAINT": WINE CONNOISSEURS AND SOMMELIERS EVERYWHERE FUN FACT: VEUVE CLICQUOT ROSE WAS THE FIRST COMMERCIALIZED ROSE CHAMPAGNE, IN 1775.
MIONETTO CUVEE SERGIO HOMETOWN: VENETO, ITALY AROMAS: PINK GRAPEFRUIT, RASPBERRY, AND BLACKCURRANT "PATRON SAINT": THE FRUGAL-BUT-POLITE DINNER GUEST FUN FACT: MIONETTO IS THE LARGEST IMPORTER OF PROSECCO IN THE STATES AND WAS THE FIRST TO BRING IT TO THE U.S. MARKET IN 1998.
LOUIS ROEDERER HAILS FROM: LOVE CHILD OF PINOT NOIR FROM CUMIÈRES AND CHARDONNAY FROM CÔTE DES BLANCS, FRANCE AROMAS: FRUITY BERRIES, FOLLOWED BY FLORAL NOTES, SPICY ZEST, AND COCOA OVERTONES "PATRON SAINT": ENVIRONMENTALLY FRIENDLY WINOS FUN FACT: LOUIS ROEDERER USES ECO-FRIENDLY CULTIVATION METHODS TO MAINTAIN SUSTAINABILITY AND ENVIRONMENTAL BIODIVERSITY.
Text by Busra Erkara and Sofia Lyons. Photographed by Lani Lee.