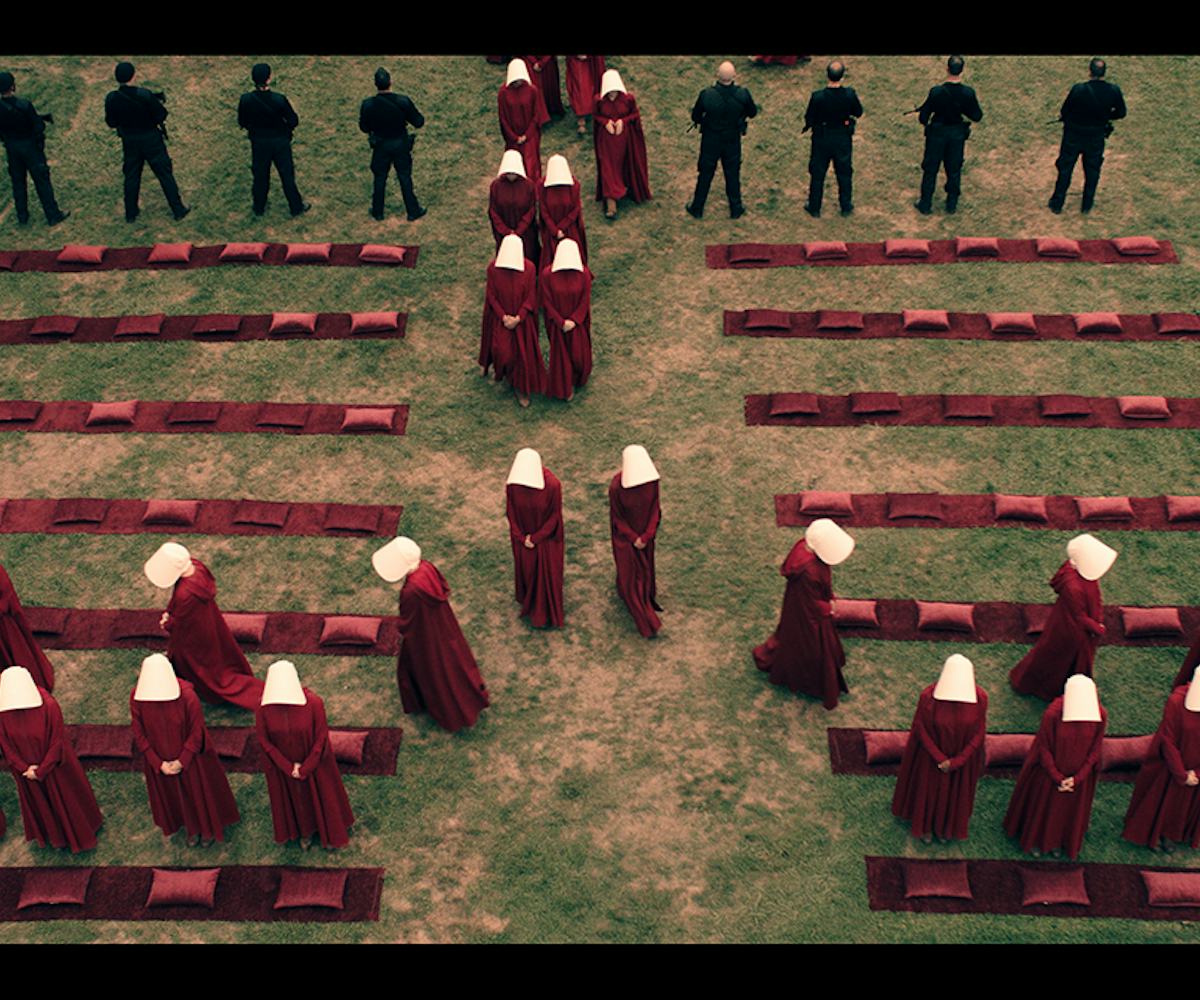 Photo courtesy of Hulu
Feast Your Eyes On Hulu's Adaptation Of Margaret Atwood's 'The Handmaid's Tale'
Hulu is joining the current craze for dystopic fiction with its upcoming release of Margaret Atwood's 1985 classic The Handmaid's Tale. The Bruce Miller-produced drama follows the story of Offred, one of the few remaining fertile women in a militaristic dictatorship called Gilead formed after the United States has been disbanded. The totalitarian dystopia is ruled by a fundamentalist regime where women are enslaved, and some—including Offred—are forced into sexual servitude "as a last desperate attempt to repopulate a devastated world." 
The novel's themes are particularly relevant today, given Donald Trump's use of inflammatory, blame-casting rhetoric to achieve his rise to power. In Atwood's book, Gilead is established following a staged attack on America for which Islamic militants were blamed. Soon the U.S. Constitution is suspended, and an authoritarian rule based on the premises of the Old Testament commences. One of the book's central plotlines is that sexually transmitted diseases run rampant through Gilead, rendering much of the populace sterile. This is a particularly troubling story element considering how Vice President-elect Mike Pence oversaw a huge spike in HIV infections in Indiana while he was governor because of his decision to defund Planned Parenthood, the only place in the state that offered HIV testing.
The Handmaid's Tale premieres on Hulu in April 2017, which is three months into the presumptive Trump presidency. The cast for the series consists of powerhouses like Elisabeth Moss, Joseph Fiennes, Samira Wiley, Max Minghella, Madeline Brewer, Yvonne Strahovski, Ann Dowd, and O-T Fagbenle. Take a look at some of the stills from the show in the gallery, below. We'll be watching. And hopefully, it won't feel like too much of a mirror to our own society.