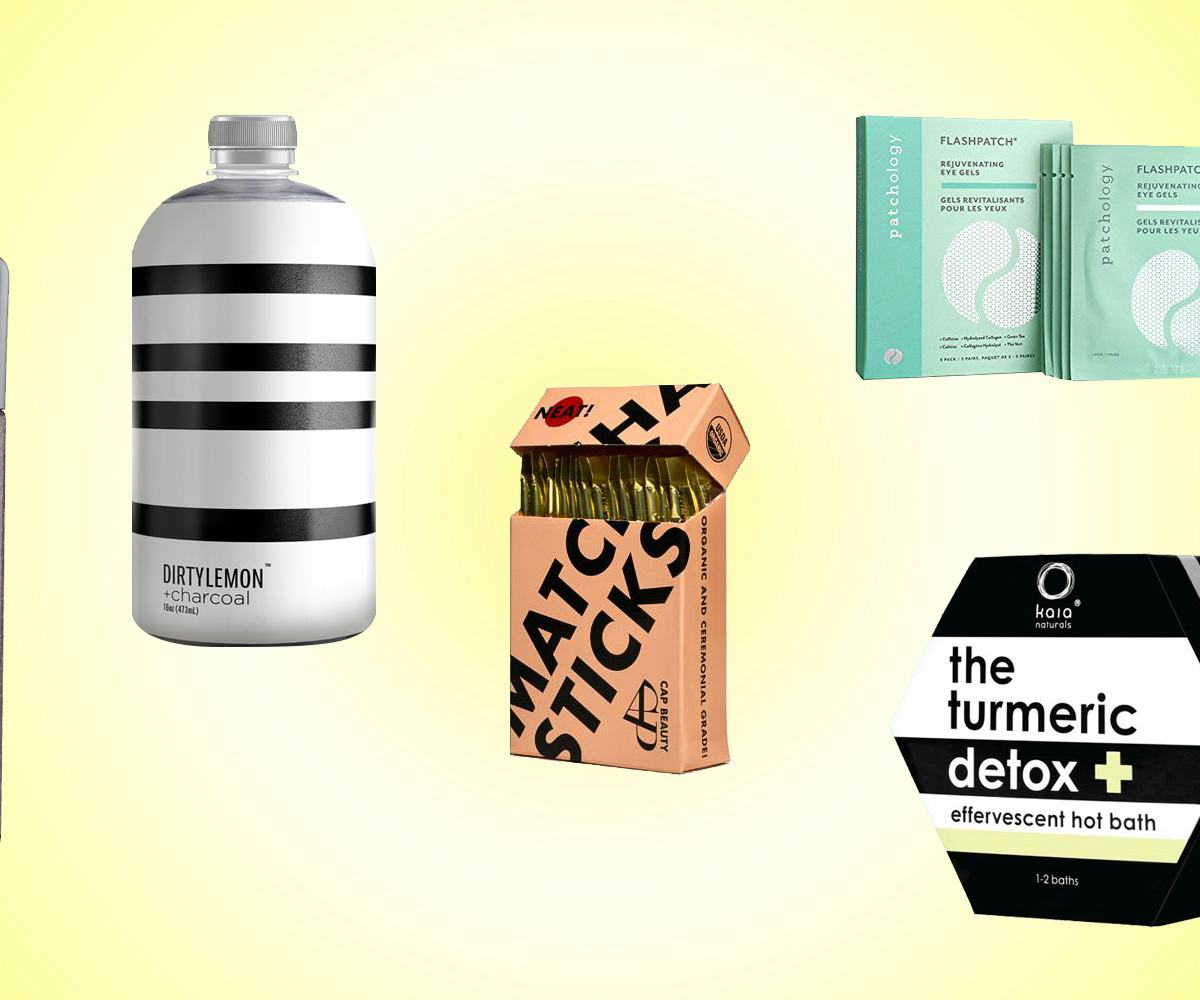 The Hangover Guide: 13 Products To Bring You Back To Life
Your post-holiday detox, awaits
It's official: The holiday season has come to a close. We partied, we ate, we drank, we danced, and we woke up this morning feeling kinda, sorta like shit. But it's a whole new year, and (thankfully) 2017 is over—and that's something worth getting out of bed for.
With post-holiday hangovers in mind, we rounded up 13 products to revive, detox, and energize you from the inside out. From healing elixirs and de-puffing eye masks to on-the-go matcha sticks, these are the tools that'll have you (and your skin, and hair) in tip-top shape for the year ahead—as well as the many more hangovers sure to come.
Your hangover survival guide awaits, below. (Or, you could always crawl to the deli and order that bacon, egg, and cheese, instead. We're not judging.)
Kaia Naturals, Turmeric Detox Hot Bath, $24.97 for pack of two, available at Amazon.
Chances are you're in good need of a relaxing bath after a lively holiday season, so look no further than Kaia Natural's turmeric and mustard seed bath that works to soothe sore muscles and encourage circulation, thus ridding the body of toxins.
Boscia, Luminizing Pink Charcoal Mask, $34, available at Sephora.
This limited-edition black charcoal peel-off mask (that's bubblegum pink) is as cute as it is complexion-detoxifying.
Patchology, Flash Patch Eye Gels, $15 for 5, available at Amazon.
Revive puffy, dead eyes with these quick and easy eye gels.
Vie Healing, Paidu Detox Tea, $21, available at Vie Healing.
Sip on some of this when you find yourself still nursing your New Year's Day hangover.
Vitruvi, Wake Face And Body Mist, $24, available at Vitruvi.
Give yourself a boost of energy when you feel yourself already starting to slump before lunchtime.
Herbivore Botanicals, Dead Sea Bath Salts, $24, available at Herbivore Botanicals.
Cambrian blue clay detoxifies your poor bod while lavender and eucalyptus oil soothe and relax—the ultimate hangover cure.
Cap Beauty, The Neat Matcha Stick Box, $34, available at Cap Beauty.
Throw these in your bag for matcha energy on the go.
M.A.C, Mineral Charged Water Charcoal Spray, $26, available at M.A.C.
Give your skin a much-needed refresh with a spritz of this.
Captain Blankenship, Mermaid Dry Shampoo, $14, available at Captain Blankenship.
Bring your hair back to life with this all-natural dry shampoo that simultaneously absorbs oil while giving the hair body.
Anima Mundi, Viridem Elixir Daily Detoxifier, $16, available at Anima Mundi.
This potent elixir will get you back in good shape after you've destroyed your body all holiday season.
21 Drops, Headache Roll On, $33, available at 21 Drops.
Knock out that lingering headache the natural way with this blend of peppermint, lavender, and ho wood essential oils. They work together to help stimulate blood flow and to help relieve pain, so you can get on with your day.
Dirty Lemon, Daily Detox, $45 per case, available at Dirty Lemon.
Look to Dirty Lemon's detox charcoal drink to save you on your first day back to work.
Peter Thomas Roth, Cucumber Hangover Cure, $12, available at Sephora.
Try this ultra-cooling gel mask and patch set basically created with New Year's Day in mind.