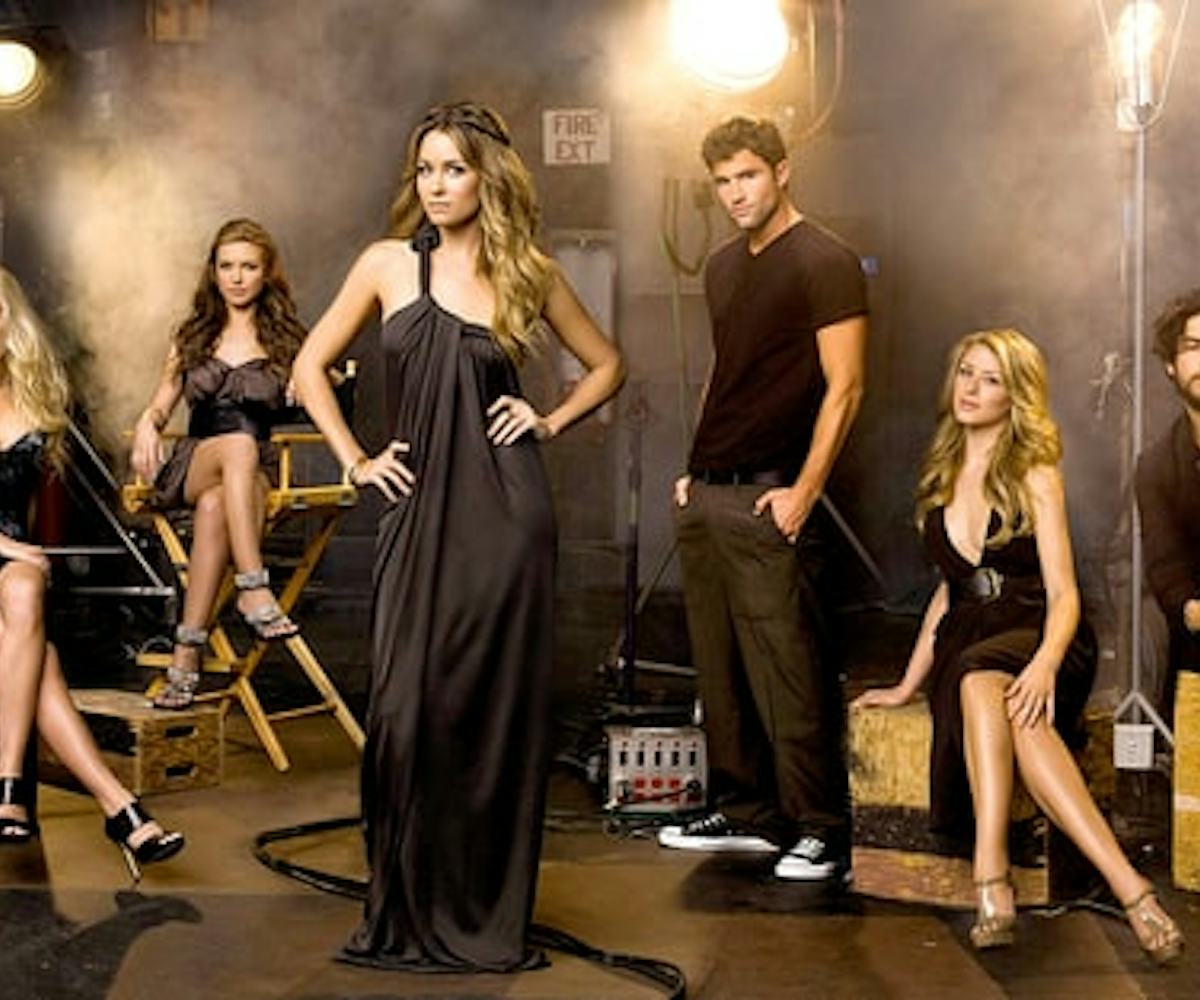 Photo courtesy of MTV
The 5 Most Jaw-Dropping Moments From 'The Hills' Reunion
"That was then, this is now"
For the 10th anniversary of The Hills, MTV did us all a favor and reunited the cast. Aside from satisfying our pleas from over the years, the whole purpose of the special was to dig up the dirt with behind-the-scenes footage so we could find out if any of the drama we consumed for six seasons was actually real.
America's favorite reality star Lauren Conrad finally brought the truth to light and revealed—big shocker—almost everything about the program was fake. But all fans really wanted to know was one thing: Would Lauren Conrad and Heidi Montag be seated in the same room?
Spoiler: No. This didn't happen, though it would have been a real crowd-pleaser.
But where are they now? Conrad is busy with her company Paper Crown and married to William Tell from Something Corporate; Lo Bosworth is running her lifestyle blog in NYC; Kristin Cavallari settled down and has three children; Audrina Patridge got hitched to a BMX rider, who she recently had a baby with, and hosts a travel series on LXTV; Whitney Port married Tim Rosenman; and Heidi Montag and Spencer Pratt are still going on strong as they use the power of crystals to increase their stardom.
We selected five of the most shocking reveals from the tell-all special that made our jaws drop straight to the floor. Read them all and go back, back to the beginning.
Lauren Conrad hated being on camera
Unlike her other co-stars, our leading lady was not too fond of capturing these moments from her youth and sharing them with the entire world. In fact, she saw herself as a producer more than anything. "The show isn't something I like to relive," she said. "I don't go back and watch the show. For me, it doesn't always bring back the best of memories."
Say it ain't so, LC.
Lauren Conrad didn't know that her internship at Teen Vogue was a fraud
Apparently, Conrad didn't realize that her Condé Nast internship was a prop for the show, so she was genuinely worried she wouldn't get it. "She really thought she worked at Teen Vogue," said Sophia Rossi, a former talent producer.
Even then, Conrad never wanted to assume that she was handed these amazing opportunities. Given that we never saw her go through the real application process, she should have suspected that this wasn't exactly how it's done. But hey, she thought she was like everybody else out there!
Kim Kardashian-West casually made a cameo
Unfortunately, the scene was deleted, but it really happened! Kim Kardashian-West attended Heidi and Spencer's infamous housewarming party when they moved in together. Why? To catch up with her former stepbrother, Brody Jenner. No big deal.
Lauren's dad celebrated her breakup with Jason Wahler
Jim was so happy when his daughter walked away from this toxic relationship that he threw a party in their house. Give this man a Dad of the Year award for 2006. At the time, Wahler was an alcoholic and Lauren didn't want to "abandon" him. Now, he's sober and married with children so at least there was a silver lining. 
Lauren and Brody were never meant to be
Even though the attraction was there, the chemistry between them was nowhere to be found. "I definitely had a crush on Brody. But the funny thing was we had zero chemistry," said Conrad. "He was my friend, I enjoyed spending time with him, but it just felt forced." Can you imagine how awkward those kissing scenes must have been? Ugh, our hearts.