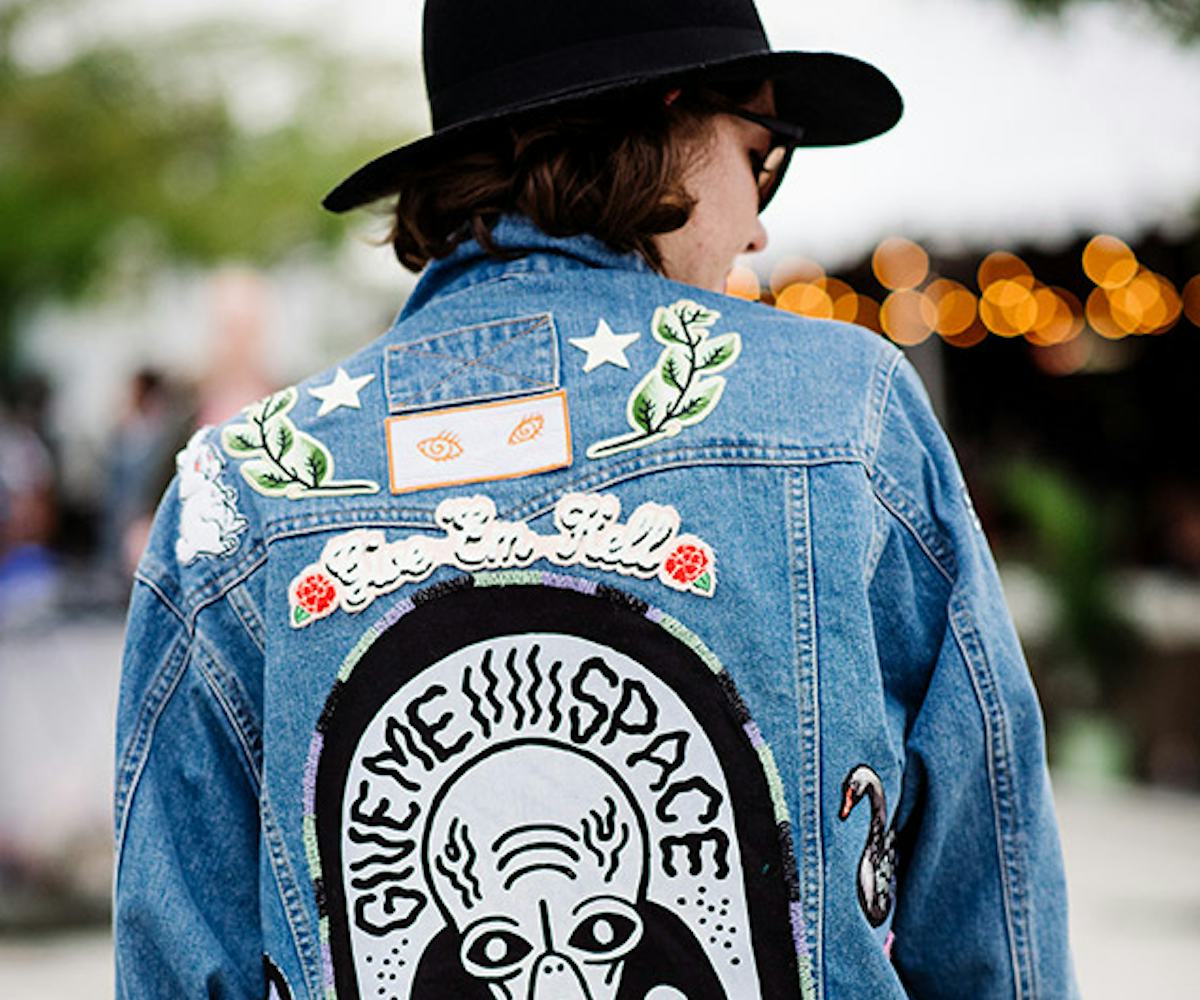 Photo by Nina Westervelt
The Coolest Fall Style We Saw At The Meadows Music And Arts Fest
New York City music festivals can't be defined by their street style. Where Coachella courts a quasi-boho vibe, New York brings together all styles of life. (Would you expect anything less from the world's melting pot?) This year, the folks behind Governors Ball threw their first-ever Meadows Music and Arts Festival. With it being October and all, the street style was, decidedly, cooler—literally. Between sets from The 1975, Chairlift, Chance the Rapper, Metric, and more were mini fashion shows of the coolest fall style. Yeezy's hour-long merch line also highlighted just how big tour merch culture has become. You couldn't snap two pictures without finding someone rocking a Yeezy-approved look touting some The Life of Pablo lyric. It all added up to something pretty special in terms of music festival street style because fall style is, arguably, the best style and a good jacket will get you very far. See for yourself in the gallery ahead.
Thelia R. Bennett's ASOS jacket is springtime for the fall.
The '90s will never not be here.
VIP = Very Important Pizza
A muted blue Zara jacket? Yes, please!
It's a party in the...
Alex and Olivia McCormick are with her.
Friends who get street style-photographed together, stay together.
Do you think she feels like Pablo?
Vintage vantage point.
Meredith Graves is living our Cape Canaveral fantasy. 
Sylvan Esso's Amelia Meath had the best jacket, hands down.
Not to mention, Amelia Meath's Spice Girls shoes.
Plaid plays.
A stylish moment with Brittany & Nicolette.
Saya Popli's jacket is a true work of art.
Let's have a moment for Zella Day's bag.
Ashley Laderer's hair story is the best story.
Becky Celestina's Madeline yellow jacket is our everything.
One of these Pablo merch items is not like the other...
Fortune favors the bold, and Mari Otsu's look has it.
It's Miu Miu, darling.
Yellow eyeliner? Check.
Glittery eyebrows? Check.
Green lipstick? Check!
Ashlee Rodriguez, you win.
Grunge-i-fy me.
Oh, well, here's NYLON's staff writer Hayden living for a street style moment.
Halle H.'s silver pleats are a magpie's dream.
And the other winner of best jacket of the weekend goes to...
Come through, fam! It's knit.
An overall solid look [smirking emoji].
Tavia C. is a true magician for keeping that leather coat draped like that all day. What's gravity, anyway?