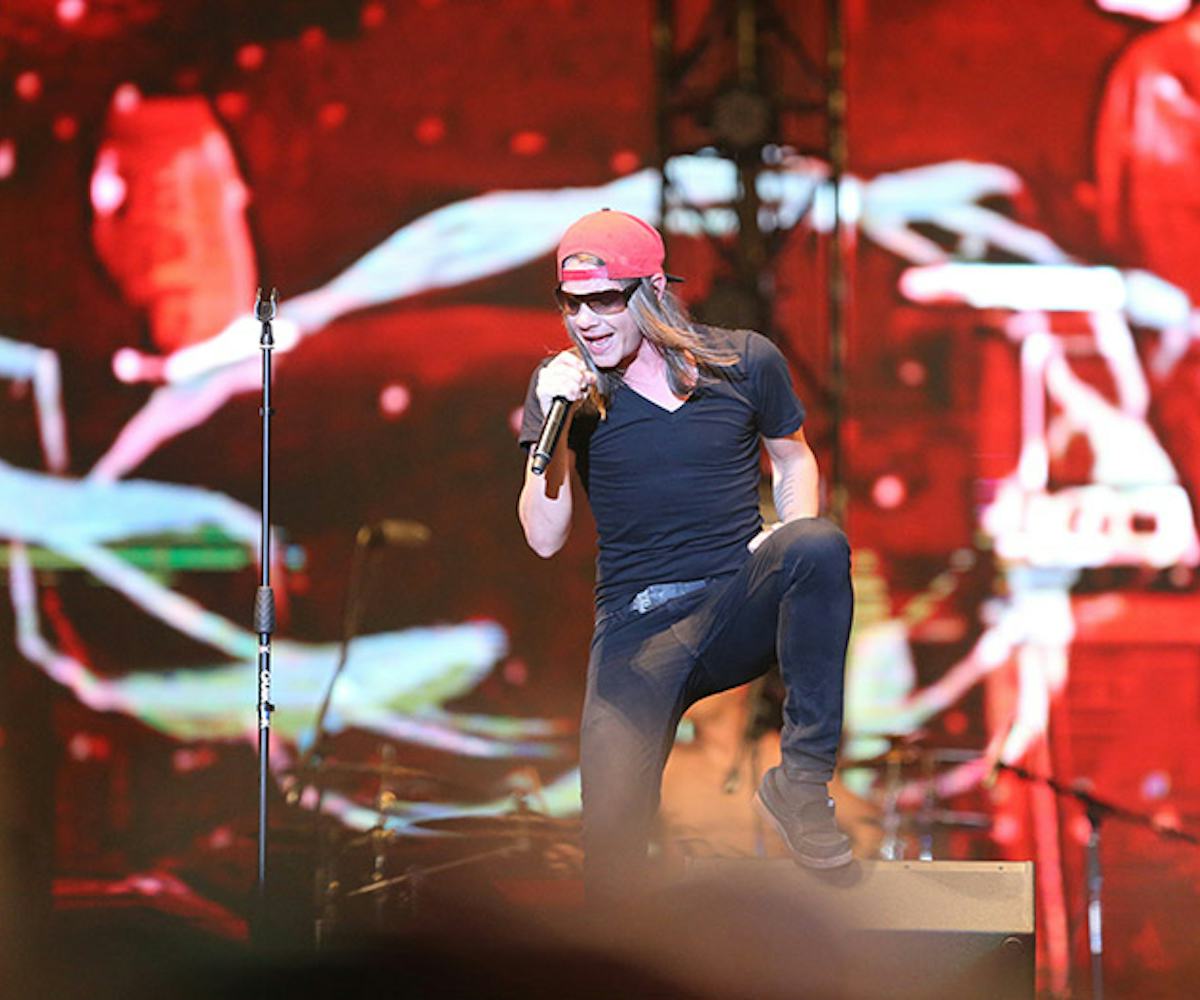 Photo by Jeoffrey Maitem/Getty Images
The Red Jumpsuit Apparatus' 'Don't You Fake It,' 10 Years Later
A conversation with Ronnie Winter
There are a few bands you absolutely must mention when talking about pop punk and all of its subgenres: Fall Out Boy, Panic! at the Disco, My Chemical Romance, and the Red Jumpsuit Apparatus. Aside from MCR, all of these pillars of the emo community are still making music a decade later. Where Fall Out Boy and Panic! thrived on self-doubt and insecurities, The Red Jumpsuit Apparatus took off with a song that put the focus on another: a woman in an abusive relationship.
"Face Down" was the lead single off Don't You Fake It, RJA's debut album, which turns 10 today. It skyrocketed the Jacksonville, FL band to the top of the Billboard charts, earned them touring spots with MCR and 30 Seconds to Mars, and a year after its release, led singer Ronnie Winter to partner with a domestic violence awareness team and release a few PSAs. Since then, the band has shifted record labels and embraced another label: the Christian one. Though, Winter says the band and its music have always been Christian, adding that, in terms of beliefs, "there are just some things that labels don't want you to say, and that's fine."
For those who were immersed in (or even just familiar with) the pop punk scene, Don't You Fake It still hits hard. Winter attributes this to it being born out of the iPod generation and the then newfound ability to carry an infinite number of genres in your back pocket. It allowed for the album to flirt with a number of pop punk variations, which makes it a quintessential 2006 album—timeless but loaded with nostalgia and, due to how well-done it is, free of irony.  Ahead, our conversation with Winter on the stories behind the album, embracing their spiritual side, and more.
How would you describe the past 10 years?
Things have changed. When we first started touring, we had to use road atlases—before smartphones and apps were popular. In my opinion, not much has changed in the music world other than the format switch from CDs to MP3s and streaming—that was a huge change and it was cool to see it happen. It's like the phrase, "The more things change, the more they stay the same." We're still alive, so that's pretty cool.
When you guys set out to make Don't You Fake It, did you expect "Face Down" to take off the way it did? 
Definitely not as far as it went. At some point, you just have to trust God, or whatever you believe in, take your hand off the wheel, roll the dice; some people call it luck. There's a certain amount of preparation you can do, and we knew that we prepared 100 percent. We did all of the grassroots-style touring that we could to spread the word, with a very strong fan base. We were just doing it on our own: making our own flyers, passing our own CDs out, doing weekend warrior rounds because we all had day jobs. Pretty much all the way up to the album drop, we spent a lot of time with a really good producer, David Bendeth, making it sound like a solid album. Then we crossed our fingers. Our first single wound up being "Face Down," but that wasn't always our first choice. I'm glad we went with that one—it had an immediate, great response. Having success means having people hear it and get what the message means.
The message of "Face Down" went against what everyone else in that scene was singing about. You flipped the script and put it on a female, as opposed to the male-dominated scene feeling down about themselves.
I've always been pretty open about growing up around domestic violence; my mom and my dad were both using drugs and alcohol at that time, and, to a degree, domestic violence comes along with it. My brothers and I were subjected to it on a daily basis until the wheels fell off, and [we] ended up being adopted by our grandparents. We finally had some stability, but for a while, it was fairly dark. I was writing about what was relevant to me—something I went through and survived. They teach you early on to work through your struggles and survive it. I play metal, punk rock, and hardcore, and I was writing every song about something I went through. It's also a way to give back if you try to keep your message pure—which I've always made an attempt to do—you actually do some good. I can't imagine anything better.
What other songs were in the running to be the lead single?
There was another song called "Your Guardian Angel," which is a ballad. It's a really strong song that we knew people were going to like, and we released it at the same time as our first album in 2004 or '05, a year before Don't You Fake It. We knew it would be received well by people who like our type of music, but that's a small demographic. It's never been the biggest genre in the world, and we weren't trying to set our sights on mass appeal, but we were trying to figure out what would be the best representation for people outside our scene. We didn't want people who heard "Your Guardian Angel" first to think the whole album would sound like that.
You talk about how the pop punk, punk rock scene was niche at that time. Can you describe what it was like being one of the most popular bands embedded in that scene?
It was great. I grew up on the Warped Tour. I wore Vans and had my skateboard with me every day, listening to NOFX and Strung Out. Then, to all of a sudden be a band on one of those tours, playing my own music, was insane. We had worked really hard for a long time before all of this stuff actually started paying off. For me, it felt like if you put your mind to something, just like you hear when you're growing up, the key is that you don't give up and keep trudging, and you'll make it. If you set your sights low, then it's easy to achieve your goal. Our only goal was to make music for a living so we could pay our bills and to make music that helps people in a positive way. We met both goals immediately.
Why do you think that scene is still attractive?
Flashing back to 2006, you had us, Fall Out Boy, My Chemical Romance—there were huge songs making a solid impact. We still have those bands. Personally, I prefer the old stuff, but everybody says the same about my band so I get it. When an album comes out, you relate to it in your mind in that place and time. When you get an album like mine, that came out when people were the ages of 15 to 22, they're always going to like that one better, because when they listen to it, they remember how they felt when they were young. They connect with that positivity. It's interesting; the instrumentation changes over the years, but I don't think the scene is dead, it's just evolved. Bands have come along and kept it going, like Bring Me The Horizon, Pierce The Veil, A Day To Remember. They're keeping it going, and doing better than us when we were doing it. I don't think the scene is dead, we still play sold out shows all the time all over the world. A lot of these bands are still doing fine, they're just not all over the media because what was once cool in underground became mainstream, and now it's underground again. That's where we fit into the loop, and I like it that way.
At what point did you guys make the switch and embrace the Christian label?
The original lyrics on the album are all Christian, and every member of the band thanked God first in the credits. It's never something that we shied away from. The problem was that we still weren't living a Christian lifestyle, and we weren't trying to. It's a hard, fine line between coming off too preachy and just sounding honest. I was very adamant about telling people we believe, but that we're normal and don't think we're better than everybody else. I've met a lot of people who have been burned that way. Unfortunately, hardcore Christians don't realize that they do more damage than good. The "holier than thou" attitude just doesn't work anymore in today's society. We had to be careful in the beginning, but if you read the lyrics, there's no doubt I'm a Christian. If you hung out with me after the show, I'd be at the bar drinking like everyone else. Eventually, I quit that, too, but for the first four or five years, I wanted people to know that we were a band that stood for something but weren't trying to shove it down your throat. Now I push more of the spirituality and sobriety side of things because I think we can help people who have been through what I have.
How has your life been different than what you had planned?
Everyone has crazy plans, you know? Millions and billions of possible ideas of what you think is going to happen and how things will play out. If you think all of the time, like many creative people, would do, most of those plans aren't going to work. The only reason why most bands don't make it is because they give up. They expect everything to work out the way they want it to the first time around. My brother and I were doing other bands way before Red Jumpsuit Apparatus. They had many failures in different ways: hiring the wrong people, writing the wrong type of music. We were able to make lots of failures in a row, and every single time we learned from it. If anyone out there is trying to make a plan to be famous, I would tell them to scrap their first three plans, because all three are going to crash and burn. That fourth or fifth one they make, maybe that one's got a shot.
Is there anything you would have changed about making the album?
No. I used to say in early interviews that when you listen to a Red Jumpsuit album, I want it to sound like it's on shuffle but with the same singer. I haven't heard anybody go for that yet. Of course, we lean toward punk rock because it's in our roots. We had a great producer, great manager, my team was great. The songs were good, and the band did the best we could. We were young, I was only 22—some of the guys in the band were 19—so we made some mistakes in the beginning. Definitely drank too much and partied too much, but we learned, wised up, and sobered up. That's part of our band's career. It's nice to be on the other side of it where everything's mellow, normal. People still care, so we still play. When they stop caring, we'll stop playing.