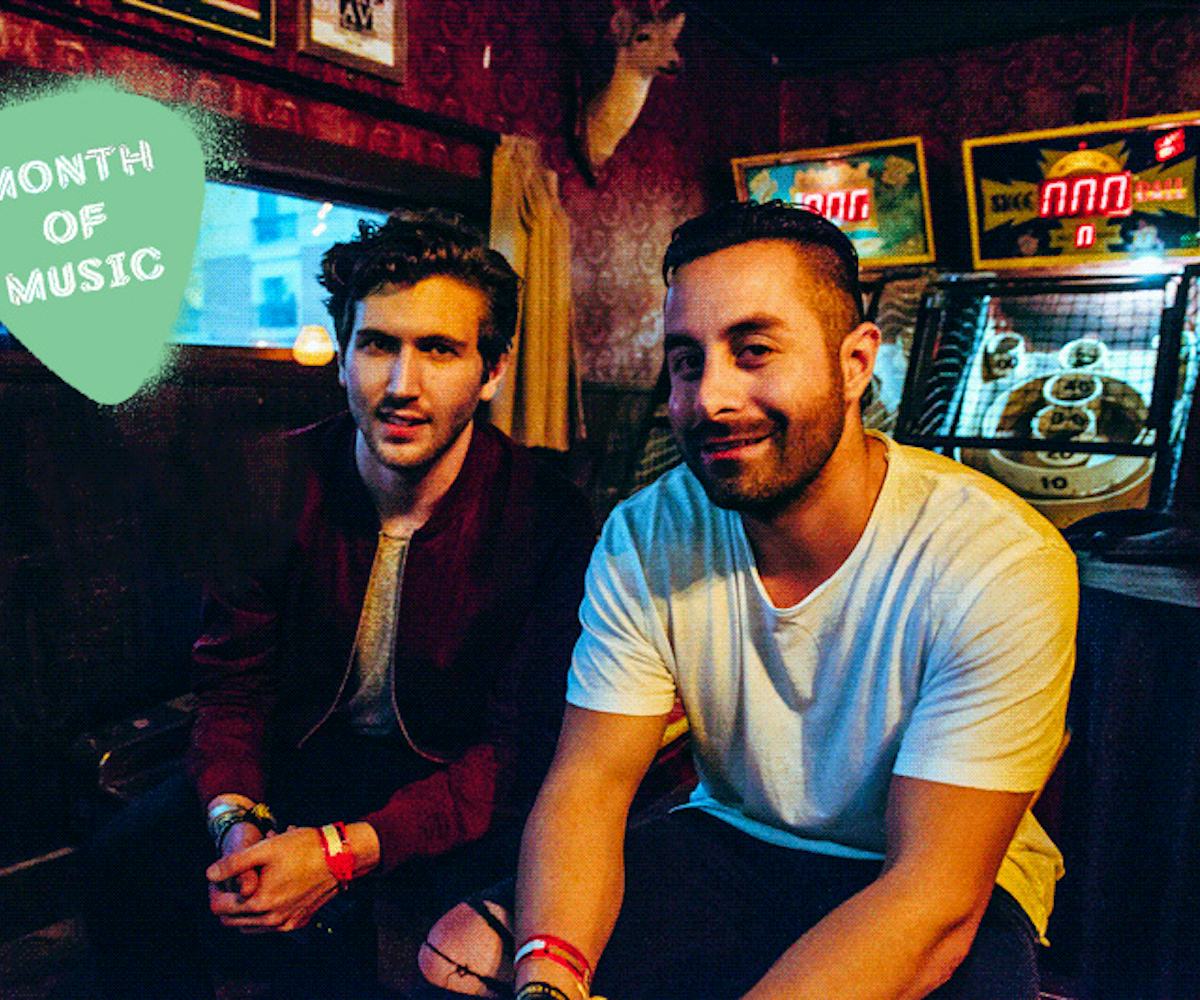 Photographed by Kara Smarsh.
The Score Is What California Dreams Are Made Of
We share music because we want to connect with others on a deeper level. We want to relay and relate to a message that can't be said with just words. This April, NYLON is dedicating six days a week to introducing you to new artists and budding favorites. With interviews and GIF portraits done down at SXSW, NYLON's Month of Music is an exercise in finding aural pleasures outside of the Top 40. It's an exercise in challenging you and ourselves to not stick to one genre. But above all, it's a celebration of bold voices and sheer talent. Enjoy.
One of the best things to come out of the early aughts was the series of The O.C. soundtracks. Each iteration helped bolster an idea of what California life was like, and kept that dream of West Coast living alive. Nearly a decade later, the dream still rings true—only now we have bands like The Score, whose version of Cali cool is boldfaced fun and more infectious than ever. Together, Edan Dover and Eddie Anthony, both New York City transplants living in L.A., create music that's as feel-good as it gets. Press play and soak in those vibes. The Score does a mood good. 
What song of yours fits the following situations:
Getting ready in the morning?
EDAN DOVER: "Oh My Love," because it's upbeat and gets you psyched for the day.
Me time?
EDDIE ANTHONY: We have a cover of "White Iverson" by Post Malone. It's pretty chill and cool. Good vibes?
Hooking up?
D: "On an On," because you just gotta put the "get it" there.
Can you recall a moment in your life—whether it's a song, a show, or a video—that convinced you that you wanted to make music?
D: I've been going to shows since I was a little kid, but I saw The Script about seven or eight years ago. They weren't very big and were playing a 500-cap venue, but they were great live. The songs I thought were pretty great became hits, and that made me want to do what Danny from The Script was doing.
A: To add to that, we were at a Republic party recently and we saw Danny there. It was awesome to get to talk to him and meet him, because we look up to The Script's music. He started singing our music to us.
If any artist, dead or alive, could cover your music, who would you want it to be?
D: It's cliche, but it'd be cool if Paul McCartney covered one of our songs.
A: Everything he sings sounds like a classic.
Have you ever been starstruck, and if so, who or what was going on?
D: At that same Republic party, Paul McCartney walked by but then Alessandra Ambrosia was eating an In-N-Out burger. Then she smoked a cigarette after. It was the coolest thing.
A: It wasn't a Victoria's Secret model. Paul McCartney was unreal.
At the end of the day, how do you wind down?
A: It's really tough to make it as an artist. You can't get too hung up on your accomplishments, but you can't get down over what you haven't done. Otherwise, you'll never be able to handle it all. So I live by the beach and I like to run there. It's nice to not think about anything. 
Photographed by Kara Smarsh.