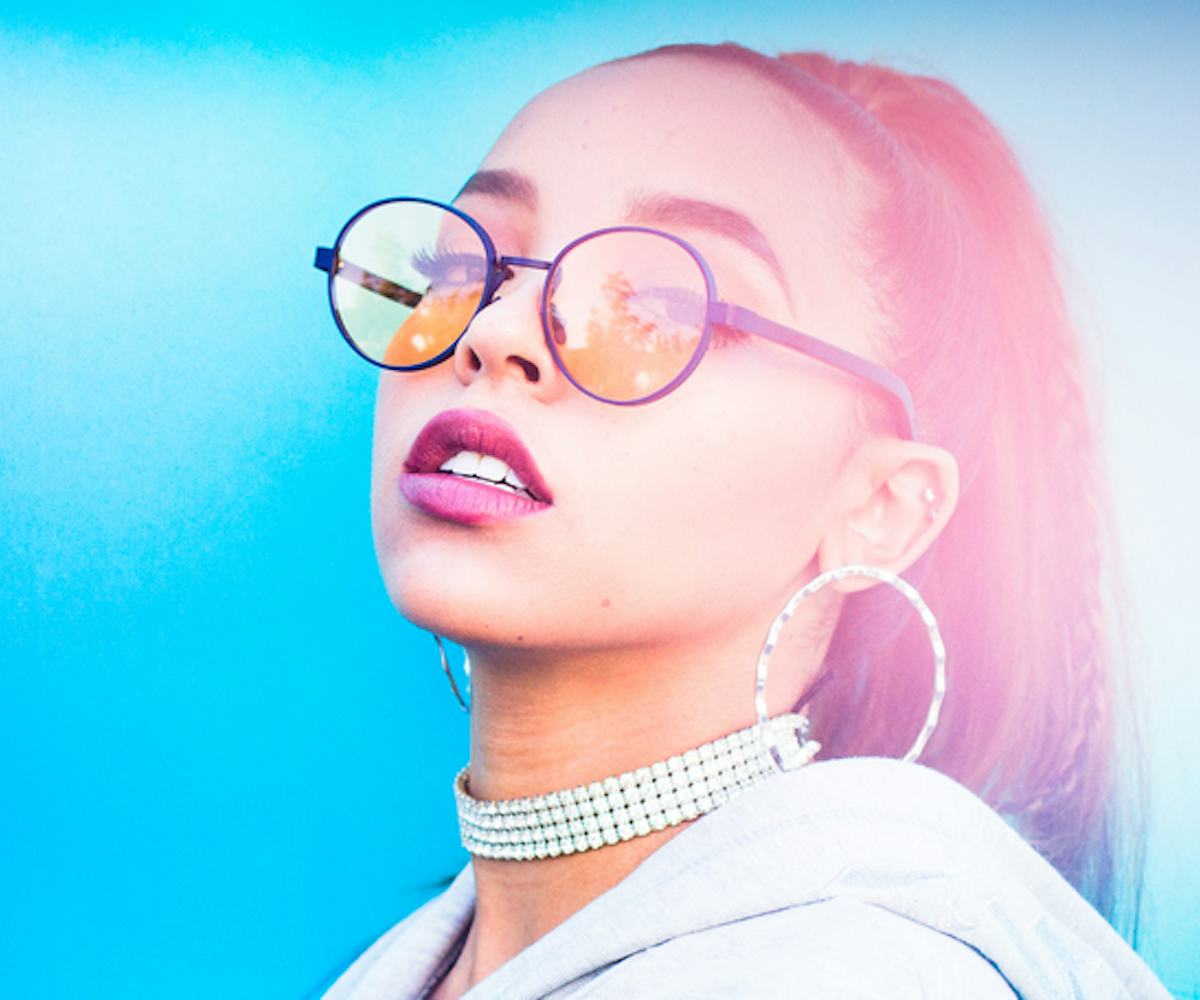 Photo courtesy of Myles Standish Pettengill III
Meet The Women Who Owned Hard Summer Fest 2017
An exclusive gallery featuring Tinashe, Charli XCX, Tink, and more
The lineup for last weekend's 10th annual Hard Summer Music Festival was once again dominated by dudes. The fest is known as the intersection of some of the biggest acts in electronic music and hip-hop, two genres typically populated by male artists. (This year, headliners included Justice, Snoop Dogg, DJ Snake, and Migos.) But even if the bill was testosterone-heavy, there was still a murderer's row of female artists who were there to leave their mark on not just the festival, but on the industry as a whole. L.A.-based photographer Myles Pettengill was on the ground to capture some of the baddest female performers set to take the stage at the festival, and to ask them the question: What's the hardest thing about coming up in the music industry as a woman?
Tinashe
"I think there's initially a lot of competition between female artists that's not only created by the artists but also by the fans, mostly because they are just so few and far between, and I think that there are an overwhelming amount of male artists than there are female artists. That representation in music is something that I'd like to see more of, and I think, with that, there will be less of that competitive spirit. There's room for everyone, for sure."
Louisahhh
"The hardest challenge I've faced as a girl DJ is not necessarily personal. I feel like my femininity makes me strong and unique in a male dominated industry, but facing and combating the ridiculous notion that there are only so many slots on a booking roster, or a festival lineup, for women. That everyone is breaking their fucking arms patting themselves on the back for booking a girl, when it's still an anomaly if we're headlining. There is not a dearth in this industry of creative, badass, talented women. It's a bummer that we might have to look a certain way or play up aspects of sexuality in order to be signed or booked or represented. It is ineffective to keep asking women this question, 'Why is it so hard to be a Girl', when we should be asking promoters and agents and managers and labels 'Why aren't you including more women?'"
Sita Abellan
"To be judged as a bad DJ just for being a woman. Once they listen to my music, they realize it's good. You're either good or you're not, it doesn't depend on your sex."
Anna Lunoe
"Doing this eight months pregnant. Performing a festival season pregnant is definitely something most guys don't do."
Cray
"Just being treated as an equal. Pay-wise, respect, all of the above. For me, a big thing is just being respectful in any way possible, and I feel like it lacks a lot towards a woman, and my expectations are super low compared to men. I feel like there's always just a ceiling, and I feel like it's hard for women to feel confident enough to break past that, but once we do, we're unstoppable."
Madam X
"When you come on your period 10 minutes before you have to play a set, and you gotta run around asking people for tampons, and if they don't have any, you just gotta fucking deal with that shit."
UFFIE
"I think it would be my first EP, I was probably 16. While writing the chorus, I didn't know what to say, so I said, 'And I'm ready to fuck.' The response I would get was great, but also guys think that entitles them to grab your ass on stage and things like that. People have gotten smacks, but yeah, just not being able to say the same thing as men; no one would ever do that to a guy."
Whipped Cream
"That this industry is 95 percent male-dominated, especially in electronic music. Being a female producer who mixes, masters, writes all my music, I definitely get judged just by the way I look. They think that there's no 'way this person's writing her music.' It's hard, but I'm here to speak with my art and nothing else, and I think things are going to start changing—I think they already are. I'm here to show the world that that's what I'm gonna do, and I'm gonna look however the fuck I want, I'm a woman. Excuse my French, I'm passionate about this. This is my life."
Charli XCX
"Probably how there's this assumption that females do less in the music industry, whether it comes to writing their own songs or doing their own music videos or being just generally in control of their own projects. I feel like there's just always a doubt in people's minds, and you have to set the record straight, which is frustrating and annoying. There are so many badass girls, and I feel like you can't really even be an artist in 2017 without having ultimate control over everything you do."
Nina Las Vegas
"That this question keeps coming up. I'd rather be known for my music, my label, my production, my career than being a female and having to defend myself. But hey, thanks for the photo!"
GG Magree
"I think it's hard for any artist to be in this industry, and I think, as women, we're supposed to do things a certain way, so it's kind of hard to break that. But in a way it's exciting and liberating because when you do break it, everyone respects you and you make a different wave, and that's what it's all about, creating something different."
Lil Debbie
"Being yourself without being judged. Sometimes it's just really hard to be yourself."
Siobhan Bell
"Kind of being intimidating to other girls, and there's that whole bitchy aspect to things, but girls need to realize that we all need to kick ass together, so that's it."
Ellen Allien
"When I have my period and I have to go on stage."
Tink
"Just being seen as an equal to the other rappers. I pen my own music, I put my own money behind my shit, and, as females, we often get put into a category, but it's like, I can go toe to toe with anybody. So don't put me in a box."
UNIIQU3
"Proving myself all the time, but I like the challenge, it keeps me on my toes. There's not that many black female DJs playing festivals, so I'm out here."
Qrion
"Getting female fans."