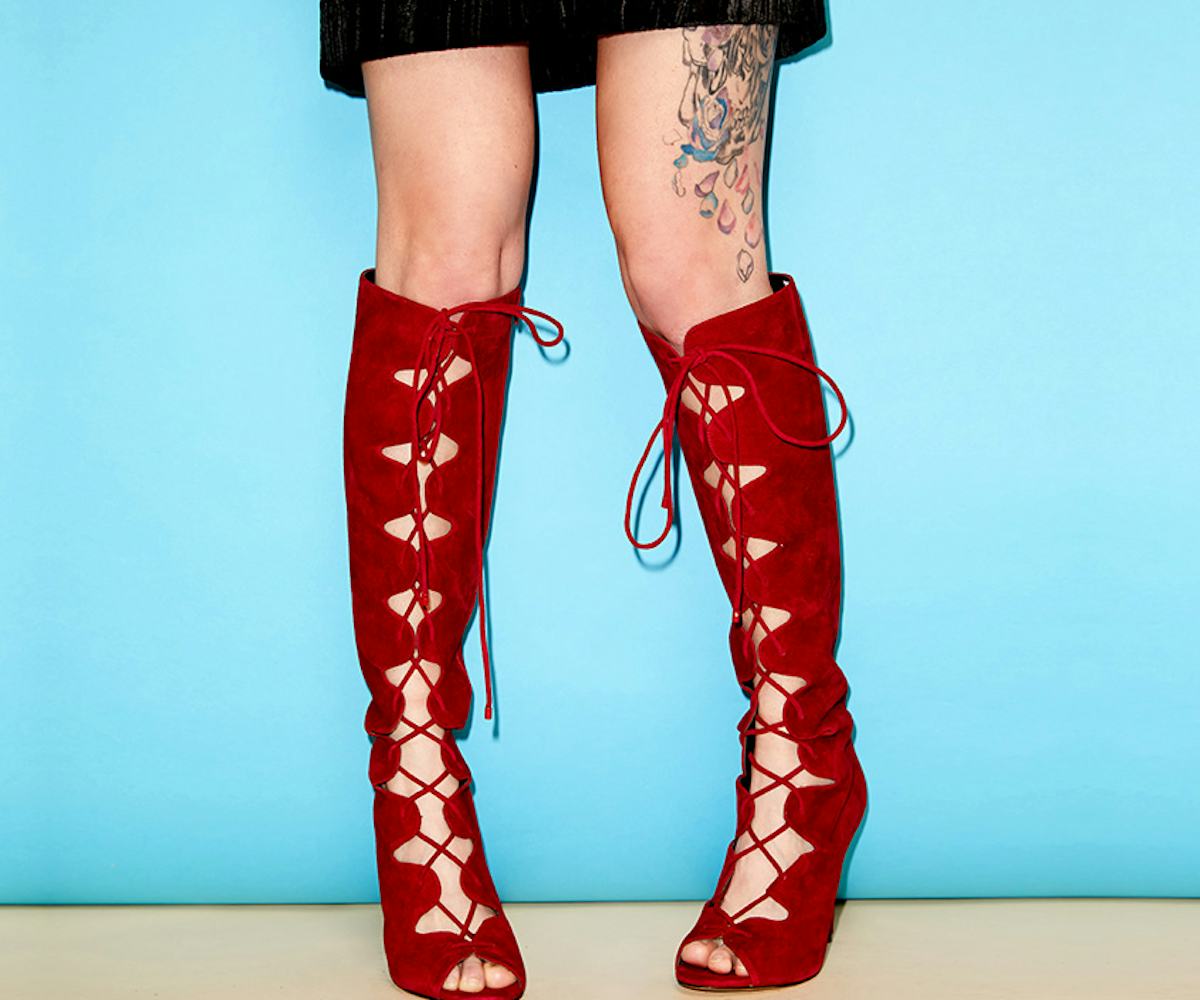 Photographed by Lauren Perlstein
Thigh-High Boots for Every Leg Shape
don't be scared to try them.
When shopping for your perfect winter shoe, an over-the-knee or thigh-high boot might not be your first pick. We know, it can be hard to style and hard to wear, depending on your leg shape. So, we've created some great tips to help you shop for the best thigh-high boots for your body type. Don't be scared of them—this sartorial risk can look way better than expected—just make sure the fit around your whole leg works for you, not just your thigh. Pay attention to color and fabric, too, because those factors can depend on how much the boot will cling to your leg, versus laying away from your leg. Bring out your inner Pretty Woman and try on that pair of thigh-high boots you've been questioning—your life could change because of it.
TIP: If you are conscious of your thighs and want them to look skinnier, try a boot that has a wide opening on the top, so you have room around your thigh. This will make the boots look bigger than your thigh, creating the illusion that your thighs are smaller than they appear.
Skirt by ASOS, boots by Sam Edelman.
TIP: If you have skinny legs and fear that the boots will just feel way to big, try a lace-up thigh-high or knee-high so you can adjust the tightness of the boot throughout your whole leg, not just at your thighs
TIP: If you have short legs, opt for a thigh-high boot that is a bit looser on the top, or has extra fabric you can either fold down or scrunch to fit your leg height—so that they aren't going all the way up to your crotch!
Skirt by ASOS, boots by Stuart Weitzman.
TIP: If you have bigger thighs, opt for a boot with a stretch in the fabric, whether it be a cut-out or a back panel, so that it offers more room for your legs.
Jeans by Paige Denim, boots by La Canadienne.
TIP: To make your legs look longer than they are, pair thigh-high boots with a shorter skirt, or even a shoter dress (say, a sweater dress). Although it might be out of your comfort zone, your legs will look longer, creating a leaner line through out your body.
Skirt by Tibi, boots by Jimmy Choo.