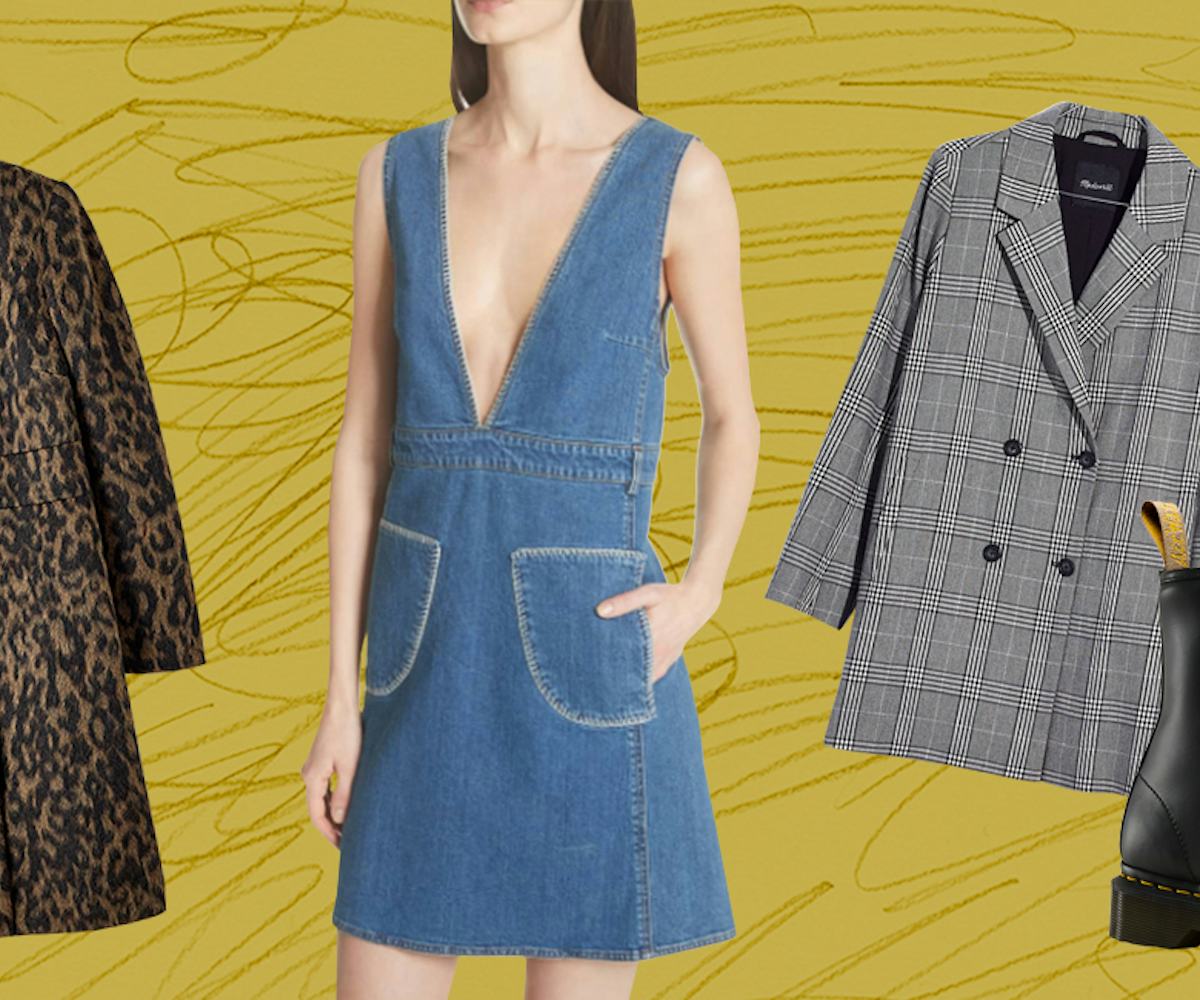 Photos courtesy of Boden, Revolve, Madewell, Dr. Martens
11 Things All Our Editors Have In Their Closets
Fashion month may be upon us, and with it, the influx of new trends and ways to switch up your style to reflect what we're seeing on the runway. We've got you with the latest trends, of course, but our editors have wardrobe essentials that last seasons, too. And more often than not, our holy grail pieces are super-similar to each other. Call it fate, but we find ourselves twinning with each other a lot in this office, completely by accident. We all have pretty different personal styles, but there are some pieces that everyone obsesses over.
From tops to make us look put-together without trying too hard and comfortable, yet stylish, shoes to outerwear that serves as an antidote to basic black winter coats, here are 11 pieces that our editors have in their closets. Swipe on for classic style inspo.
Leopard Print Coat
The winter months are oversaturated with basic black coats, and we've never been about being basic. That's why lots of us have leopard print coats that we'll break out soon, and with so much of the animal print spotted on the runways this season, there's no doubt a few more of us will be getting our own.
Boden, Hengrave Coat, $250, available at Boden.
Black Lace Top
We all break this out when we need to look classy but still cool. It's sleek, timeless, and, thanks to its sheerness, just a little bit transgressive—the perfect combo.
H&M, Fitted Lace Top, $17.99, available at H&M.
Light Wash Denim Dress
The day I started researching this story, two people in the office were wearing the same light-wash denim dress, paired with a white graphic tee and white Converse. Which is proof that we twin hard constantly.
See By Chloé, Denim Overall Dress, $385, available at Nordstrom.
Everlane Heels
Not only does Everlane have our hearts because of its sustainability and environmentally conscious ethos, but the brand also makes the most comfortable (and adorable) low-heeled shoes.
Everlane, The Day Heel, $150, available at Everlane.
Turtlenecks
Once it starts getting cooler, plain turtlenecks basically function as the office uniform.
Urban Outfitters, Sweet Dreams Turtleneck Sweater, $49, available at Urban Outfitters.
Docs, Of Course
Duh. Docs are honestly everyone's holy grail shoe, and we all have them in varying styles and colorways.
Dr. Martens, Vegan 1460, $140, available at Dr. Martens.
Worn-In Converse
These take some breaking in, because they're only cool once they're pretty ratty, right?
Converse, Chuck Taylor Monochrome High Top, $55, available at Nike.
Vintage Denim Skirt
Ours are all thrifted vintage skirts, so do some Goodwill digging. If you don't have the time, one that comes pre-distressed will suffice.
AGOLDE, Quinn High Rise Skirt, $128, available at REVOLVE.
Black Pleated Pants
The simplest way to go business-casual without looking like a secretary, right here.
Topshop, Pleated Peg Leg Pants, $38, available at Topshop.
Fishnet Biker Shorts
When dresses or skirts are too short, biker shorts are the best solution, if you ask us. Many of us have these fishnet ones, which add a bit of grunge to even the sweetest dress.
Club Exx, No Favorz Bikini N' Shorts, $30, available at Dolls Kill.
Plaid Blazer
There's nothing cooler than a band tee under a blazer, which is what we've all done at one time or another.
Madewell, Caldwell Double-Breasted Blazer In Plaid, $168, available at Madewell.