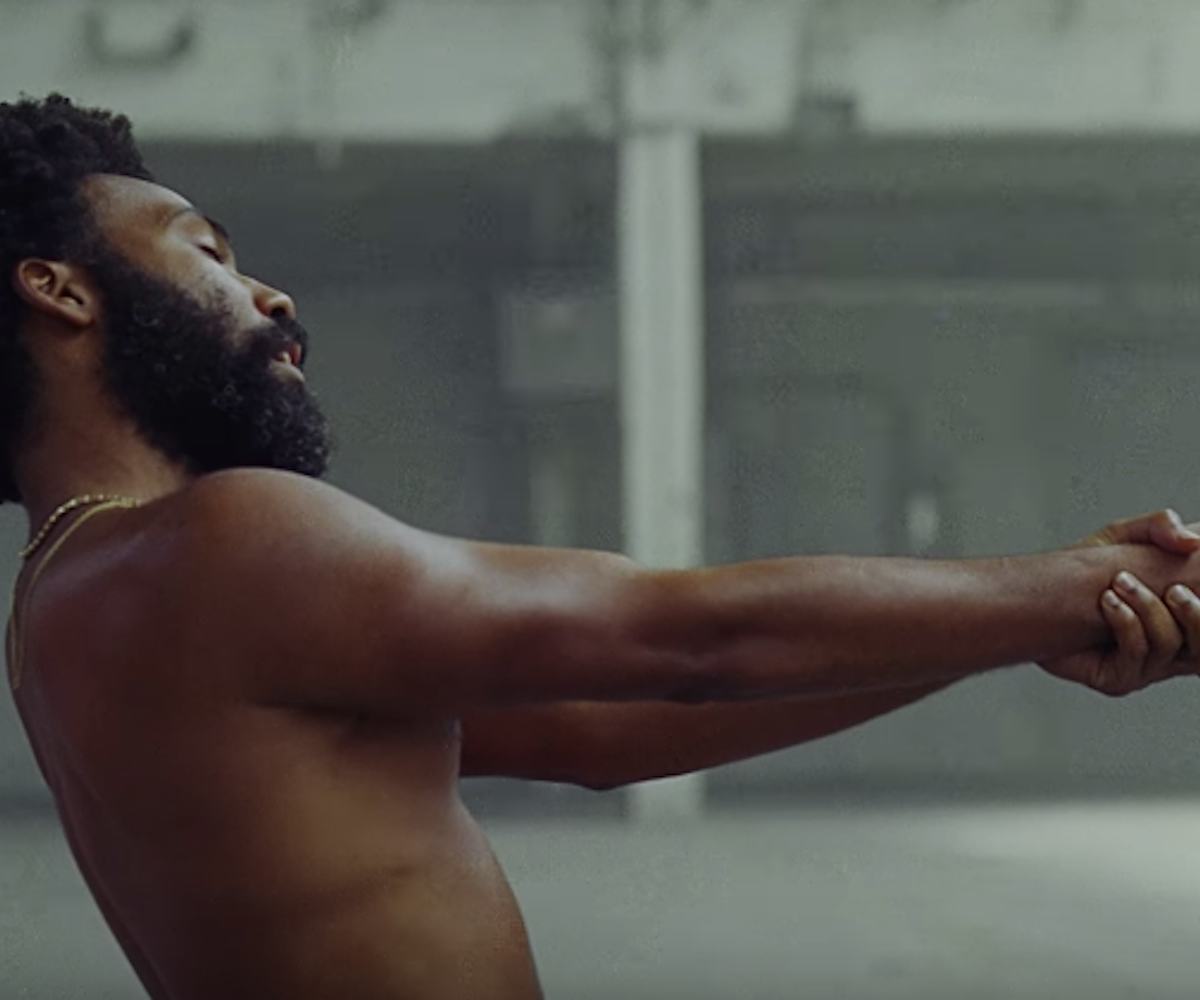 screenshot via youtube
Leave "This Is America" Alone
Not everything has to be turned into a meme
Nearly a week ago, Donald Glover dropped a politically charged video for his new Childish Gambino single, "This Is America." And whether or not you loved it or not, it was clear that Glover was trying to get conversations about racism, gun violence, and blackness going. But now, it seems that people are completely ignoring the point of the video, which showcases the chaos of what it means to be black in America (and how easily pop culture and social media distract from these traumas), by parodying it.
This weekend, two major parodies took the internet by storm: a white "feminist" version of the video and a remake of the song, which mashed the video up with Carly Rae Jepsen's "Call Me Maybe." 
The "Women's Edit" sees blogger Nicole Arbour (who got dragged a few years ago for her fat-shaming Dear White People parody, "Dear Fat People") turn the message into being about issues that plague (mostly white) women. In it, she poorly raps about the pay gap, sexual harassment, and physical beauty. Needless to say, this remake did not go over well on the internet. 
"We seriously can't have anything or take anything seriously," wrote TV network The Grapevine. "Stop aligning Black plight with white feminism. Stop cheapening black art and creativity. Just stop."
Others noted some of the more disturbing parts of the visual, which showcases the majority of the aggressive men as men of color. 
The second parody to go viral this weekend was created by a YouTube user LOTI, who synced the audio of Jepsen's popular hit to the Gambino visual. Many found the mash-up to be disrespectful, considering that the song is cheerful and the visual showcases death. 
People couldn't help but note the irony of the viral videos, which proved Glover's point that this country uses pop culture to distract ourselves from real issues. 
Sure, the internet is a place that frequently makes a mockery of serious things. But some things, like real, life-altering trauma, should be left the hell alone.