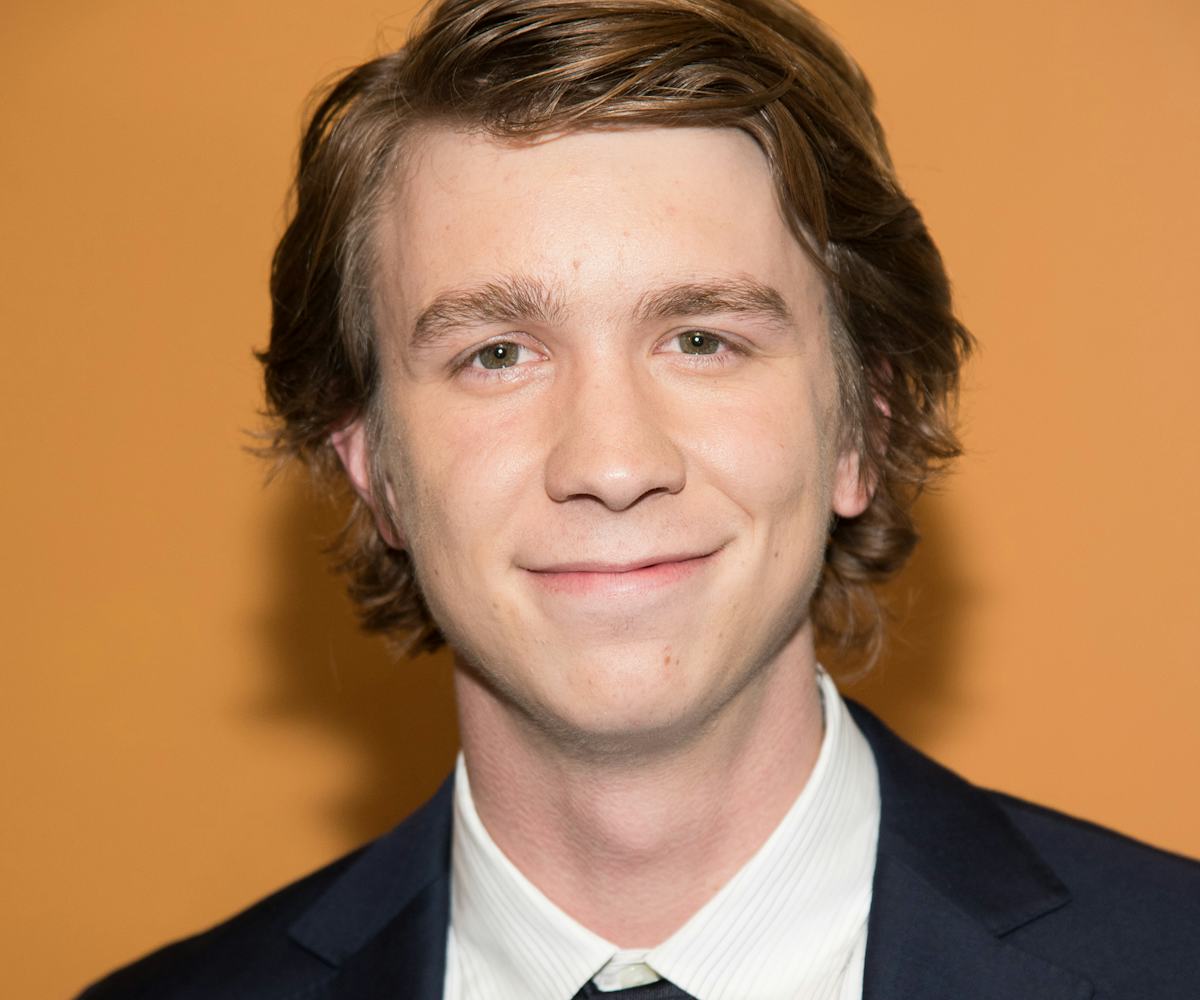 photo by Dave Kotinsky / getty images
Thomas Mann On Coming Of Age And Coming To Hollywood
chatting with the star of 'me and earl and the dying girl'
In Me and Earl and the Dying Girl, Thomas Mann plays the latest in a long line of high school misfits who aren't interested in rising the popularity ranks and would rather do their own thing. In the case of Mann's Greg Gaines, that thing is filming lo-fi parodies of his favorite movies with his best friend Earl (RJ Cyler). Things change when Greg is forced befriend a classmate who was just diagnosed with leukemia—the wonderful Olivia Cooke—and a bond forms between the two.
The Fault in Our Stars comparisons are warranted, but Me and Earl, which caused a sensation at Sundance earlier this year, is very much its own thing, striking a smooth balance between humor and sentimentality, and avoiding the trappings of teen romance movies by not being one. We spoke to Mann about how he went from being a teenager in Dallas to starring in one of the most talked-about movies of the year. 
Until now you've sort of been known as the guy from Project X, and I think that this movie is going to change that. Are you looking forward to that changing?
I mean, I get it, but I'm not like embarrassed by that movie or anything like that. You could say that the only reason I got the chance to be in Me and Earl is because Project X put me on the right platform and got my face and name out there. So I owe a lot to that movie, but it's really great now to be doing something that fulfills you creatively, and people seeing the kind of actor that I really want to be.
I know you really fought to get this part. When you got it, did you feel a lot of pressure to do the writing justice, or did you come into it knowing that you could kill it?
It was a combination of things. I loved the script so much, it was just so honest and the way the characters spoke and sounded, like that messy awkward way that teenagers speak. And I like that there was no romance, it kind of forces the movie to focus on other things. And the movie lives in all these weird grey areas, and I really responded to that. It reminded me of the kind of person I was in high school.
Has this script ruined other scripts for you? Has this become the gold standard?
Yeah, it's the best role that I've ever had the opportunity to play. I've read everything out there, every coming-of-age movie I've probably auditioned for. This one felt different, and then when Alfonso got on board, I was like okay, this is going to be something special. I knew he wasn't going to make a teen movie, that it was going to be something bigger than that.
What was the Sundance experience like, where everyone freaked out over this movie?
We had no expectations going in, but I was confident in the movie, and I was confident in what I did in it for the most part, but you just never know if people are going to get it or feel about it the way you feel.
How far into the screening do you realize that they do?
I think pretty early on, when people are laughing at jokes that I didn't even think were that funny, or because we've lived with the material for so long. It's overwhelming. It was really a very emotional, cathartic week for all of us.
Is it sad that it's coming to an end?
It's going to be really hard to let go of it. It's been part of my life now for almost a year, maybe longer, since my first audition. It's going to be like coming down from this high. It's going to be weird.
You grew up in Dallas. What made you decide to come down to L.A. and try the acting thing?
It wasn't like a sudden thing. I was taking acting classes in Dallas, I had been doing theater. I wanted to take it further and see what else I could do. I didn't know how to get to be in movies, I didn't know if that was a thing that was possible. So I got an agent and started doing commercials, and then I was taking acting classes. The acting coach would have these seminars with different casting people who would come down and see kids, so I sort of got a couple opportunities through there. Then my agent in Dallas got promoted to a job in L.A, so that was really kind of when everything started happening. I was sort of flying back and forth for auditions, and then eventually went out to stay just temporarily with a friend who was working out there. And then I ended up getting my first movie and making enough money to live and I've been there ever since.
Were there ever periods of deep struggle?
Yeah, I can't really complain because it didn't take long, but it's still hard. It's still a struggle. Even now it's still a struggle, it's still a lot of grinding. I'm just now starting to audition less.
How do you account for the fact that you made it so quickly, and for others it takes years, or never happens?
Yeah, there's no right way to do it, that's the thing. I'm not going to discount my abilities or anything, but there's a lot of really talented people that just won't work for whatever reason. I don't know what it is, but I'm really grateful for the opportunities that I had and I've tried to make the most of them.
Are you at the point in your career where you're able to say no to things? 
Oh yeah, definitely. Especially after something like this I just want to do things that really mean something to me and my heart has to be in it 100%.
That's probably a lot different from even a year ago.
Oh, yeah. It's weird, because I thought I was at this place after Project X.  I'm like, Okay, now I can say no to a bunch of shit. But then luckily Me and Earl came along and was the thing that I've been looking for and I just wanted to pour my heart and soul into it and make it the best it could possibly be.