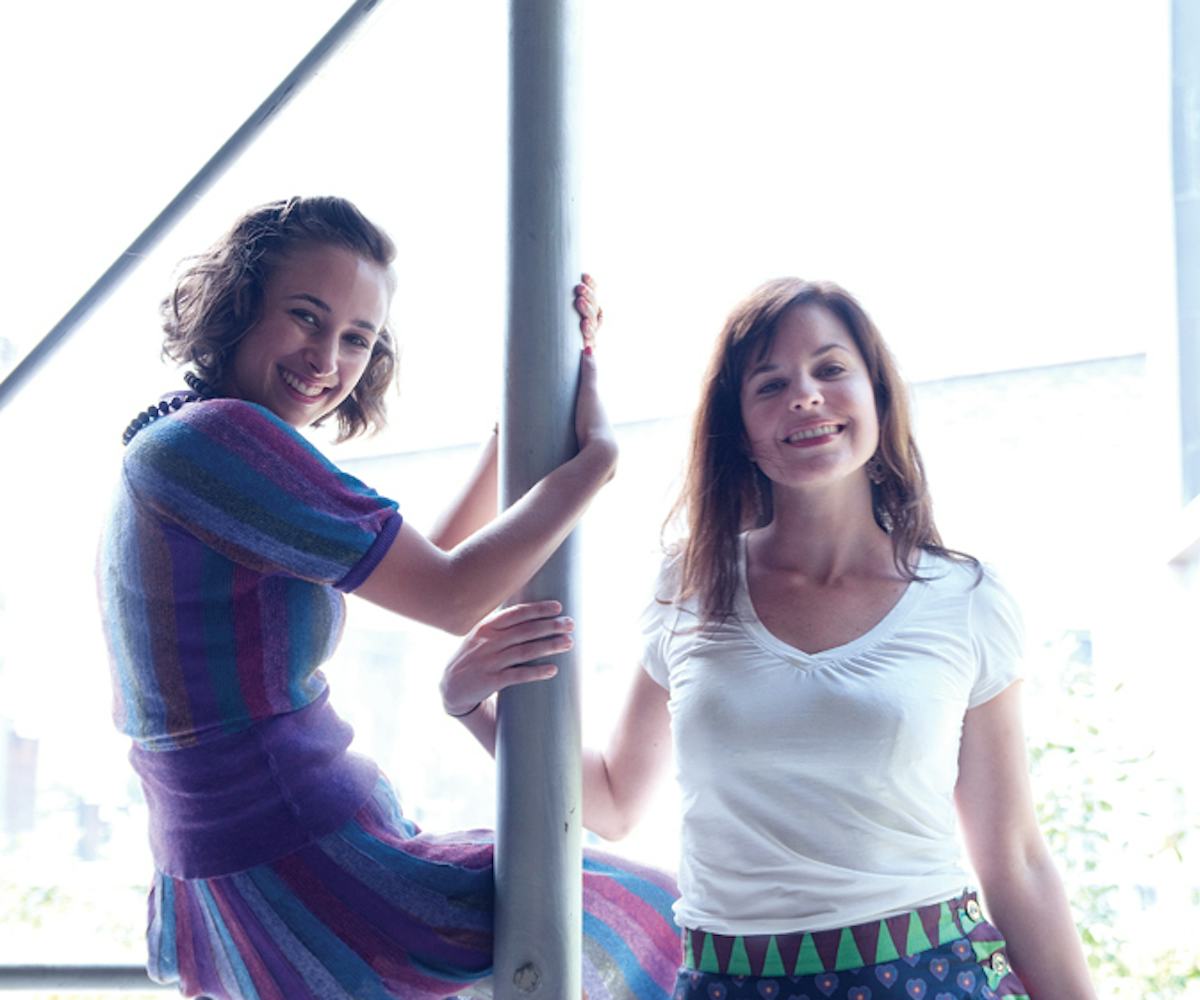 photo by kristina nilsson
behind the scenes with the writers of 'the colbert report'
#tbt from the archives, september 2010.
Tonight marks the series finale of 'The Colbert Report.' To celebrate show's nine years, we're throwing it back to our September '10 issue, where we spoke with the show's then-writer's assistant Cecelia Lederer and writer Meredith Scardino.
WHAT'S AN AVERAGE DAY LIKE FOR A WRITER ON THE COLBERT REPORT?
MEREDITH SCARDINO (writer): We come in every morning and pitch ideas and write scripts. We write anything Stephen [Colbert] might say from [short] bits to questions in the guest interviews. He's a huge contributor of ideas.
CECELIA LEDERER (writer's assistant): I'm always there taking a lot of notes and trying to remember things from forever ago. Somebody the other week was like, "I remember months ago we were joking about Asian carp. Can you find the jokes we had about Asian carp?" 
HAVE YOU BOTH ALWAYS WANTED TO WORK IN COMEDY?
MS: I was on this regional television show when I was four called the Al Albert Showcase. There was this older guy who would introduce variety acts and he had this little group of four-year-olds in formal wear who would tell jokes, and I was one of them. I still remember my mom going over jokes with me. When I found out she didn't write those jokes, I was really mad. I was like, "Mom this is not your original material. I can't believe I'm out there doing other people's jokes!"
CL: I came through a legitimate theater background and I'd been doing that my whole life. Then I stopped being able to take it seriously, and stopped being able to take myself seriously! 
HOW DO YOU GENERATE IDEAS?
MS: If you see something on the news and it's funny, you pitch it and see if it hits, and Stephen might have seen something and he pitches that. We just riff on stuff. There are a lot of people with an improvisational background—Stephen was from Second City—and we also have researchers who send us a news background every night. Everybody is looking out for a disembodied talking robot mouth video from Japan—something bizarre that we can talk about. 
WHAT IS SOME CONSISTENT SOURCE MATERIAL?
CL: I love Joe Biden. And downstairs we have Fox on all the time, obviously.
MS: Fox is a great gift. Fox & Friends in the morning is very fun to watch, I'm kind of addicted to it and I'll turn it on during my breaks—even when I'm not looking for news—to see what Steve Doocy and Brian Kilmeade are going to say. Also, all animal news stories really ignite me. I always come in with really stupid pitches, like a fish that's attracted to another fish because it has a mustache. 
WHAT'S THE MOST UNCONVENTIONAL ELEMENT OF YOUR JOB?
CL: I always love having the conversations about how much of a dirty word we can say before we have to bleep it. I find it funny that I'm having that conversation professionally.
DO YOU FEEL PRESSURE TO BE FUNNY ON DEMAND?
MS: It's a very supportive environment. We might make fun of each other if someone throws out a real stinker, but it's all in good fun because we all do it. The best writers on the show come up with some real crap stuff sometimes.
WHAT PERCENTAGE OF YOUR DAY DO YOU SPEND LAUGHING?
CL: More than if I were a tax attorney. 
Related Articles